The Loop
Which swing will Tiger Woods use on Thursday? It looks like it'll be a new version of a classic one.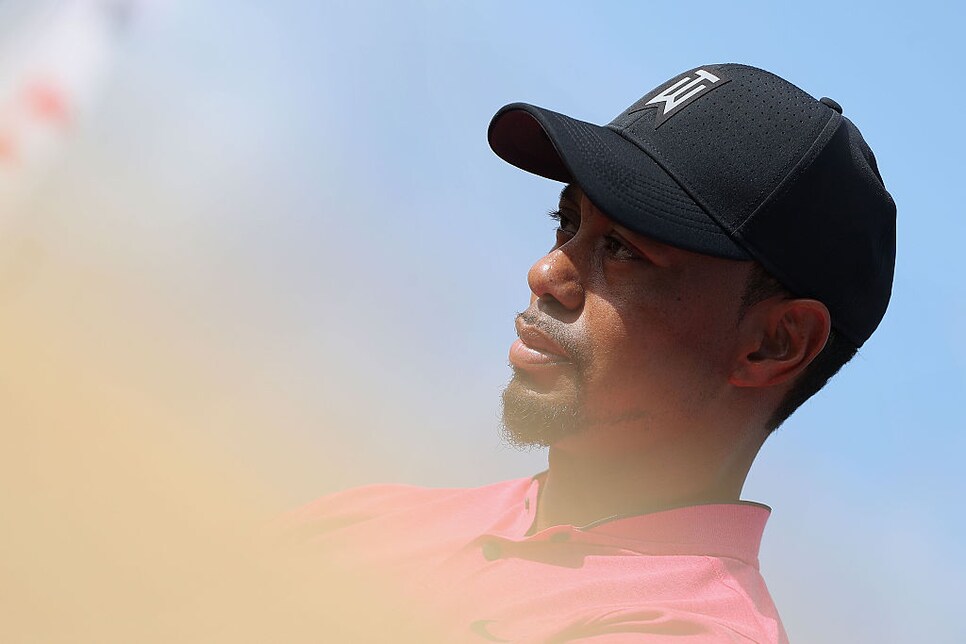 Tiger Woods unveiled more than just questionable facial hair at the Hero World Challenge this week.
Also on display was his first "real-world" full-speed golf swings, shown around social media on Monday. Unlike the bootlegged swing clips from various charity clinics he did earlier in the year, this swing was on a real golf hole and made with intent--both literal and figurative.
"Let's be real here," says 50 Best Teacher Brian Manzella. "Tiger Woods isn't going to let anybody stand behind him like that with a smartphone camera and take video of his swing if he wasn't proud of it. This swing is better than any of the ones we've seen this year, and better than the one he was using before he got hurt. He can win with it."
The predictable swing critique and telestration started immediately, with some experts like Hank Haney speculating that Woods is trying to play more right-to-left shots than he has in a long time. Others, like Manzella and top Maryland teacher Bernie Najar see posture changes, leg action and footwork that is clearly designed to take pressure of his back.
"The camera angle is a little off to see exactly what's going on, but it looks like he's freed up his lower body to turn a lot more," says Najar, who is based at Caves Valley Golf Club in Owings Mills. "His left foot looks like it's turned out less, and his right is turned out a little more. He's also not as bent over as he was, and the club is pointing more at his target at the top. He still sits down and lowers like he always has, but his arm swing is much deeper in the downswing. It looks like he's going to be shaping more shots."
Manzella sees a much more pronounced in-to-out swing path than before--which tends to produce a draw--and a finish that moves much more upright much more quickly after impact. Woods looks "golf strong," and shows enough speed to support the claim that he's carrying it an easy 300 with the driver.
The changes reflect back to earlier generations of Woods' swing--a positive development for a player going on nine years without winning a major. How he responds when the shorts get replaced by a real golf uniform and the strokes count is the next open question. "Everybody has something they lean on when the pressure gets turned on," says Manzella, who is based at English Turn Golf & Country Club in New Orleans. "What is he going to revert to? I don't see a two-way miss in this swing, but that could change when he ramps it up. We haven't seen him hit short irons, and we haven't talked about the short game issue yet either. It's time to see what he does when it's for real."
One tour teacher says the biggest challenge in any swing change has less to do with mechanics than it does the psychology of improvement. "You have to get the player believing that he's working on the right stuff, and he has to see the results," says top Alabama teacher Tony Ruggiero, who works with Smylie Kaufman and Lucas Glover on the PGA Tour. "If they've been good, they know when it's fake. Tiger certainly understands the process it takes, but my guess is that it's never take him this long to be competitive. He's working hard, but everybody else is too. It'll be really interesting to see where he is with it all."