The Loop
I'm doing exactly what you're doing. I'm one with my sofa, my flat screen, my fridge, a few friends and of course--the Masters. Quiet please.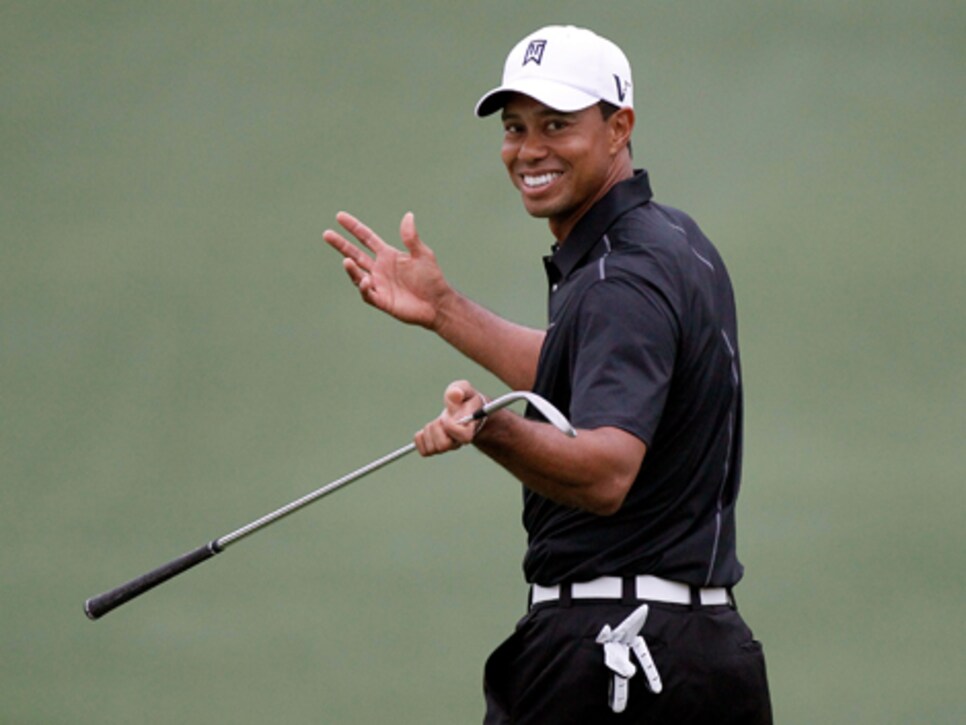 No. 5: Nicklaus wins in '86. It was my first distinct realization that this tournament was the Super Bowl of golf.
No. 4: In '98 I was working for Sports Illustrated. We used to fly the film home and I was the golf photo editor. I would leave with the film on Saturday and edit in the office on Sunday and Monday. When I left on this Saturday, I also left my Dad to watch the weekend on his own. In '98, after Nicklaus made a run on Sunday, he had his fans believing, if for only a second, that he could win another. My Dad was one of those fans. He had followed Jack all day and after Jack putted out on 18, my dad found a pay phone and left me a message. Unless you've been there you don't know what kind of hike it is getting to the top of the property from the bottom of Amen Corner. I remember my Dad was out of breath, but he got through it: "Hey Matt'o . . . it's Dad . . . I just followed Jack . . . what a round . . .what a competitor . . . what a day . . . love ya . . ."
No. 3: The working media can get through the gates an hour before the fans. On the Tuesday before the '97 Masters, my first day on my first trip to Augusta, I walked through the gates and directly to the first fairway with one of my uncles (who had a working media credential). The sun was just breaching the tops of the trees, not a blade of grass out of place, not a single white smudge in the sky, and as I took in the expanse, and the scent of an old nursery--I got tears in my eyes. It's that impressive. And then my uncle and I walked up to the veranda and ate a delicious southern breakfast in an empty dining room at the table next to Tida Woods, who was eating all by herself. Her son would go on to make history five days later.
No. 2: One of the greatest true back-nine Sunday duels at Augusta for members of my generation was the birdie (and eagle) birage put on my Phil Mickelson and Ernie Els in '04. It was one of the first times I could stay through the weekend because we had gone all-digital (as opposed to film) and I was editing all the images on site and trasmitting back to the office. I was the Director of Photography, the four photographers were all on a radio and I was acting as air-traffic-control. After weaving my way through Amen Corner, I went to the top of the grandstand at the 15th green and then up the left side of the 18th fairway. After Mickelson made his putt, and his little leap of joy, I remember being behind the green and watching as Ernie Els left the practice putting green, flanked by his wife, as he was free to leave--there would be no playoff. He'd go on that year to lose a playoff in the British Open to Todd Hamilton. The Big Easy, who's one of my favorites, has never been same since.
No. 1: Anytime I've found myself at a dinner table mid-tournament eating slabs of ham, opening a fresh beer in a swanky dining room of a southern stranger's over-decorated house with some of the best scribes to ever cover the game, the historians of the Masters going back as far as fifty years (Dan Jenkins, Dave Anderson, Jerry Tarde, Bob Verdi, Jaime Diaz, Tim Rosaforte, John Hawkins, Geoff Russell just to name a few...the rest know who they are...) and recapping what's still visible in the rearview mirror--predicting the contents of what's still to come.
(Caption: Tiger's chip-in at the 16th hole en route to beating Chris DiMarco in 2005 is my favorite Masters picture--shot by Stephen Szurlej.)