The Loop
Where will Obama play his post-Presidency golf? Let the speculation begin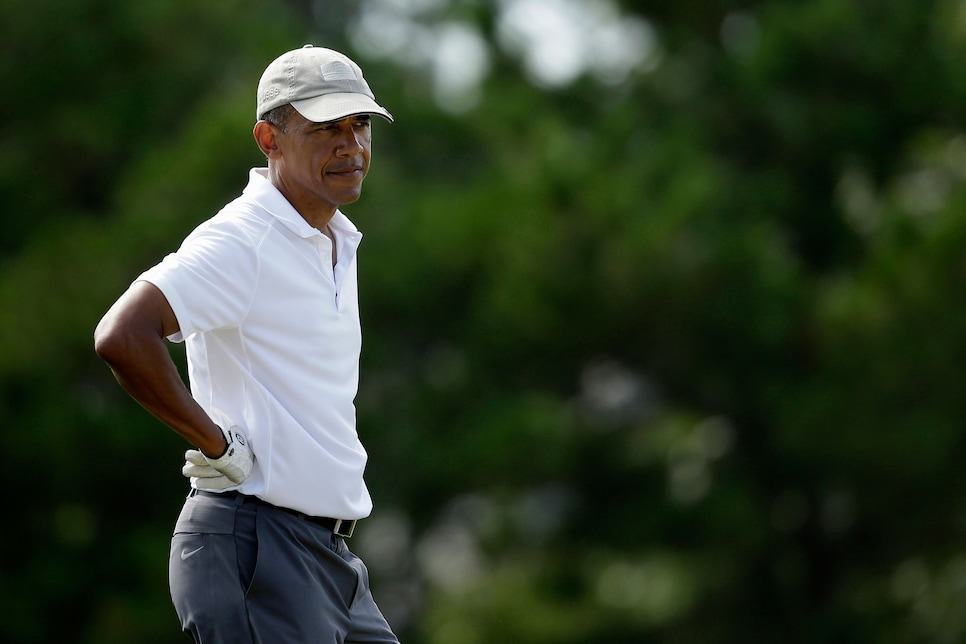 Barack Obama has a little more than a year left in the White House, which means he's running out of time to shore up his legacy as our nation's 44th President. Just as important -- OK fine, marginally important -- is that he finds a place to play his golf once his Commander-in-Chief days are over.
A story in the Sunday New York Times discussed where the Obamas might settle once they vacate 1600 Pennsylvania Avenue, and along with considerations for a post-Presidency career and approximation to friends and family, there is the fact that Obama plays a fair amount of golf. After visiting Torrey Pines over the weekend, Obama has now played 256 rounds of golf while in office, and it's fair to say he'll play even more once he's no longer leading the free world.
The Times story cited earlier reports about an Obama supporter buying an elaborate $8.7 million spread in Honolulu, where the president was born. The estate, which curiously was the setting for the 1980s hit show, "Magnum, P.I." has been speculated as being purchased for the Obamas. It is a mere 25-minute drive down Highway 72 from Waialae Country Club, site of the PGA Tour's Sony Open, and one of Golf Digest's Best in State.
More likely than Hawaii as a permanent residence is the East Coast and the Times says Obama could move to New York and teach at his alma mater, Columbia University. "Since he will no longer have easy access to his own helicopter, airplane or motorcade, he may want a course in the neighborhood, which could rule out living in the heart of any city," the Times writes. This would put Obama in a similar predicament as Bill Clinton, who also moved to the New York suburbs after his term in office and spent some time looking for the right golf club (Obama's immediate predecessor, George W. Bush, moved to Dallas and plays out of Brook Hollow Golf Club).
As irony would have it, some of the more established New York clubs like Winged Foot were reportedly leery of the disruption a former President would cause, so Clinton ended up at a then-new club hungry for publicity: Trump National Golf Club in suburban Westchester County. That or its sister club, Trump National Bedminster in New Jersey could be an option for Obama, too -- provided he can get past the fact that club owner is one of his most outspoken critics.