The Loop
Where have you gone, Michael Campbell? U.S. Open winner over Tiger Woods in 2005 announces retirement
Stories of interest you might have missed...
Michael Campbell held off Tiger Woods to win the U.S. Open at Pinehurst in 2005. His career has been on a downward path since, so Campbell, 46, announced his retirement from competitive golf. "Campbell said injuries had hampered his form and his recent divorce had caused him to reassess his priorities," Phil Casey of the Press Association writes. "I have had a wonderful, fabulous career over the last 20 years as a professional golfer," Campbell said.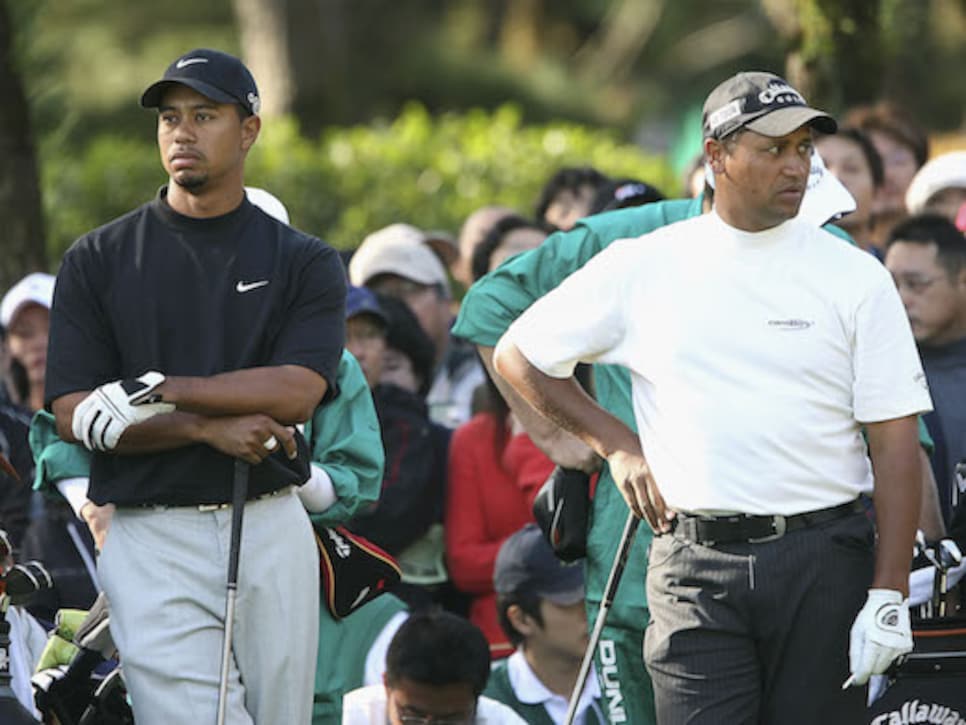 Tiger Woods and Michael Campbell (Getty Images)
The San Francisco City Championship is no ordinary city amateur, Sean Martin at PGATour.com writes. "The City Championship has been held every year since 1917…Its former competitors range from World Golf Hall of Famers to taxi drivers, NFL quarterbacks to airport baggage handlers. The doctors and lawyers who are members at the Bay Area's prestigious clubs play alongside bartenders. It's not unusual to see a player turn to alcohol to steady his nerves or to witness a former U.S. Golf Association president carry his own clubs through a downpour."
Brooke Henderson is 17 and is at the outset of her career. Juli Inkster is 54 and (presumably) is nearing the end of her career. "The oldest player in this week's field [at the Volunteers of America North Texas Shootout], Inkster finds herself one stroke behind the teen phenom holding the lead," Jimmy Burch writes in the Star-Telegram.
"Last week, when Rory McIlroy was shown a drawing of himself, he initially thought it was a fine likeness which had been expertly completed. But then he discovered it was not done with hand but with mouth. And not any old mouth, either. For McIlroy, an avowed rugby union nut, it was a picture which was to tell him so many more than a thousand words," James Corrigan of the Telegraph writes. "It was drawn by Henry Fraser, once a promising rugby player…But then he was paralysed from the neck down."