The Loop
What's wrong with Jordan Spieth? Here are five possibilities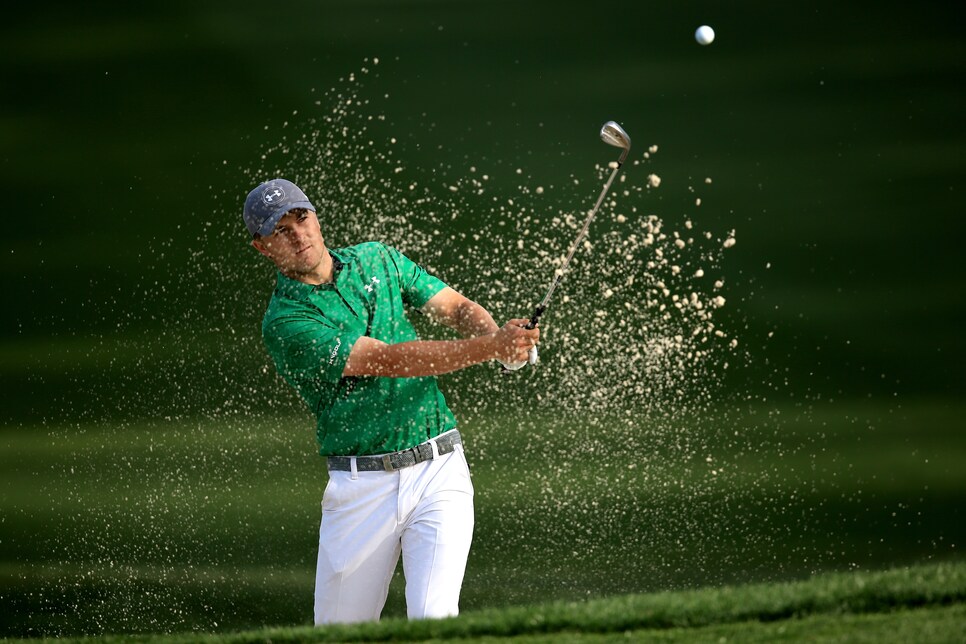 The question – arguably blatantly unfair, absurdly premature, and founded in profound ignorance – nevertheless can no longer be contained, so here goes: What's wrong with Jordan Spieth?
The World No. 1, the game's acknowledged best at turning a bad round into a good one, has been shooting a lot of bad ones. Since opening 2016 with an eight-stroke victory at the Hyundai Tournament of Champions, Spieth in 11 rounds on the PGA Tour has shot 73 or worse five times, including a 79 at Riviera, tying for his highest ever first-round total as a pro, and a 76 on the Copperhead course to open his title defense at this week's Valspar Championship.
The master course manager who ties up any loose ends with his wedge and his putter was incongruously sloppy on Thursday. On a windy day, Spieth hit only six greens in regulation and got up and down for par only six of 12 times.
Missing was his seemingly automatic ability to bounce back. After Spieth bogeyed his first hole, he bogeyed his second, a par 5. Then three more bogeys in the next four holes ensued.
No question it was also one of those days. When Spieth sprayed a drive or approach into trees, his next shot was often blocked by branches. When his ball caught a gust, it was the wrong one. Two of his tee shots that hit the fairway ended up in divots. His longest putt was an 11-footer for his only birdie of the day. And he had two misses for par from less than five feet.
"My history on off days is to hold around even par," said a visibly strained but composed Spieth, "and I'm just shooting too high numbers."
With a month to go before he defends his title at Augusta, the 22-year-old is off. The question is, why?
Here are five possibilities:
1. Travel hangover. Spieth went from Hawaii straight to Abu Dhabi and then to Singapore. It was too much, particularly after a trip to Australia and Asia at the end of 2015, and though he professed to be well rested when he showed up for the AT&T Pebble Beach Pro-Am after a week off, he hasn't been right since.
2. His own expectations after the blowout at Hyundai. Spieth has hit this theme several times. On his way to finishing T-21 at Pebble Beach, he'd been approaching his rounds "as if I should shoot six, seven or eight under each round like we did in Hawaii. Why not? It's that easy. But it just isn't. And I think that that's really factoring in on my attitude and my decision-making. … I just get so down on myself so easily, and I don't really know why." After the 79 at Riviera, he added, "I just need to manage the expectations and realize the greens aren't 50 by 50 yards [like at Kapalua], so your misses aren't still on greens and you don't necessarily putt that well every week."
3. Golf swing. Paul Azinger has praised how "quiet" Spieth's club is at the top of his backswing. "It gives him a transition that seems unflappable," Azinger says. "The pace of his swing doesn't change." But Spieth's action looked quick on the West Coast. "Yeah, for whatever reason, my swing became extremely short," he said at Doral, where he finished 73-73 to finish T-17. "And it wasn't getting to parallel and therefore, my timing was just thrown off on a lot of shots that were played off uneven lies or with different wind conditions. I've been trying to just really load more and get more patient into my backswing. It's tough to trust a lot of times, because it feels like you're going to hit it out to the right."
4. General Expectations. This is the big one. The young man has always delivered, and now we are spoiled. All the talk of the Big Three hasn't helped the other two, Rory McIlroy and Jason Day, but Spieth—by acclimation the toughest competitor of the trio—isn't immune to the wearing effect of constant scrutiny. When there is perceived failure, there is accompanying backlash, which only ups the ante and anxiety. Spieth expects much from himself and doesn't like to let his fans down. He's remarkably mature, but the uber-competitive streak that when properly channeled makes him exceptional can also lead to pressing, a palpable fury and a loss of the calm focus and channeled fury that's taken him to two majors.
5. It's golf. For all the comparisons, Spieth isn't Tiger Woods. Or at least the prime-time Tiger of a decade beginning in 1999. When Woods was 22, he wasn't the machine he became. Spieth may get there, but at the moment, even for him, it's a brutally hard game with ultra thin margins. Spieth relies on putting more than traditional dominant players, and in small sample sizes, sometimes its not there. Last year was magic. At the moment, most notably inside of eight feet, it isn't, and he's been mortal. Through most of 2014, Spieth had to battle doubt in his ability to close tournaments. He stayed the course, and found the key at both the Australian Open and the Hero World Challenge, which he won by a combined 16 strokes, spring boarding him into his massively successful 2015 season. That key remains the same. Patience. There's plenty of time before Augusta.