The Loop
What's it like watching your husband compete for a major? Torture
SPRINGFIELD, N.J. -- I decided I wanted to try to walk a mile in Erin Walker's shoes. Or rather a few miles in her boots. Erin came better prepared for Baltuslop on Sunday than I did. And she moves fast.
But first, a pause. Husband Jimmy was about to tee off with the lead in the final round of the PGA Championship. I figured that it would be cool to get her perspective on such a big day. If things went poorly for Walker, I figured I could always retreat. But if he won. . . This is the PGA Championship. This is MAJOR, right?
"It's really not that different from a regular week," Erin said, nonchalantly.
Oh? Well, what about Jimmy? Was he bouncing around the RV in between rounds?
"He took a shower. He took a nap. Actually, at one point I said to him, 'It's 1:30. Shouldn't you get going?'"
Walker did get going and he split the fairway with his opening tee shot. And now we were off, too. A good approach left a 25-footer for birdie and. . . he drained it! At least, Erin thought he did. She let out a shriek as the ball disappeared. Only, it disappeared behind a hill guarding the green. I'm not exaggerating when I say everyone within 100 yards of the first green turned to see the culprit. Erin hung her head in embarrassment.
Do you think he heard that? a friend asked. "Yeah, he knows it's me."
Final round jitters? I ask. "Final round jitters," she replied. So this is different from a regular week. Still, she plays it cool. "I want it so badly for him because he's worked so hard, but I'm really feeling pretty good right now. We'll see how I am on the back nine, though. . ."
And not surprisingly, as the day went on, the pressure mounted. "I don't get this nervous when I'm jumping," Walker, an accomplished horse jumper said. Later, a friend joked, "We need to get you some oxygen. Medic! (Raising a finger) For the wife!"
There was frustration at times. We got stuck in a bottleneck on the way to the seventh tee, causing us to miss Jimmy's tee shot. "I wish they'd let us inside the ropes. We know where to go!" And then, after hearing some particularly, um, rowdy fans, she said, "Note to the PGA: Do NOT sell giant beers next year."
Of course, there were thrilling moments as well. On No. 10, after nine straight pars to begin his round, Jimmy looked in danger of dropping his first shot when he found the greenside bunker. Instead, he found the bottom of the cup with his third for an improbable birdie. Erin could finally make as much noise as she wanted.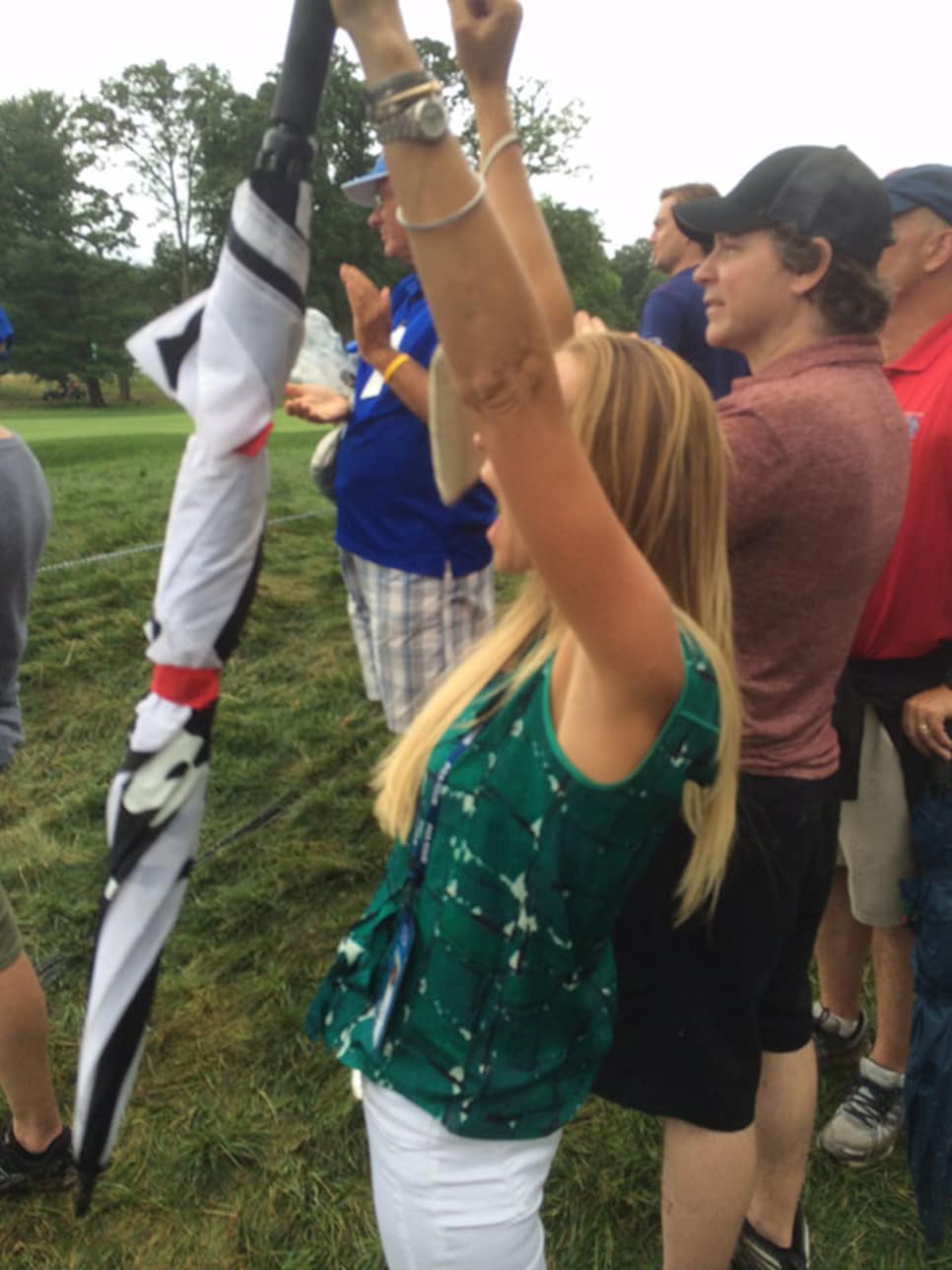 "That was ROCKSTAR! That was BALLER!"
OK, so there might have been some other words in there. Not that you could blame her. Even I now found myself thinking, Holy crap, this really might happen. I'm sure Erin thinks the same thing, but I don't ask her. Instead, I offer her a spot right by the rope on the 11th green. "No, I don't want to be in his line of sight. I don't want him to see me." Jimmy doesn't see Erin, but he sees the 20-footer for birdie perfectly, rolling it in and setting off another series of "WOO!"s from Erin.
Holy crap, this IS going to happen.
"Are you his wife?" a fan asks. "YES. And I take full credit."
We walk to the next hole. "My phone is freaking out," Erin says clutching her purse. "I can feel it vibrating." But she doesn't respond to the well wishers. Not even her mom. The situation is too intense.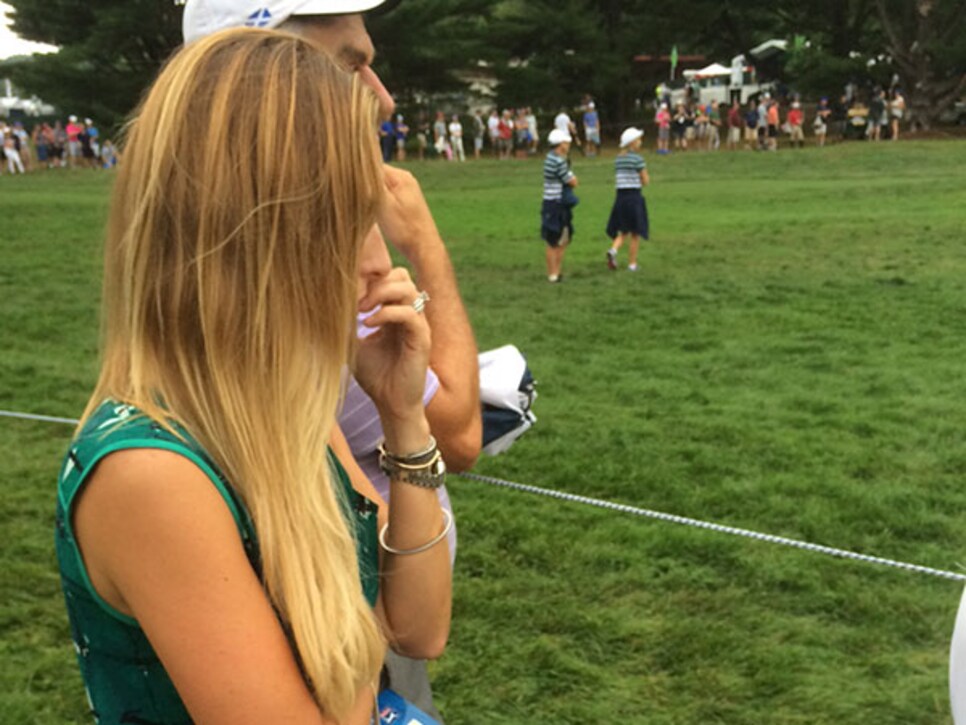 She breaks out the phone on the 16th hole, though, to text her nanny to "mosey on over to the clubhouse with the kids." Jimmy has a two-shot lead with three to play.
"Holy cow, holy cow," she mutters before doing some light stretching.
Then she's offered a cigarette.
"I might need five," she jokes. "I haven't smoked one ever, but maybe I'll start now." Instead she "stress eats" on lemon mints. She offers me one. It's surprisingly delightful.
On 17, the lead is still two over World No. 1 Jason Day. The Aussie is playing 18 and we hear a big roar. Erin knows he's going to have an eagle chance. She takes a deep breath, but suddenly a two-shot lead doesn't feel like a lead at all. Erin bites her nails and cranes her neck for a glimpse of her man. Having this view doesn't ease the tension.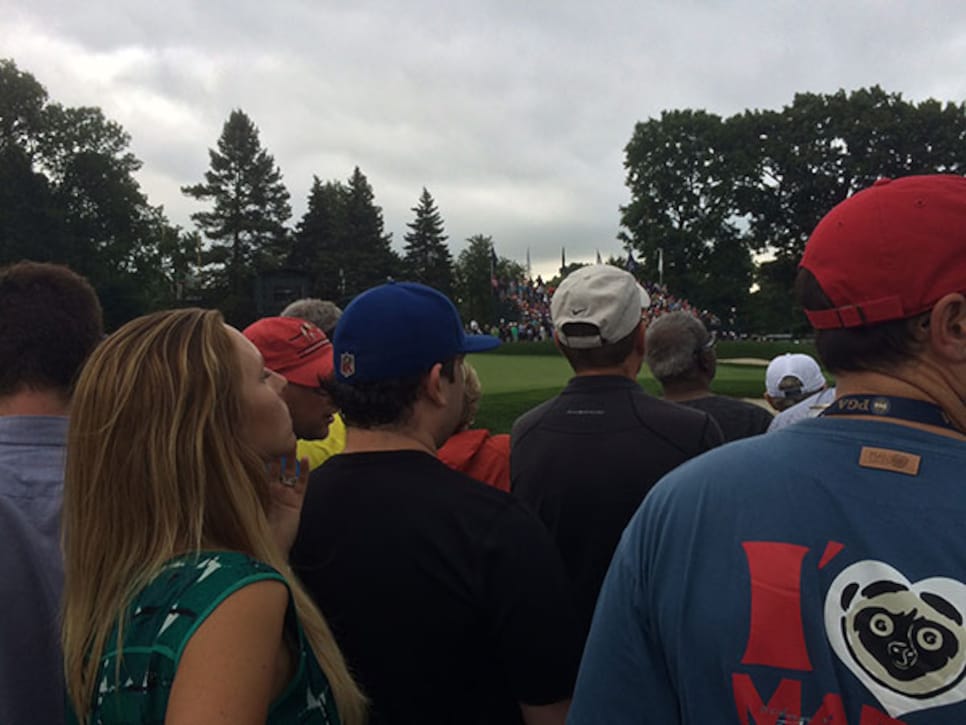 But Jimmy zips one in close -- a little too close to a deep bunker for comfort before ripping it back with spin -- for his third shot on Baltusrol's monstrous par 5. Moments later, he drains the putt for a three-shot lead with one hole to play.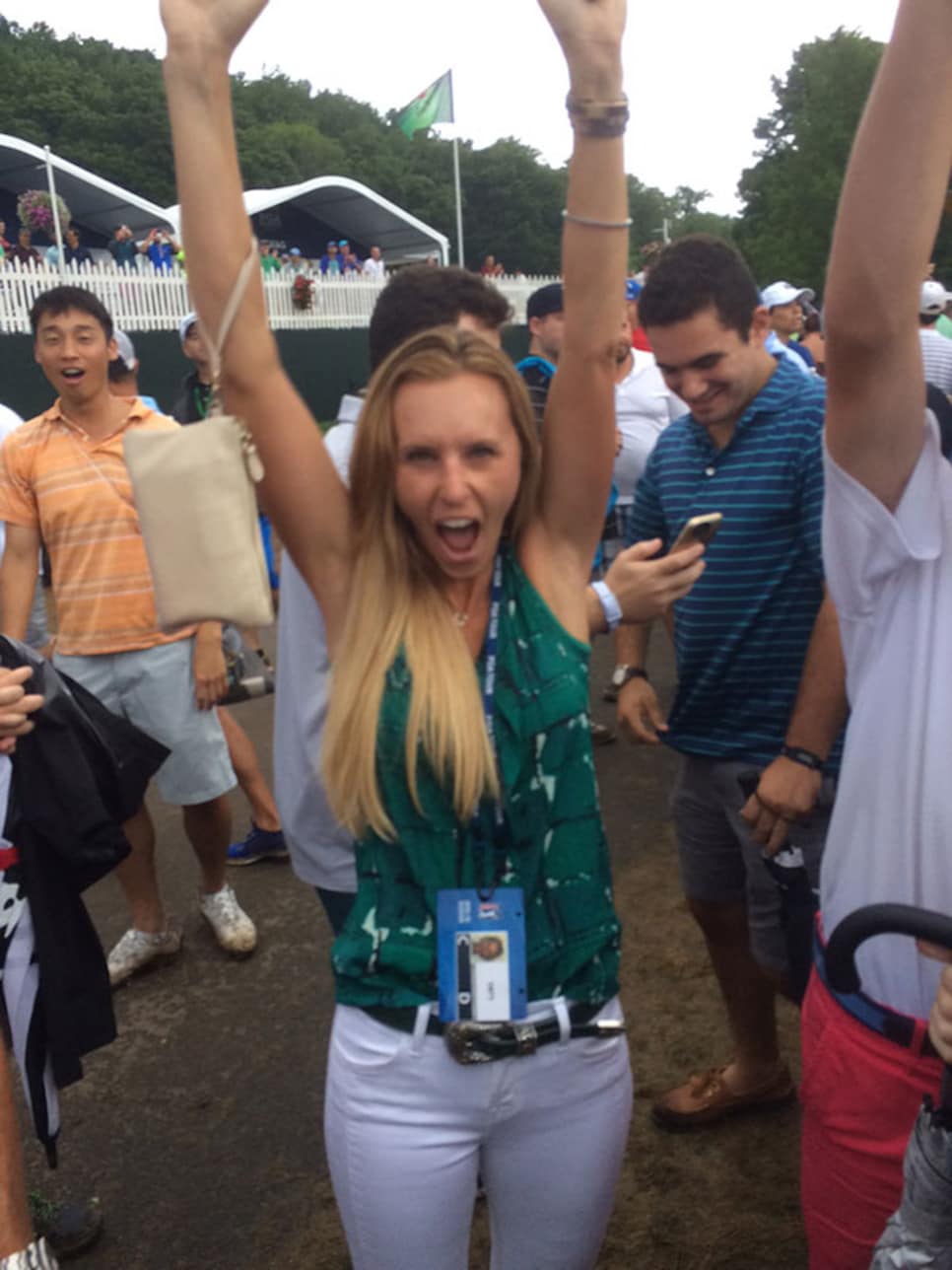 It was only five feet, but "it felt like it took a year to go in!" Erin exclaims. And suddenly, the topic changes from calming cigarettes to festive alcohol on the walk slog up 18. "You guys are coming to the bus later," she tells a group of friends. "Go get booze and come back!" Erin is asked for her drink order. She pauses, probably not wanting to tempt fate. "I'll text you." Good call, because it wasn't over.
Moments later, she's behind the 18th green with her young boys, Mclain and Beckett. And wouldn't you know it, Jason Day made that eagle putt, setting off the loudest roar of the week.
"I was just trying to keep my kids quiet," Erin said. "I knew the little one would freak out."
But they didn't. And neither did Erin. And most importantly for the Walker clan, neither did Jimmy. It wasn't as easy as he would have liked, but he made par to seal his first major title. Jason and Dash Day managed to make their way to the 18th green at another tournament, but this time, it was the Walker family that got to celebrate.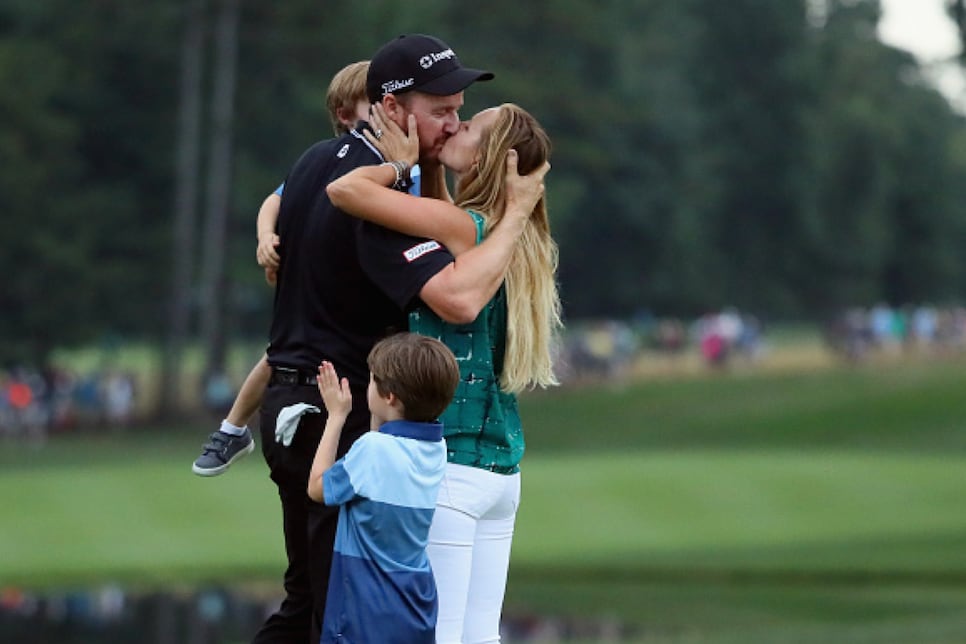 Side note: Jimmy may have carded a bogey-free round, but Erin making it through the day without getting a single blemish on those white pants might be the more impressive feat.
After the trophy ceremony, Erin accompanied Jimmy to the media center for his winning press conference. There she is in the front row:
And if you look closely enough, you'll notice something else. That first drink of the night? Some sweet, sweet champagne.