The Loop
Whatever else you want to say about Bryson DeChambeau, he's certainly a character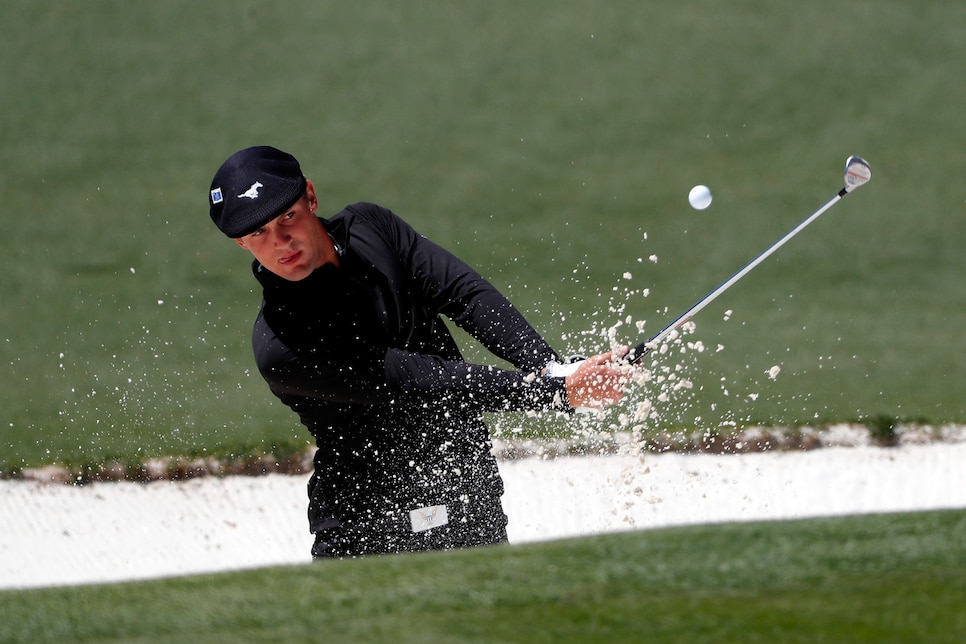 AUGUSTA, Ga. – Bryson DeChambeau is a piece of work, at once quirky and brilliant, a tall, lean, blond, Hollywood-good looking physics student who quit college at age 22 to become a millionaire golfer. To see the handsome kid striding down a fairway purposefully and quickly, arms loose, eyes fixed on a distant spot, his head so level and still that he might carry a glass of champagne atop it – to see Bryson DeChambeau in full flight is to think (don't ask me why) of a Victoria's Secret model in a hurry.
Bryson DeChambeau. Such a name. We'll hear it often. Still an amateur – turning pro next week – last summer he won both the NCAA Championship and the U.S. Amateur, only the fifth man to do that. (The others include Jack Nicklaus and Tiger Woods.) He essentially became a pro when leaving Southern Methodist to take invitations around the world: Argentina, Dubai, Australia. By no accident did he show up for this Masters wearing Puma-branded clothes and playing out of a golf bag bearing the Cobra label.
He can talk about golf as if it is science with illustrations by Michelangelo. He will quote "The Golfing Machine," an obscure, mystical, nearly- unintelligible-by-mere-mortals golf instruction book
Next week he can cash the checks.
More than one person, by the way, has noticed Bryson DeChambeau's high opinion of Bryson DeChambeau. (Jordan Spieth, asked about his place in golf history, said, "I'm not sure yet. . . . I'm not Bryson, I won't stand up here and give you a play-by-play.) After two days at Augusta, DeChambeau needed only two words to mark his place in today's game. He was even par, four shots off the lead, when he said, "I belong."
He said it just minutes after making hash of the 18th hole, a triple-bogey 7 that involved an unplayable lie, a re-teed second drive, a lift from a temporary immovable object (a men's room building), and a hacker's pitch.
One reporter was impressed by DeChambeau's clinical account of the calamity.
"Is there an emotional part of it," the reporter said, "or do you shut that off?"
"I'm not emotional," he said. "An execution is what I'm trying to accomplish on the golf course. If I can do that, stick to my game plan, nothing else matters."
Not emotional? I almost believed him. He can talk about golf as if it is science with illustrations by Michelangelo. He will quote "The Golfing Machine," an obscure, mystical, nearly- unintelligible-by-mere-mortals golf instruction book, the life's work of a man named Homer Kelly, and if the image of Kelly is that of a mad genius, what does that make his disciples? The only other world-class golfer I've ever heard mention "The Golfing Machine" is Mac O'Grady, who, not for nothing, is known even to his many admirers as "Whack-o Mac-O."
According to Ryan Lavner, writing for the Golf Channel, DeChambeau uses Variation A of the 24th of Kelly's 144 components of the swing. He also employs a Vector analysis of greens as guide to putting. (Enough. Makes my head hurt, and other organs, too.)
He said so Friday afternoon.
Saturday afternoon, you should have seen him.
From 80 yards, he had spun a wedge back off the 15th green into the pond there. He'd made the rookie mistake of landing the shot below the flagstick. Every such shot backs into the pond because there's a steep slope and its grass is shorn to the length of a fingernail. Once in contention, DeChambeau had bogeyed the par-5 13th and now, in the water, would double the 15th.
So he stood there, alone, standing by his golf bag, and leaned his head against his clubs, hiding in plain view of the thousands in the bleachers there.
Later, after he followed his Friday triple with a Saturday double at the 18th, DeChambeau told a small gathering of reporters that he was "disappointed." A 77 left him eight shots behind the leader, Spieth, going to Sunday's finale. He recounted putts missed, a six-footer at the 7th, another at the 8th, a third at the 13th. For the week, he was three-over-par on the vulnerable par 5s. If he hadn't told us he was not emotional, I'd have sworn that was smoke rising from his ears as he said, sure, he liked having college buddies in the gallery, "but at the end of the end of the day, I still shot five over today, which is pretty pathetic."
Then he said, "Thanks," and turned on his heels to go to the practice range for what I expect was an hour of beating balls and engaging in anger management.