It's often said that the great ones make it look easy. By that measure, given that Lydia Ko has achieved the fastest start in the history of women's golf with an effortless swing and unflappable temperament, there's little question that, already at 19, she is great. Other than not being a long hitter, Ko is a complete player through the bag. She combines a capacity to have fun with a fierce focus. And she possesses the biggest intangible of all for a tournament winner: the ability to make big putts.
But no matter how easy greatness can look, underneath it's always complicated. In the last months of 2016, for the first time in Ko's career, the complications are beginning to show.
Since winning silver at the Rio Olympics in August, Ko has been on the worst stretch of golf since turning professional in 2012. She not only didn't post a top 10 in her five tournaments before the season-finale CME Group Tour Championship, she finished out of the top 40 three times. Moreover, in her last two majors, the Ricoh Women's British Open and the Evian Championship, she has been T-40 and T-43.
The slump allowed Ariya Jutanugarn of Thailand, who is bigger and more powerful than Ko, to close in on World No. 1 and come to Naples, Fla., with the lead in all the major awards—including Rolex Player of the Year, the money title and the CME Globe's $1 million jackpot.
Still, Ko knew a victory at Tiburón Resort would mean she could still win them, along with taking the Vare Trophy for best stroke average, and make this year as successful as 2015. It seemed a tall order given her recent form, but when Ko opened 68-62 to take a three-stroke lead, it appeared she had simply been keeping her vaunted closing skills on call.
Yet on the weekend, the Korean-born New Zealander proved vulnerable. A 73 on Saturday, in which she hit only 11 greens, dropped her two behind. And on Sunday she went out in 39 with a killing double bogey on the ninth hole to fall out of contention, before coming home bravely with four birdies in a battle with playing partner In Gee Chun for the Vare. But after a bogey on the par-5 17th hole, combined with Chun's birdies on the last three, Ko lost the trophy by a single stroke.
So, is the bad patch Ko, already a 15-time winner on the LPGA Tour, is experiencing more than just a blip? Certainly there are legitimate excuses. Ko put everything into trying to win gold in Rio, and never had the same spark afterward. The weight of World No. 1, which includes representing the LPGA as well as the attendant performance expectations, takes a toll. And the insistent footsteps of seriously talented young players, led by Jutanugarn, also increases pressure.
For the first time, however, there is some question whether Ko, with her clear potential to be a true all-time great, will be able to sustain a long enough reign to compile the kind of numbers that approach those of Annika Sorenstam. There are hints that she could fall prey to the "early success, early burnout" syndrome that captured her idol, Se Ri Pak, and other Asian superstars. And Ko, who will be 20 next April, is holding to her projection of retiring from competition at 30, perhaps to study psychology.
It was a year in which Ko confronted the kind of difficulties that test a player's resolve:
• The two-year-old swing change designed to allow Ko to change her ball flight off the tee to a draw to squeeze more distance out of her 96 mph clubhead speed caused some confusion. During recent tournaments in Asia, where neither of her swing instructors, Sean Hogan or David Leadbetter, were present, Ko got into some bad habits that included flattening her takeaway, making it more difficult for her to hit a draw and undermining repeatability.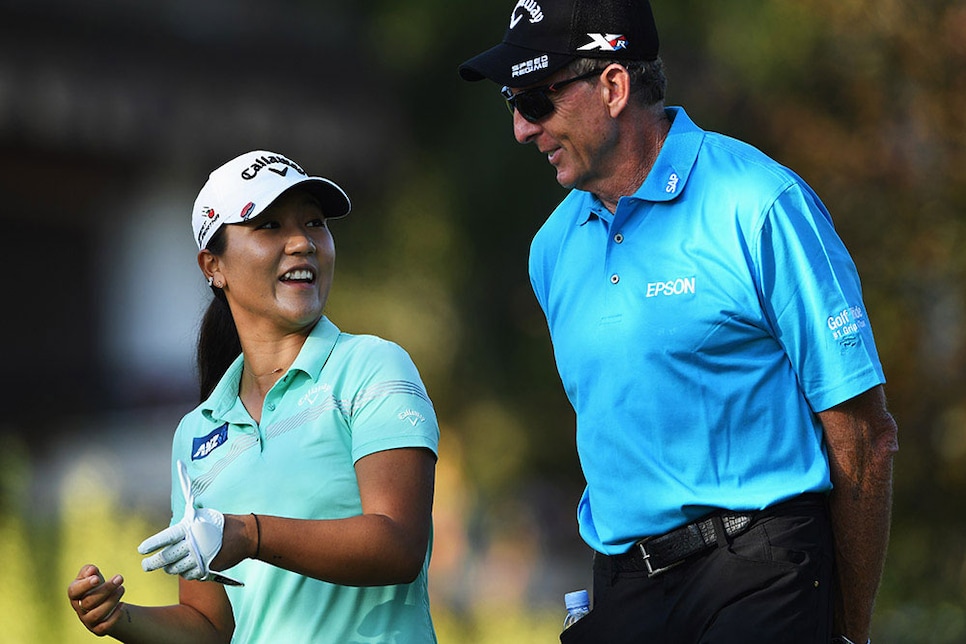 Its instructive that for the entire season, Ko statistically lost distance and accuracy, dropping to 126th on the tour with an average of 246.73 yards off the tee, after averaging 250.39 yards to rank 60th last year. Meanwhile, she went from second in greens in regulation in 2015 to 32nd this year. What saved Ko in 2016 was putting, as she was first in both the LPGA's putting categories. After her first-round 68 at the CME in which she missed seven greens from the fairway, Leadbetter got Ko to make a steeper backswing, and the result was a spectacular Friday 62. But her ball-striking—and scores—got worse on the weekend as she dropped to T-10.
• In October, Ko fired caddie Jason Hamilton, with whom she had won 10 times including two majors, rather than wait until the end of the season, furthering the impression that Ko is tough to loop for. She changed caddies seven times in her first year and generally has longer-than-average conversations before shots while seeking their advice.
• Even though Ko won the ANA Inspiration for her second major and three other events early in 2016, this was the year she suffered several tough losses. She was clipped in sudden death in June at the year's second major, the KPMG Women's PGA, by a hot putting Brooke Henderson. Then at the U.S. Women's Open, the major Ko most wants to win. She took a one-stroke lead into the last round at CordeValle in July, but made some uncharacteristic strategic mistakes in a final-round 75 that saw her lose by two. At the Olympics, Ko had the misfortune of running into an inspired player at the top of her game, as Inbee Park beat her by five strokes.
• Also in the offing is a change of equipment. Well-placed sources confirm that Ko will be leaving Callaway for PXG in 2017, with the new company reportedly offering a sweeter financial deal. Like any equipment change, the move carries risk.
Regardless of disappointments, Ko has always retained her smile and remained gracious. After losing the Vare so narrowly to Chun on Sunday, Ko offered warm congratulations. "She's a great person," Chun said of Ko. "Yeah, I get energy from her. Happy vibes."
Ko hasn't stopped giving them off since she began winning international tournaments five years ago, which probably is the best indicator that she will bounce back in 2017. "She is only 19, and this is the first bump in the road for her," Leadbetter said. "We will evaluate what happened, aim to rectify it and come out hot next year."
First, Ko will be taking some time off. "I'm so excited for it," she said, for a moment clearly an overburdened teenager. "Month off. Don't touch my clubs. I think they are sick of me too."
Even for a great one, it's hard to make it look easy.