News
What to make of Tiger Woods' short (but happy) return at Torrey Pines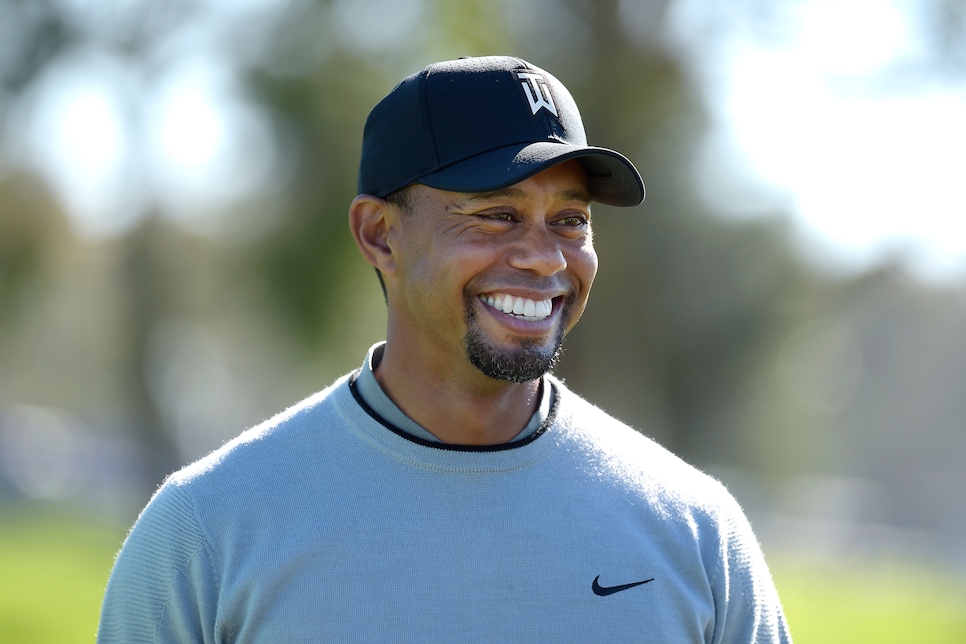 Tiger Woods definitely seems different. His game might be—although the sample size is still too small to say whether any changes are for the better or the worse.
At Torrey Pines and the Farmers Insurance Open, Woods couldn't freewheel like he did last month at the Hero World Challenge, where after a 15-month layoff, he made 24 birdies in 72 holes in benign Bahamian conditions. Especially on the very long South Course at Torrey, Woods' poor drives in the cool, damp conditions perished in heavy rough. He shot 76-72, with seven bogeys and a double against five birdies, missing the cut by four strokes in his first official PGA Tour event since August 2015. His short game was decent to good, his putting passable. As it has been in the past, the "danger" club was the driver.
But Woods seems determined to stay patient, pointing to the first full week in April and the Masters for when he truly needs to have his game ready. He looks capable, his gait between shots smooth, and his reaction to the many hard swings from the spinach free of any painful aftermath. His length wasn't up to that of playing partners Dustin Johnson and Jason Day, but when he "went after" his final drive on Friday, he hit a 325-yard bomb within two yards of Johnson's.
What's definitely different—in the Bahamas and at Torrey—is Woods' demeanor and attitude. He is flashing more smiles at fans, giving more hugs to players, answering journalists more thoughtfully and signing more autographs.
In the past few months, he has hit the talk-show circuit and lengthened his blog posts. The cynical view is that Woods is being more accessible to promote his new brand, TGR, an argument supported by the restrained answers he gave to probing questions in a much-anticipated interview with Charlie Rose.
But those who see a kinder and gentler Woods start by citing anecdotal evidence at the Ryder Cup last September, where by all accounts he was all about the team and others.
"Tiger has become a completely different guy with a completely different mind-set," said one member of the U.S. contingent. "He has more interaction with his fellow players than he ever had before. It's like a light went on and he decided, Man, it's good to be friends with these guys."
Dr. Ara Suppiah, who served as the U.S. team doctor at Hazeltine National, had a similar take. Besides observing that Woods appears "very fit," he was most impressed with the 14-time major winner's relaxed presence.
"It was the most I have been around him, but I found his manner much softer and lighter than I expected," Suppiah said. "It was good to see."
There will be plenty of theorizing as to how much Woods looked within himself during his time off. Suppiah, a highly sought sports physician on the PGA and LPGA tours (who has not worked with Woods), didn't want to speculate. But he posited that many top athletes undergo a more-accepting, less-consuming approach in the latter stages of career.
"The great ones are wired to always fight, to never be satisfied," Suppiah said. "But eventually they all reach a point where there is really nothing to prove anymore. Where instead of not enough, or not good enough, they finally take pride in all they have done. They become more accepting and content."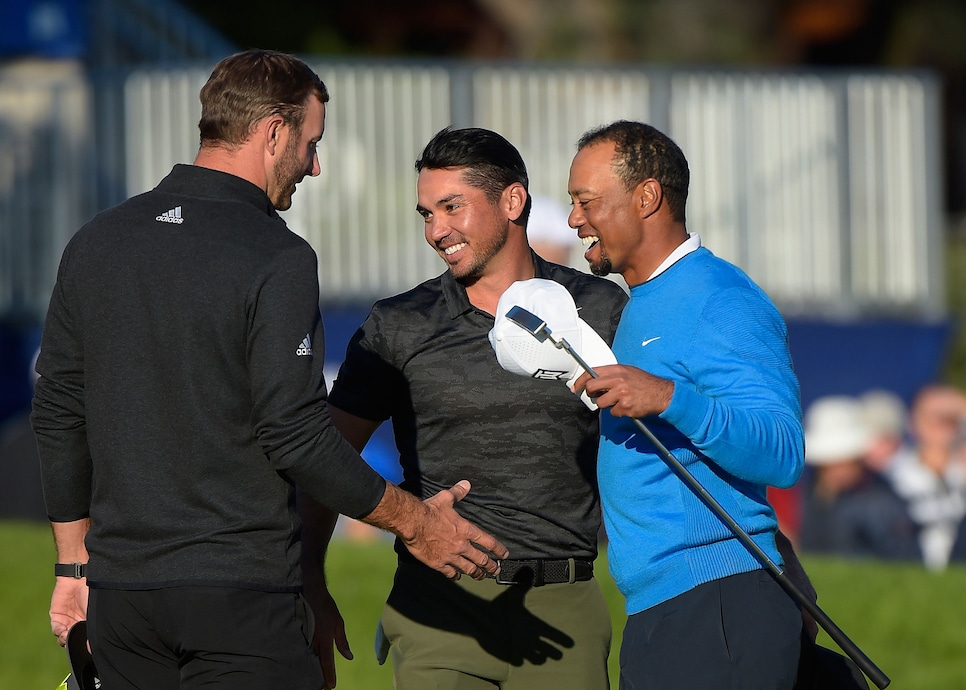 If Woods indeed feels this way, it was a view reinforced by his younger teammates at the Ryder Cup.
"You could tell all the younger guys, they looked up to him before anyone else," Suppiah said. "There is real respect and awe for what he has accomplished. Growing up, they all watched him. They have all learned to do the extra things because of how he showed what greatness takes.
"I'm sure Tiger noticed, and it made him feel good, but he stayed within the confines of the team," Suppiah continued. "He let Davis [Love III] run the show, took a step down, was never forceful, mostly listened. It was never about Tiger. But he also was very excited to be there. He had called a lot of guys before the matches, peppering them with ideas. He had his pod [Patrick Reed, Jordan Spieth, Dustin Johnson and Matt Kuchar], and he shared a lot with all of those guys, especially Patrick. When the whole team gave him that T-shirt that said Make Tiger Great Again, it was a great moment. Even while staying in the background, he was an extremely inspiring leader.
"He took to the whole environment naturally, partly I think because he has that military Navy SEAL mentality where the career follows a natural progression," Suppiah said. "At first, you are best at being a soldier, then you become an officer and maybe promoted to general. The focus gets wider, to be a leader of something bigger than yourself."
Suppiah had never formally met Woods before Hazeltine. After being introduced by Notah Begay III, Suppiah came into the breakfast room the next morning and saw the two of them sitting together. He took a seat at an empty table, only to hear Woods chirp, "What's the matter, we aren't cool enough to sit with?" Suppiah said he had thought they might be discussing something private. "Tiger said, 'We ain't discussing shit. Sit down.' "
Of course, golf is almost always an individual pursuit, but the military is collective. And being satisfied with a career is thought by some to be the beginning of the end. But Suppiah thinks that because Woods has probably pushed too hard in recent years, his edge might effectively be sharpened rather than blunted.
"When it's all about supreme talent, it's actually easier to get things done by bulling your way through with sheer will and grit," Suppiah said. "But after a number of years, that is exhausting, especially as the talent declines a little. For the great ones, there is a resolution to stop fighting and to find a new way. One that's more sophisticated and involves more self-awareness."
Suppiah cited swimmer Michael Phelps at the Rio Olympics and tennis great Roger Federer, who won his 18th major at the Australian Open at 35 on Sunday, coming back after a six-month absence for injury. "I think I will be quite relaxed, quite calm," Federer said before the tournament. "And it will actually make me potentially more dangerous in the bigger moments because I can play like I have nothing to lose."
Major No. 18 would be even more magical for Woods, should he ever reach it, given that would mean Tiger would have matched Jack Nicklaus for all-time major professional victories. But at least after Torrey Pines, he seemed to drop grandiose projections in favor of a humbler here and now, saying, "Playing tournament golf is a little bit different than playing with your buddies at home in a cart," he said. "I need to get more rounds under my belt, more playing time, and that's what I'm trying to do."
Said Suppiah: "I think Tiger is in a position to embellish what he's done, and then go out in style, in his own time, in his own way. But that doesn't mean he has to win another major, or even a tournament. He can go out after something that is satisfying to him. Probably he is still finding out what that could be."
No doubt Woods will find out more this week in Dubai.