The Loop
What to look for Saturday at the U.S Open
SAN FRANCISCO -- A gorgeous, unseasonably warm day in San Francisco will make for an ideal backdrop for spectators at Olympic Club, and for a prime-time audience back East. What should we look for? Let's take a closer look with five key questions.
__ 1. Is this tournament Tiger's to lose?__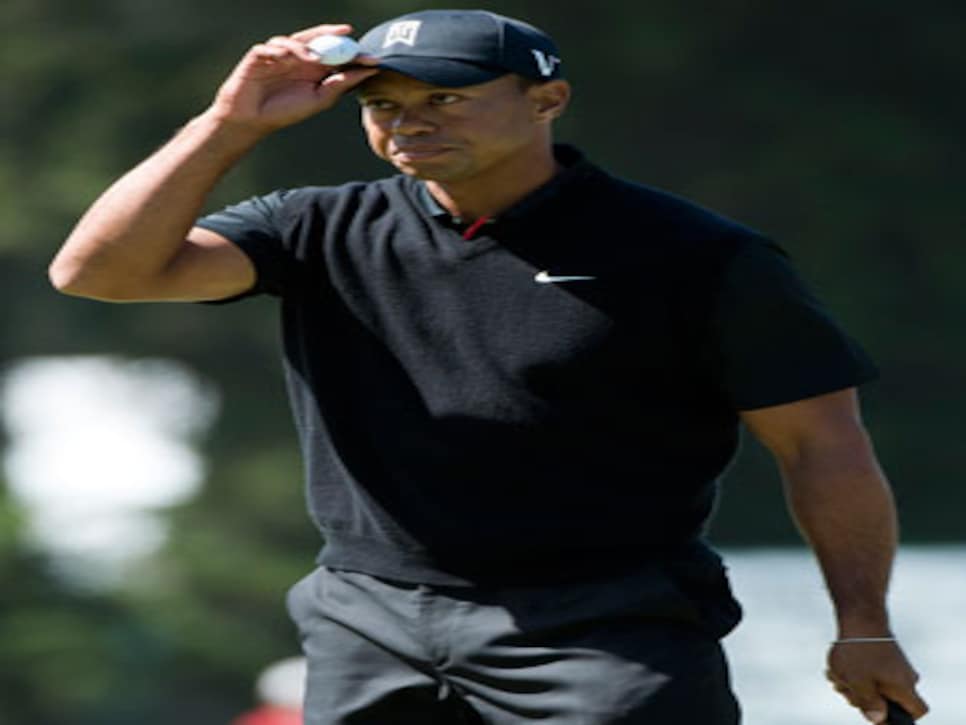 Four years ago, you would have said so. In fact, four years ago, we did say so -- and we were right. But Woods, as you've heard countless times, is a different golfer now. While he's coming off a win at Memorial and has employed an effective game plan of laying back off the tee and relying on sharp iron play to steer clear of trouble, Woods, as our John Huggan writes, is still prone to mistakes. He hasn't played a weekend round at a major in the last three years without a hiccup -- and his putter still isn't the sure thing it was under pressure.
2. What can we expect from the golf course?
It's going to be hard. Like, really hard. Clear skies and a slight breeze may set up well for spectators, but it spells misery for golfers who have to negotiate a course that is baking out more by the minute. And that's not even factoring in some of Saturday's ridiculous hole locations, 12 of which are five paces or less from the edge of greens (among the most severe is the par-3 15th, which is playing just 108 yards Saturday). One year after Rory McIlroy torched Congressional to win at 16 under, it's doubtful anyone will be under par come Sunday night.
3. Will long hitters have an advantage on this course?
Actually, no. Woods has been longer than Furyk and Toms through the first two days, but even he is only tied for 78th in driving distance, averaging 284 yards off the tee. Far more important is navigating Olympic's many doglegs and slopes to find the fairway (Woods is first in the field in driving accuracy) and subsequently, the green (Furyk is first in greens in regulation, Woods is tied for third). There are exceptions, of course, one being the controversial 17th hole and its dramatic fall-off area. As Woods learned the hard way on Friday, the only chance players have of getting home in two there is by sending a high-lofted shot into the green, which you can't do if you're not well down the fairway.
__ 4. Who could emerge from the middle of the pack and make a run on Saturday?__
The Open is an unpredictable beast. It's always going to have its share of Gregory Havrets or Kevin Chappells, relatively obscure players who secure late tee times on the weekend. But among players with proven track records, it's hard not to notice the likes of Jason Dufner or Matt Kuchar, both of whom are in the middle of big seasons, have the sort of solid, no-frills games that stand up well on weeks like these, and who begin Saturday just fours shots off the lead. You can thank us later when your bets pay off.
__ 5. Is the Beau Hossler Era upon us?__
Slow down. The 17-year-old Hossler's remarkable run here, which even included a brief appearance alone atop the leader board on his back nine Friday, may have conjured up comparisons to Francis Ouimet, but reality came quickly. After a five-hole stretch that featured three bogeys and a double dropped Hossler into a tie for ninth place, the rising high school senior now has the unenviable task of trying to make up ground on three major champions. We don't like his chances, but in the interest of the best possible storyline, we also hope we're wrong.