The Loop
What McIlroy can learn from the best fitters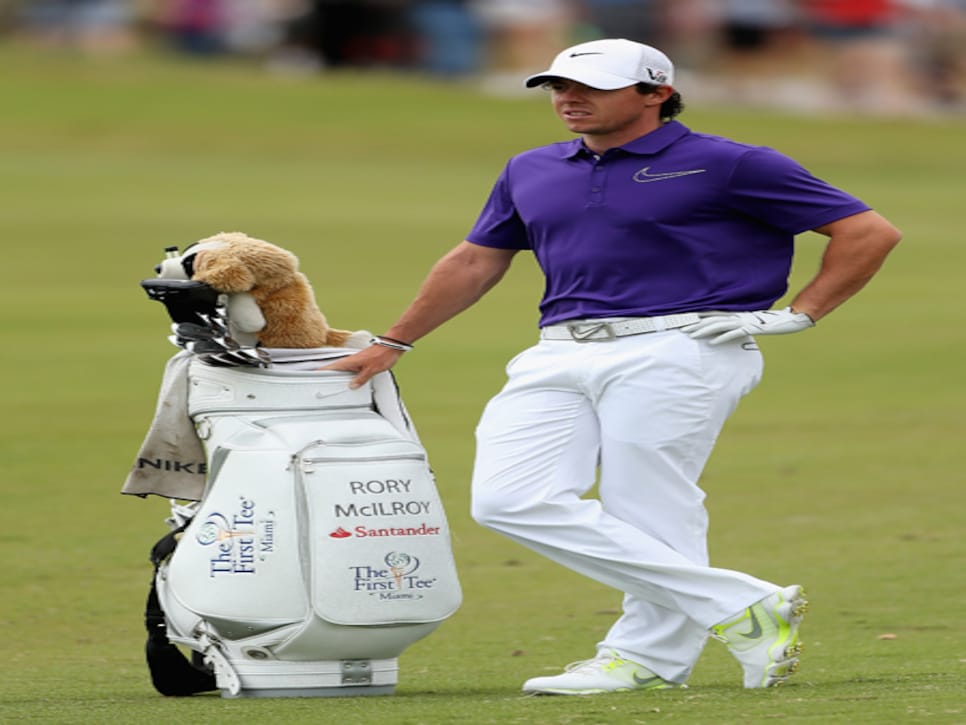 It's no surprise that the country's best clubfitters think the easiest way to adjust to your new clubs is to be fit for them, something that's clearly been done and being done with McIlroy and his new equipment. Still, McIlroy's treatment by the team at Nike is no more important or specifically tailored than the experience an average golfer should find with a quality fitter. Not only does a proper clubfitting result in clubs matched to your specifications, it also means you've got an interested clubfitter to turn to if the new stuff isn't working right away.
A fitter sees both what clubs can do and understands how a player's swing or his ability can or can't make those clubs reach their true potential. That knowledge and the instant verification provided by today's launch monitors and high-speed video are the building blocks to finding new clubs that will improve your old game, says Dana Upshaw of Dana Golf, one of America's Top 100 Clubfitters, "Considering that a well-executed fitting puts the correct type of clubheads, shafts, and specifications in the golfer's bag, there should be no 'technical reason' that the golfer shouldn't be able to hit them well - save a possible minor tweak.
"It's never just clubs, and it's never* just* the swing. There's a marriage of the two on every shot, and like most marriages every now and then a little incompatibility creeps in. Good 'counseling' can help resolve both."
It all goes back to confidence, says Craig Zimmerman, general manager at RedTail Golf Center in Beaverton, Ore., another Golf Digest Top 100 Clubfitter location. "If a player who I have fit is confident in his new equipment yet he subsequently struggles with his game, he is more likely to place emphasis on his swing or factors other than his equipment for his woes. He is more committed to the equipment, and this most normally leads to significant success," Zimmerman says, indicating that his facility guarantees a clubfitting for life and that a good fitter, like Upshaw says, needs to understand the golf swing, as well. "If, however, I did not provide the player being fit with confidence in their new equipment and they go out and struggle they are much more likely to blame the equipment. It can become a classic perception versus reality situation."
McIlroy's change also is probably bigger than the change most average golfers would make. Finding 14 new best friends and getting rid of 14 current ones is no different a shock to the golfer's system than moving to a new city is to the psyche of a 16-year-old girl. That's why most fitters wouldn't recommend such an overhaul for an average golfer. That said, a Golf Digest clubfitting study conducted with Club Champion Golf, which has clubfitting facilities in Chicago, Philadelphia, Atlanta and Houston, showed that 8 of 9 golfers improved their scores by an average of almost two strokes in less than six months after a complete bag evaluation and upgrade. More details are in the May issue, on newsstands and in digital versions in the next few weeks.
"Although any equipment change is made with the intention of better performance, there is often an adjustment period," says Jason Fryia, owner of The Golf Exchange with stores in both Kentucky and Ohio and a Golf Digest Top 100 Clubfitter. "Usually the new club just takes a little getting used to. However, changing all 14 clubs and your golf ball at once takes that little getting used and changes it drastically.
"I typically do not recommend that any player overhaul his entire bag all at once. Even when a consumer comes into our shop looking for a completely new set-up all at once, we usually recommend that we tackle the purchase over a number of weeks or months giving him time to become comfortable with one before getting the next."
When the swing changes, it's certainly true that a fitting might need to be adjusted, too. "Most of the time the player has had a lesson, has read an article or listened to a friend about swing advice," says Brent Norton of Top 100 Clubfitting location Miles of Golf in Ypsilanti, Mich. "When this happens we re-fit the player and make the appropriate changes to the equipment."
Still, what seems most apparent when you talk to some of the best fitters in the game today is that the way a fitter and player relate to each other is where all problems can be solved.
"The most important part is educating the player," says Steve Ball at the Ball Golf Center in Oklahoma City, another Top 100 location. "I think a lot of the potential problem would be handled during the fitting. We can usually prove to a player the club or the spec of the club is correct. Either by ball flight, or we can prove with the numbers from the launch monitor and again matching those up to the ball flight. If a fitter is educating during the fitting and not just trying to sell, then the player will understand the 'why' of the fitting decision. Many times the decision is made together, or at the very least players will feel confidence in the fittings. And then they are comfortable that they do have a lot of responsibility in the results on the course."
Again, like just about everything in golf, it comes down to what's going on inside a golfer's head. That's why in addition to being an expert in equipment technology and having a working knowledge of the golf swing, a good fitter needs to be a bit of a psychiatrist, too. When a player brings his new clubs back with some issues, an exceptional fitter will lay out all the evidence to restore some mental stability.
"Most of the time the customer sees that he's hitting the new clubs much better than his old ones," says Woody Lashen of Pete's Golf, another Golf Digest Top 100 Clubfitter. "This helps fix the doubt in his mind that these are the best clubs for him. Emotion is a very big part of the game, and if any player does not have confidence in his clubs, no matter how good the quality or fit, they simply won't work. In our environment, when you can show the golfer that they hit a certian set up that much better than what they have, you don't have emotional issues."