The Best Of Golf DIgest
What made Tiger Woods great?
We spoke with five players who know about going from good to transcendent in golf—Nicklaus, Player, Trevino, Miller and Faldo—to assess Woods' game
Updated on February 15, 2023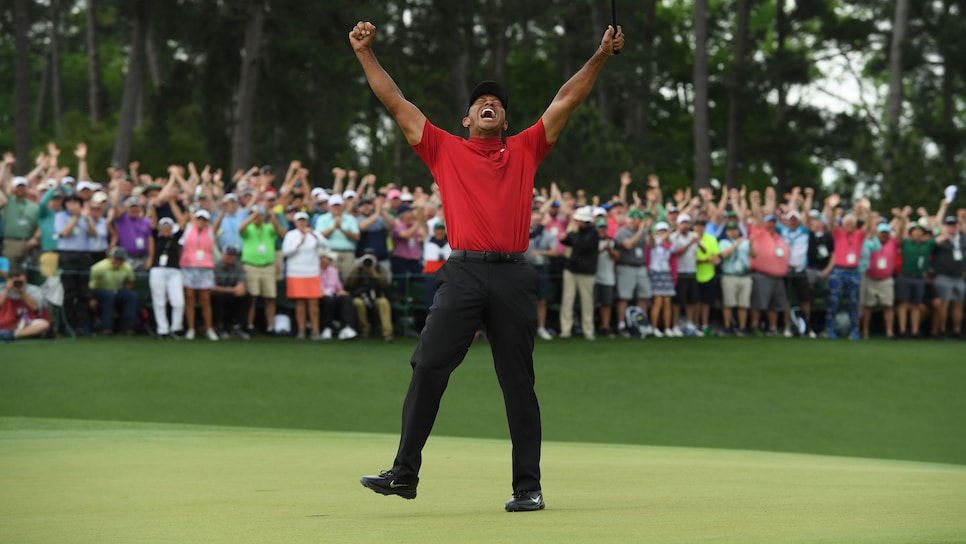 Updated on February 15, 2023
Photo By: J.D. Cuban
EDITOR'S NOTE—This story first appeared in the January 2018 issue of Golf Digest, just as Woods was making his comeback from 2017 back fusion surgery. We know the postscript—that Woods claimed an inspiring victory at the Tour Championship that August, shocked the world with a fifth Masters green jacket (and 15th major title) in April 2019 and grabbed his 82nd PGA Tour title in Japan later that fall. We also know that Woods' career would take another fateful turn in February 2021 when he was involved in a single-car accident that has limited him to playing just a handful of events a year. But the insights from this piece remain as truthful and poignant as they were when the story first ran.
More than any other player in history, Tiger Woods at his peak refuted the adage that no golfer gets it all. The image of that once-supreme completist from the century's first decade remains indelible and continues to magnify light onto every part of the game—especially the elements that constitute greatness.
Those who can perceive and convey that last piece with the most precision are the elders in an ultra-exclusive fraternity that includes Woods as a junior member. So as Tiger embarked on his latest comeback—begun remarkably free of back pain and with correspondingly surprising success at the Hero World Challenge—Golf Digest sat down with five of the best: Jack Nicklaus, Gary Player, Lee Trevino, Johnny Miller and Nick Faldo.
All are multiple major winners—collectively their total is 41, the inverse of Woods' 14. All are essentially retired from competition yet remain avidly connected to the current scene. All are close students of a figure who has transcended and brought scrupulous attention to the game they once mastered.
For them, Woods is both an illuminating prism and a mirror.
Our idea was to exploit a premise that has proved reliable since Woods first came to world renown as an amateur in the mid-'90s: The better the player, the better the take on Tiger.
To varying degrees, each Hall of Famer possessed some or even all of Woods' myriad qualities and strengths. But to allow the interviews to form a more coordinated whole, the subject matter for each former player focused on the area he most closely compared with Woods.
With Nicklaus, it was the uncanny ability for making it happen. For Player, an indefatigable self-belief. For Trevino, an undying obsession for the game. For Miller, a nearly identical crucial head start as a youth. For Faldo, a relentless focus on majors.
The individual framing allowed each of our sages to pull from personal experience and observation. The result is wisdom and insight about what it takes to reach the very highest levels of golf—and through a more intimate understanding of five all-timers, a more refined appreciation of Woods.
Greatness in golf will remain fascinating and mysterious. The current question: When, if ever, will Tiger, now 42, achieve the kind of late-career climax—Nicklaus' 1986 Masters at 46 the epitome—that provides each of our five elders such an enduring satisfaction? As 2018 develops, they'll retain the most interest and empathy as a renewed Tiger—still very much a completist—chases his missing pieces.
NICK FALDO: The Journey to Thursday Morning
Tiger and I were similar in that we could almost be in the zone for four days. I had this ability to focus on golf. You hear the psychologists say you should bounce around, but I didn't. Sometimes Fanny [caddie Fanny Sunesson] would go off on a subject, and I used to drag her back: "No, no, no. Just keep talking golf."
The preparation time between majors is vital, and this is where I think Tiger was absolutely phenomenal. It's the journey getting to Thursday morning of the U.S. Open or whatever, and if you're really smart and know more about the game, it starts the week before or two weeks before or, in the case of the Masters, months before. But you've got to start well, to be absolutely ready for Thursday morning. I remember reading that Arnold Palmer said he would take the intensity of 17 and 18 on Sunday of a major and bring that to Thursday. And that was a little jolt to me. I used to say to myself in the majors: Every shot is history on Thursday as well, so don't waste them.
With Tiger, I think of the opening nine holes when he shot 40 at the 1997 Masters. [Faldo, the defending champion, was his playing partner in the first two rounds of Woods' 12-stroke victory.] I wonder if that was one of his epiphanies where he said, I'm never going to do that again. I'm never going to set myself up to get that far down. I'm going to find a way to prepare. And I think that's what he did so brilliantly. How he could go out, win a tournament, disappear for three weeks and come back out in a major, and there was no wastage of shots or sloppiness. And the number of times you would say, How does he come out holing every putt?
Tiger knew he was different. Special. He hit a golf ball differently—full stop—than anybody else. Nobody could drive it like him, nobody could hit long irons like him, or the wedges and the putter. There wasn't anybody ever who was that good in every department. And then he'd believe he was better prepared for Thursday than anyone else, and it became a pattern.
It's true in other sports. With Tom Brady, I tune in to make sure I watch his first possession. I love Formula One racing. How come these guys will all qualify within tenths of a second, and then on the first lap of the race, Lewis Hamilton will be a full second ahead of everybody?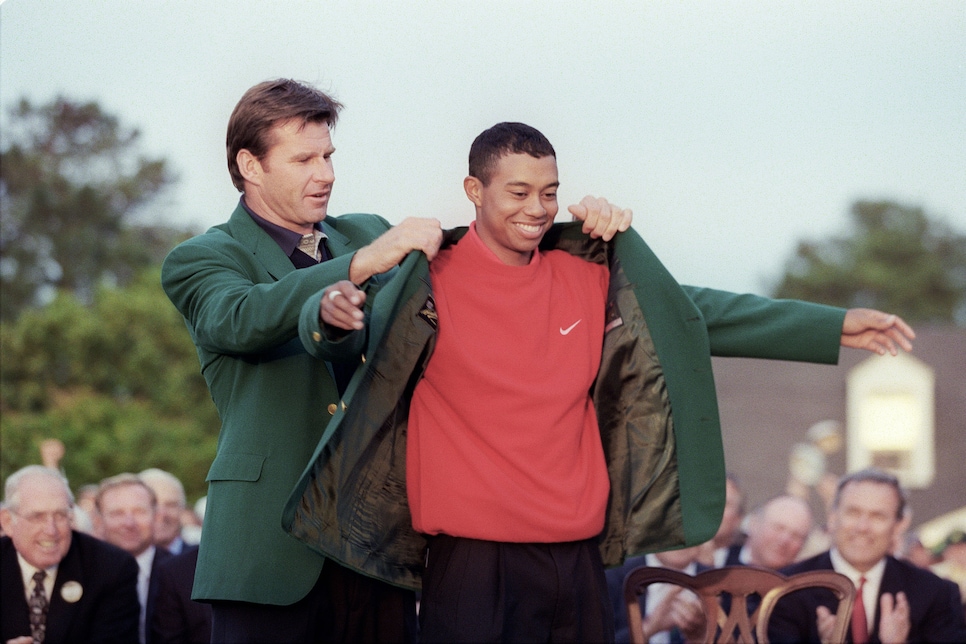 I birdied a lot of opening holes at the Open Championship. You psych yourself all week, and you visualize it, seeing yourself knock it out there, on the green, in, and off you go. Whereas some people stand up on the first tee, and they can't see the fairway.
I'd like to do some of my career differently. I made mistakes working too hard at tournaments. I know I wore myself out, wore out my golfing batteries. But I said to myself, I don't want to get to 45 and regret that I didn't try hard enough. Because I know some golfers, I watched them get into their 40s, and they were lazy. And suddenly it's gone. You're an athlete given a window of opportunity. And while you've got your nerve, you'd better make the most of it. Because once your nerve starts to go, you ain't getting that one back.
That last round at the 1996 Masters [overcoming Greg Norman's six-stroke lead] was the best round mentally I ever had. The swing wasn't quite right, and I had to mentally push myself through each shot. I would think to myself, Are the wheels coming off? And I had to yell at myself, No, they're not! Come on, what are we going to do? OK, hit it, land it there, piece it together, and I'm going to do this in the swing, because I know if I do this, I'll hang on to it. I had a little checklist I had to go through. I'd lost that 100 percent self-belief, or whatever the percentage is where you're Superman. Once it gets chinks, it becomes, Oh, I got away with it. And then one day, you say all those things to yourself, and twang!—it goes sideways. And that's the day when you go, Oh, blimey.
To go to a major with the intention of winning it and doing it, that gives me the greatest pride. I did that in three of them [1990 at the Masters and St. Andrews, and 1992 at Muirfield were among Faldo's six major victories]. With Tiger, I don't know if he's done 14 with the intention quite like that. It gives you that sense of power. You definitely feel everybody must be looking at you. The way you act probably pisses off a lot of the players—has to. Because I'm sure that's when you're at your rudest. Because you're so focused, you're so engrossed.
Tiger was quite happy to come into a tournament with a horrendous spotlight on him. I was amazed how he could do that. I'll never forget, I was on the range doing TV at Augusta. He came on the range, and you could feel the aura. Every player would turn and look. All the gallery, every eye was on him. He turned it into energy. I'm sure Ali had that.
Once you get everything right, it's that wonderful feeling knowing that you're going to do it. I had that once: walking down the first fairway at St. Andrews, in 1990. They had put the flag just over the burn, into the breeze, and David [Leadbetter] came to tell me that balls were spinning back into the burn. So it's a 9-iron, but I'm worried, so I'll hit 8. And then I get a little more nervous and take out a 7. So I chip a 7, and I land it right in the back of the bloody green, and I've got a 30-yard putt. And I said to myself, Just relax. You're going to win.
You can say it now 30 years later, and people don't think you're an ass. But how cool a line is that to say to yourself? That is your ultimate. The millions of golf balls and the thousands of hours just to be able to say you know what to do and how to do it under the ultimate pressure, and you love it.
JOHNNY MILLER: The Father Influence
When Tiger came up, I saw a lot of my golf upbringing in him. I don't know exactly how Earl worked, but I could tell he had that affirmation thing going bigtime with Tiger. I mean, he said, This guy's going to be the greatest, and he probably said it a million times to Tiger. He also paid the price with Tiger with his time, doing a lot of things my father did. Everything was centered around his dad, right?
With Tiger, what I saw was the drive, even a stronger drive than I had. And he had the rarest of all abilities: If he needed to make the putt, somehow he could make it go in. Not many guys can actually make it, you know. I think of Casper, Nicklaus—for a while, Trevino. It's very rare to have a guy who actually improved his putting when it mattered the most. Tiger was definitely that way. I could do it with my ball-striking. But you still had to finish it off with the putts.
I think Earl had that sense that this guy is special, and I think it was a special relationship. Tiger wanted to please his dad and follow what his dad wanted to accomplish with him. Sometimes you hear some of the negative, but I think most of it was pretty amazing. I believe Tiger, if it wasn't for Earl, would be just another guy. I really believe that.
When my dad started me out hitting balls into a canvas tarp in our basement when I was 5, you couldn't use too much loft because it would hit the rafters. So I hit a lot of 5- and 6-irons. And I would wear out this dark-green canvas, making a little light green line where it would start to shred. I'd aim for that little stripe about 15 feet away, and I knew where a perfect 6-iron would hit. The thing that the basement did for me, is that it really got me to know what the sound and feel of a pure shot was. You could hear the strike, and you could feel no vibration. Trying to get that would really focus you.
I was very little. When I graduated from ninth grade, I was 5-2, 105 pounds. I was a phenomenal putter. I'll bet you when I was 12, I was in the top 10 in the world putting. I once had 16 putts for 18 holes [at San Francisco's Lincoln Park]. On terrible greens, by the way.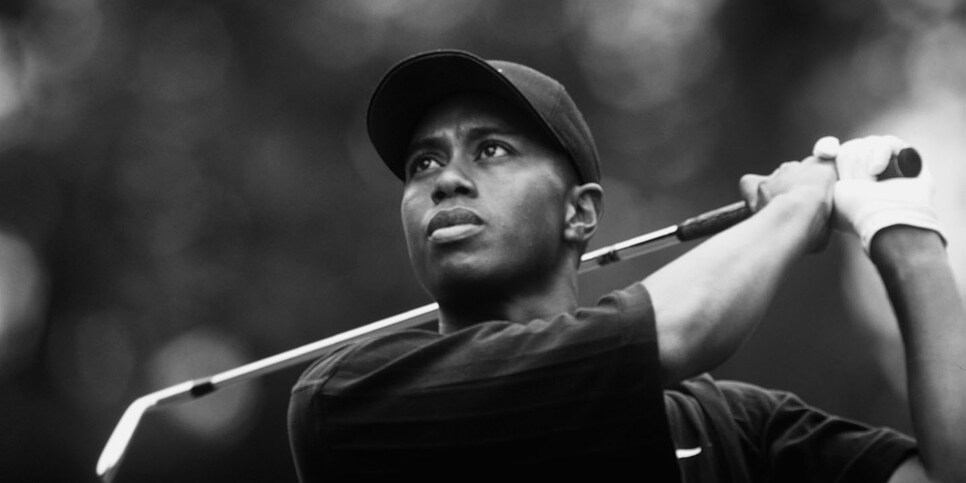 But I loved the game, everything about it. My dad, he made me like a little pro, had me practice how I put my hat on, how I tipped my hat, how I put my glove on, and how I squinted my eyes and gritted my teeth. Sort of a little Hogan. He always talked about psyche. And he had a blackboard with certain things he wanted me to do because I was small and I needed to be strong—push-ups, squeeze grips, pull-ups.
He would work the midnight-to-8 a.m. shift so that he could sleep while I was in school. After school, he'd take me to San Francisco Golf Club, where I was taking lessons [from John Geertsen], and the club sort of adopted me. They averaged only 20 players a day, so in the afternoon no one was even out there, so I could hit as many balls as I wanted. Even on approaches into the greens, I could hit eight balls, fixing my divots.
If I hit a bad shot, my dad didn't really focus on the bad at all. It was just, "OK, one more shot." It was always one more, no matter how many balls I had hit. It was, "OK, let's see you hit another one," never, "OK, let's go home." I don't think he ever said, "Let's go home."
He was a smart guy, and he was teaching the best he could. He'd give me 10 things to try, and eight of them were just way out there. But I would analyze why each one was not a good idea. And then one of the ideas was really good, and one was fantastic. Like when I was 10 or 11, he had me carry a lefthanded 5-iron. So I became quite good lefthanded, about a 6-handicap. Now coaches recommend swinging left-handed as a training aid. It wasn't boring, because he was super creative.
I was a good little fighter. My dad was a boxing fan, and he taught me how to box. I didn't get in that many fights, but I never lost a fight. The fight would last only 30 or 40 seconds, but that's the way you settled disagreements back then. When he taught me how to box, that gave me confidence, too.
When I was a young player, I didn't even know what a bad stretch was. Never played bad. Never. It's not like I would shoot a bad round and then a real good round. It was just always good. I was a plus-2 when I was 16 years old on the Lake Course at Olympic Club.
I do think you need a start like I did to get a head start. All my friends would work as hard as I did, but they were always a little behind me. They didn't have their father involved. That can work negatively if the guy is overbearing. But my dad was always about affirmations—"You're doing great. … You're on the right track. … Keep doing those exercises. … You're going to be a champion." Over and over. He'd call me Champ—that affirmation of potential. Actually, not just potential, because I knew when I was 9 years old that I was going to be a champion golfer. Something inside me said, Just keep doing what you're doing. You're going to be a champion, like your dad said. So that affirmation of greatness or being successful from your father is the strongest affirmation there is for a boy.
JACK NICKLAUS: Making It Happen
When you say, "Making it happen," I think the key to that, and what Tiger and I both understood, is knowing what was happening.
I go back to some of the mistakes that I made. I look at the 39 I shot on the last nine holes of the U.S. Open at Cherry Hills in 1960. At Pebble Beach in 1963, I came to the last hole tied with Billy Casper but three-putted from 22 feet by being too aggressive with the first putt and then missed the comebacker. As good as Casper was, my chances of beating him in a playoff were higher than making that 22-footer. Later that summer, down the stretch at Royal Lytham, I lost by one after bogeying the last two holes by not being smart.
Those are things you learn from, how to assess a situation and learn who you are and what you can do. And you gain confidence when those lessons teach you how to choose the correct course. Ultimately you become that golfer.
If I had a putt on the 18th to make, that I needed to make, more often than not I made it. Inside 10 feet, more than likely I made that putt. With Tiger, the same thing. Think of Tiger at the [2003] Presidents Cup in South Africa in sudden death with Ernie Els. Particularly the second putt, the one in the dark. I mean, that was just … he made it happen.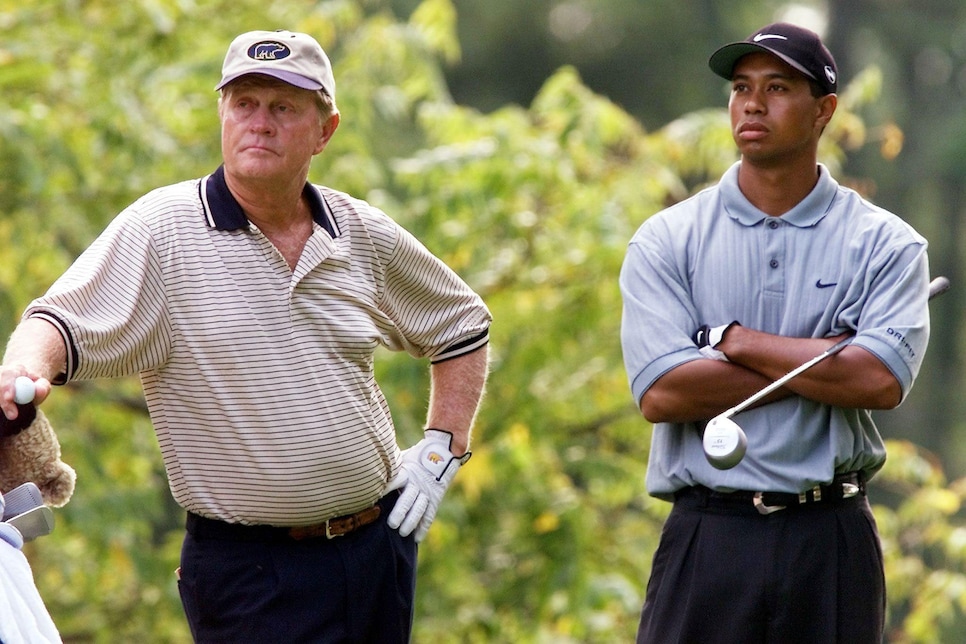 In those situations, I always stood over a putt, and I'd say, I need … I HAVE to make this putt. Period. I gotta make it. And more often than not, that made me focus more, and I made it. And once you do that a couple of times, you say, Well, what should I say this time: Gee, I'd LIKE to make it? No. I HAVE to make it. Once you find something you tell yourself that works, you continue to do that thing until it proves it doesn't. For me, it kept working most of the time.
I got nervous all the time, as nervous as the next guy. It's just that I caught myself before it became destructive. You might be thinking, Gosh, I'm worried about missing it. When you get that out of your system, you eliminate all the negatives.
I don't know how much is innate. I mean, I started winning when I was 10, 11 years old. I was out playing with [wife] Barbara out at Lost Tree on the sixth hole one time, a par 5, and Barbara hit three fairway woods up there and made 4. And I had a 25-footer for 4, and I made it. And she says, "You can't ever let me win one?" I said, "I'm sorry, it's what I do. I'm like the scorpion and the frog. It's my nature." Why, I don't know. I wish I could answer that question, but I can't—I just don't know. It was not an accident. No, I worked very hard for that. But no, I never tried to figure it out. How does Jack Nicklaus know who Jack Nicklaus is? Whatever I had to do, I just went ahead and did it.
Sure, I could have gone the other way. Why didn't I? Because I didn't want to [chuckles]. I didn't want to be a bad player. I didn't want to lose tournaments. I wanted to learn why I made mistakes. I think Tiger does much the same thing.
My dad loved playing all sports, and so did I. I've played tennis all my life. I played basketball in a rec league until I was 40. I'd take the kids to football practice, and I'd throw to them in passing drills. Playing all those sports taught you a lot about yourself and about what you can do and what you can't do. Especially when you're dealing with team sports, you're working with your teammates and seeing them make mistakes and their strengths. And you relate those things right back to yourself and how to make yourself better. Did what I learned from team sports help me to learn to rise to the occasion in golf? Absolutely.
Tiger was always a guy who once he got ahead, he was able to gain the ability to just bury everybody. And I never really thought about burying the field. All I ever thought about was, I got my lead, now how do I not do something stupid to lose my lead? The 1965 Masters [where Nicklaus won by nine], it just happened. And the 1980 PGA [Nicklaus won by seven at Oak Hill], I was playing terrible.
I try to subdue my emotion in competition. When I was a kid, I'd find myself getting excited when I did something good, and I'd lose my focus and wouldn't get back down for a hole or two. I said, I can't do that. So I was one of those guys who didn't pump himself up by getting excited. I had to control it so I could continue to do something good.
The game is unpredictable, and it's different every day. I don't think I ever had two problems to solve in a round that were exactly the same, ever. You always have to figure out, How do I really make this happen? I trusted my instinct. I always felt like any time I played a tournament, any place in a round, if I didn't like how I was swinging, I would change it. I go back and look at a lot of times I did that, and who knows why I did it, but I just said, This is not what I want to be doing. I need to make an adjustment, and I need to make it now, and I've got to do it without destroying myself to do it.
GARY PLAYER: "Bound for Great Things"
Tiger had advantages physically and in his early exposure to the game that I didn't have. It put him on the road to being the greatest golfer who ever lived. But the thing where we were equal, or I might have even had more of, was drive. Man, I was driven. There is never enough success for me.
One of the first things I noticed about Tiger is his strong belief in his destiny. He carried himself with a peaceful but powerful sense that he was bound for great things. I understand that feeling. It was vital to my inner view of myself, especially when I knew others might not have shared it. But that only made me more determined.
When I was 15, I broke my neck showing off for some other boys by jumping headfirst into what I thought was a pit of soft leaves and grass, and hit bottom. I had to stay inactive for nearly a year. I had been playing golf for only a year, but I was already consumed by the game. During my convalescence, I would be alone in the house and stand in front of a mirror, saying over and over, You're the greatest golfer in the world. It was absurd, but something told me that mattered. Later, I learned from reading and befriending Norman Vincent Peale. He once wrote, "If you want something and you go for it, you will be astonished at the values you will find."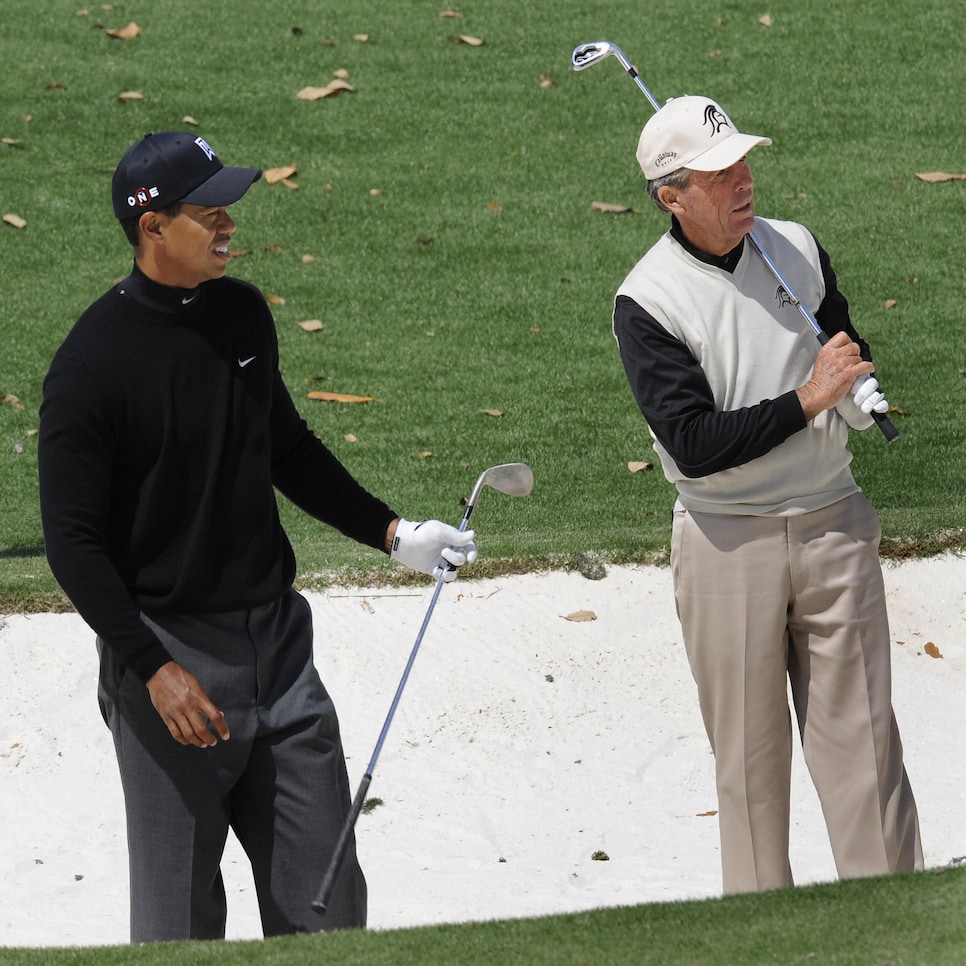 My parents, Harry and Muriel, always encouraged us. I'm sure it gave me the belief that what I could conceive, I could achieve. It's the greatest gift you can give a child.
My older brother, Ian, was a tremendous influence on me. I remember at 8 or 9 trying to run a five-mile course with him, but I fell down less than halfway, exhausted. I cried, "Ian, I can't make it." He yanked me to my feet and very sternly told me, "You can do anything you want to. Remember that. There's no room for 'can't' in this life." Then he kicked me on the backside to emphasize the point. Ever since, if I've ever been tempted to say I can't, I feel that kick again.
A golfer's true greatness is revealed not when he's playing his best, but when he's not and still manages to win. For all his talent, Tiger has shown even more will, and so often when he was fighting his swing he still found a way. There were many times in tournaments when I was lost, hitting absolute rubbish, but I would get the ball on the green and make the key putts. How does that happen? Desire. Tiger has always had more of that than the players he's beaten. You feel as if he cares more than anyone else. I was told that when I played, I gave that impression.
Tiger has hit so many amazing shots under pressure. Often, with some players more than others, pressure can destroy performance. But I've found it's amazing how the intense pressure of the crucial moment, when something special is required, produced the best shots of my career. I don't know if you can say it's luck if you continuously did that. Talent, maybe?
Obviously I'm pulling for Tiger—I am a big Tiger Woods fan. But I think we could look back and say that his downfall was striving for too much perfection. He was on the way to being the best player the world had ever known. He wins the U.S. Open by 15 shots, and shortly after he's having lessons and changing his swing. There is always a limit, and I don't think he could have gotten better. I pursued better technique my whole career—my only regret is a lost chance to learn from Ben Hogan—and it's a capricious thing that often doesn't lead to improvement. Golf is such a very, very intricate game, and there is a limitation.
LEE TREVINO: A Reason for Everything
Tiger, like me, is obsessed with golf. People have to understand that he made himself what he is. He wasn't born with that. Superstars make themselves that way.
When you want to be the best, you gotta do something extra. You can't just do the same thing that everybody else is doing. All the great ones do that. I outpracticed them. The better I did it, the more I'd like to see it, and the more I practiced.
The secret is, everything that you do, there's a reason. The good players figure out the why. Why that ball's doing that. And why you can do this. Most people don't do that.
I played a hook with a pretty swing until I came back from the Marine Corps and saw Ben Hogan hitting fades at Shady Oaks. After that, I figured out a way to play to avoid the left side. See, I play with two flags. I aim at this flag, but I hit it at that one. I'll stand here, and I'll go like this [simulates his open stance]. I'm looking right at the target. I don't have to do this [looking more over his left shoulder from a square stance]. And then I played a block fade. You have to, if you're aiming left. It's in your mind, it's in your makeup, it's in your body. Putted the same way. Copied Jack Nicklaus, the greatest putter I've ever seen.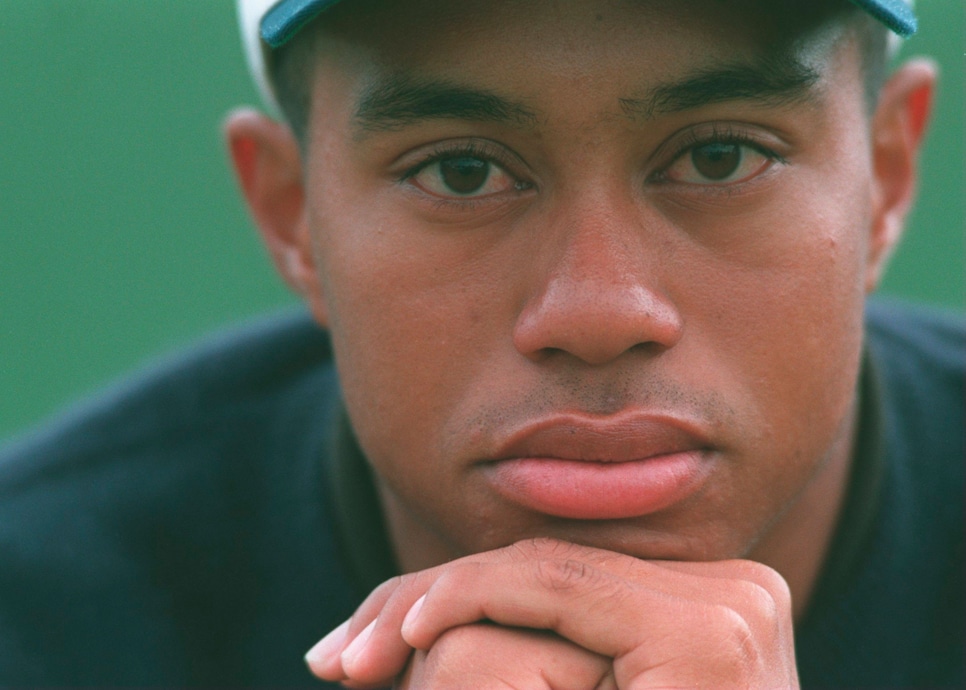 You have to respond to the target. During the swing, I look for the target in my subconscious mind. You can't think when you swing. The more you think, the worse you'll play. What's happened, unfortunately, and I mean no disrespect by this, is that people who are teaching are getting way too crazy with too many little movements and muscles. You can't let too many people mess with you. Mr. Palmer had it right when he said, "Swing your swing."
Tiger outsmarted himself. He didn't realize that if he just maintained, he would still be winning everything. Instead, he wanted to do something else. He got bored. He wasn't satisfied winning by 15. He wasn't satisfied by winning 30 percent of his tournaments. It was too easy for him. He was actually too good, and it got in his way.
Here's what Butch Harmon told me. I said, "Tiger?" He said, "Lee, I can't teach him anymore. He knows more than I do about the swing. You can't believe what he knows about this thing."
Because Tiger dissected it like me. He knows why it happens this way when you do a certain thing. But like Butch said, "There are some guys that want somebody watching over them."
I didn't. Jack told me one time, "You're the smartest golfer I ever met." That was the best compliment I've ever had. Ever had.
You never stop dreaming it. I love the art of it. I love the people. And still being able to go out and perform. With Tiger, it's even more so. It would be very easy for him to say, "I don't even want to mess with it." I mean, his retirement fund alone has got more money than AT&T. So no, he loves the sport, he loves competition, he loves to win, he loves to play well. That's his whole thing. If Tiger does not hurt anymore, I think he'll play until he's 50, and then he'll play the majors on the Champions Tour.
One of the greatest feelings in the world is when you're out of pain. When my L-5 nerve was completely trapped, I was in that bed upstairs for three months. Wasn't able to even put my pants on. I could not move. Then [after a 2004 procedure to implant a spinal spacer], no pain. It was like cutting me loose with 31 flavors. Tiger is going to be the same thing. He lost his body, but he didn't lose his talent. And the longer he goes with no pain, the more confidence he's going to build. And then he's going to get up one day and say, "I'm back, baby!"