The Loop
What goes into designing the U.S. Ryder Cup uniforms? David Lauren explains
David Lauren is executive V.P. for global advertising, marketing and corporate communications at Ralph Lauren, which has outfitted Team USA at this year's Ryder Cup at Gleneagles. We spoke with him last week for Golf Digest Stix about the process of creating the U.S. apparel, outerfear and accessories. Here is an extended version of that Q&A.
__ Golf Digest Stix:__ What's the main challenge in designing a lineup for an entire team?
Lauren: The team aspect is what differentiates the Ryder Cup from other premier golf events. Our focus is on meeting the needs of the players and delivering products that are not only functional but something that unites them and gives them a sense of pride.
Golf Digest Stix: When did you and your team start working up options?
Lauren: Over a year ago. After completing sketches, we spent months perfecting the technical elements. We continuously met with Tom Watson and the PGA of America, and once we all felt confident, we went into production. Then it was time to start fitting the players. We identified the top 25 U.S. players and had personalized fittings with each so everything would fit flawlessly when it came time for the Ryder Cup.
Golf Digest Stix: How many items did the PGA ask you to provide?
Lauren: We wanted to provide the players with more than enough options to perform their best while on the course. The full collection includes shirts, pants and sweaters, as well as a variety of outerwear. And this year marks the first time in Ryder Cup history the entire collection is available for purchase, which is great.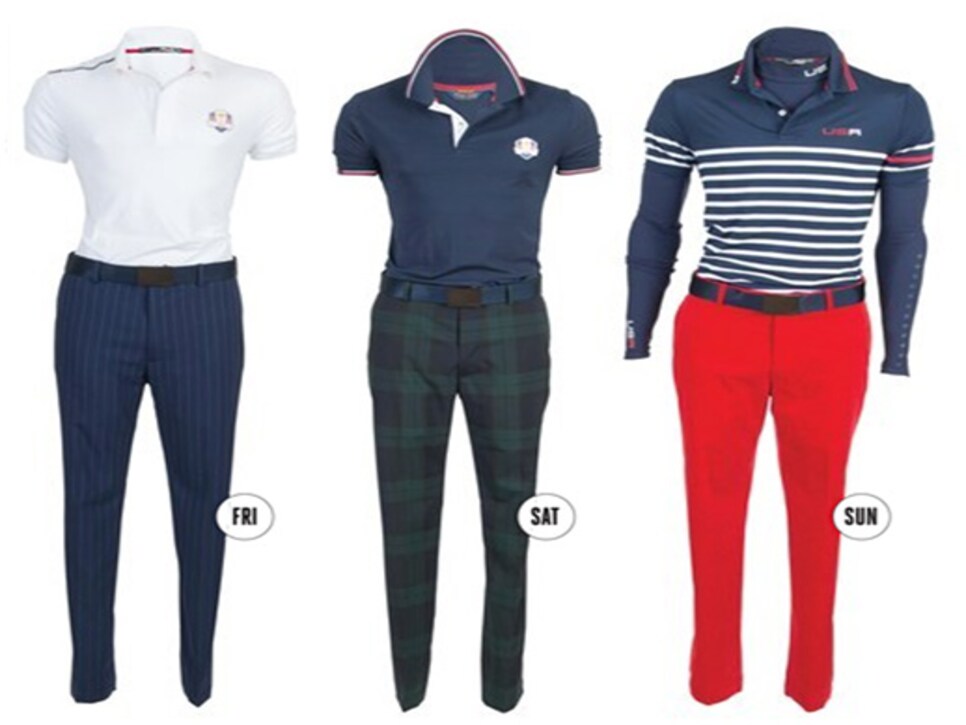 Golf Digest Stix: With the outfits you choose for Friday, Saturday and Sunday (see above), how many alternative ideas were drawn up but ultimately rejected?
Lauren: We created three options for each day, and though we liked them all, we had our favorites. The Watson team pick-ed the top suggestion on every account.
__ Golf Digest Stix:__ How much does the event itself and the gravitas that the Ryder Cup holds impact the look you were trying for?
Lauren: The rich heritage and tradition [of the Ryder Cup] have been embraced by some of the greatest players golf has ever seen. We wanted the U.S. team uniforms to reflect that vision by creating something that embodies the spirit of America and pays homage to the host country. We created the Black Watch plaid in green and navy as a nod Scotland. We used patriotic red, white and blue color blocking into each look and incorporated a band of 12 stars into the shoulder to signify the importance of each player. As a final touch, we embroidered the words "United We Stand" into the shirts as a nod to Captain Tom Watson's strong leadership.
Golf Digest Stix: Captains have famously, and sometimes infamously, played a role in the design process. How did Tom contribute?
Lauren: Anytime Tom Watson is on your team, you've won. His passion, professionalism, attention to detail and leadership are unparalleled. He took product testing to a new level and even wore each of the jackets in the shower to see how they would hold up in bad weather.