News
WGC-HSBC Champions 2018 odds and betting analysis: PGA Tour caddies and expert handicappers predict this week's winners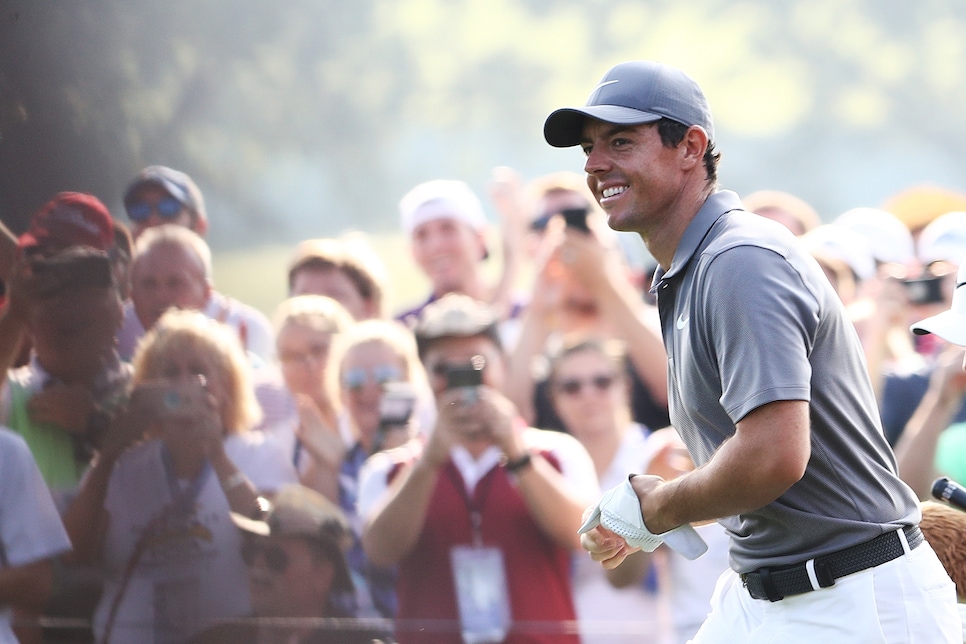 (Photo by Jamie Squire/Getty Images)
The first WGC of the season is here, though, yes—the new season just started four weeks ago. There's no offseason anymore, and that includes anybody playing daily fantasy golf or betting on golf. The WGC-HSBC Champions at Sheshan International Golf Club has a strong field with PGA Tour stars like Dustin Johnson, Justin Rose, Brooks Koepka and Rory McIlroy teeing it up. And there are strong defending champions like DJ, Rose, Hideki Matsuyama whose games match the recipe for success at Sheshan International.
Our weekly betting advice and daily-fantasy lineup column, featuring PGA Tour caddies and expert golf handicappers, has netted some strong results in just three weeks this season—with Golf Digest's Christopher Powers calling Kevin Tway's victory at the Safeway Open at 55-1 odds, Columbua University analytics professor and Golf Digest contributor Dr. Lou Riccio calling to use Marc Leishman in DFS lineups as he ran away with the CIMB Classic.
Who do our experts like this week? Is it smart to pick one of the favorites—DJ, Rose, Koepka or Rory—or look at more value picks? Here are the picks:
To Win (odds from Sportsbook.ag):
Brandon Gdula, Senior Writer, FanDuel/numberFire: Tommy Fleetwood (18-1) — The big four (Dustin Johnson, Brooks Koepka, Rory McIlroy, and Justin Rose) are going to be tough to beat, but Fleetwood enters with six straight top-20 finishes and four top-11 finishes. He has played Sheshan to steady results (20th, 30th, 24th, and 18th) and has the ball-striking to emerge victorious.
Pat Mayo, DraftKings analyst, 14-time fantasy sports-writers association finalist, and board of governors at www.fantasynational.com: Tyrrell Hatton (30-1): While odds and history show the top end of the board typically cleans up in China, the next rung below provides slightly better value. Per FantasyNational, Tyrrell Hatton sits in the top 20 percent of this field in ball-striking, short game and putting over the past 24 rounds. Plus, the Brit really swung his fortunes over the weekend at the CJ Cup. After mediocre opening rounds, Hatton closed 68/66 over the weekend to churn out his fourth top-20 in his past five starts.
Dr. Lou Riccio, Columbia University professor: Dustin Johnson (13-2) — At a 12-percent win probability according to my model, DJ's odds aren't too low for me to consider recommending taking DJ in this spot. Yes, he struggled in the final round here last year. But he lifted the trophy in 2013 here at Sheshan International. Don't you think last year will motivate DJ to get it done this year, with the possibility of retaking the World No. 1 spot from his buddy, Brooks?
Brady Kannon, VSIN.com golf specialist and golf sales at TeeTimesUSA.com: Jason Day (16-1) — This event typically awards the favorites. It caters to bombers who can scramble and make birdies. Day comes off of a nice week last week at The CJ Cup and can bomb, scramble, and putt with the best of them.
PGA Tour Caddie No. 1: Brooks Koepka (7-1) — Why would anyone pick against Brooks Koepka right now? The hottest golfer on the planet by far, and he's not the favorite? Koepka's game is sharper right now than anyone when they're at their peak form. I'll take a slight discount over DJ here for somebody who we know is capable of winning in back-to-back weeks.
Alex Myers, GolfDigest.com senior writer: Hideki Matsuyama (18-1) — The 2016 champ at Sheshan International, Matsuyama returned to top form at the end of last season following a wrist injury. The Japanese star posted top 15s in his final five events, including T-4s at both the Dell Technologies and Tour Championships. He's coming off a T-19 at the CJ Cup, where he closed with rounds up 66 and 69 to earn a sixth consecutive top 20. Perhaps, more importantly, he wasn't involved in this year's pre-tournament badminton photo shoot so that wrist should be 100 percent.
Christopher Powers, GolfDigest.com assistant editor: Hideki Matsuyama (18-1) — I'm with Myers here. After a three-win season in 2017, Matsuyama had a bit of a slump by his standards in the early and middle portions of the 2018 season. But the former World No. 2 has been quietly trending upward since August, finishing T-11, T-15, T-4, 15th, T-4 and T-18 in his last six starts. I'm expecting a big bounce-back year for the 26-year-old star, and it starts this week at a course he lapped the field by seven strokes on in 2016.
Joel Beall, GolfDigest.com staff writer: Jon Rahm (20-1) — Rahm's final four stroke play events were underwhelming, but chalk that up to burnout after a busy schedule. Coming off a month of rest, expect the Spaniard to ride his off-the-tee performance (3rd on tour last season) to a strong showing in Shanghai.
Steve Hennessey, Golf Digest associate editor: Tony Finau (18-1) — Finau has proven to himself he's one of the best players in the world, representing his country last month at the Ryder Cup will be a boost in confidence for him. The long-hitting Utah native hasn't found the winner's circle in 2018, but his finishes are so impressive—he's winless since the 2016 Puerto Rico Open. That will change sooner rather than later.
(Powers 1 for 3 on winners this year, successfully picking Kevin Tway at the Safeway Open. Gdula impressively has picked two players who have finished runner-up. Nobody correctly predicted Koepka's win last week.)
Kannon: Julian Suri (+115) over Branden Grace: Suri comes off of a fifth-place finish last week and has played well in Asia in the past. Grace has only two finishes better than 43rd since June and his best was 25th. Suri is a very accurate driver of the golf ball and keeps mistakes at a minimum. I think the dog is live here.
Billy Horschel (+105) over Keegan Bradley:  Both of these guys were red hot during The FedExCup Playoffs and Horschel has cooled off in Asia - but I liked his attitude last week when commenting how much he loved the golf course, the layout, the area, etc. I like his frame of mind enough to bank on a bounce back this week.
Byeong Hun An (-110) over Kyle Stanley:  We faded Kyle Stanley last week and it worked. I think the big, undulating, bentgrass greens are his nemesis while An has been in very good form and I think that will hold true again this week.
Powers: Brooks Koepka (+110) over Dustin Johnson (-130) — Simply put, I'll take Koepka over anyone at +110 right now, save for the 2000 version of Tiger Woods.
Beall: Jason Day (+125) over Rory McIlroy.
Hennessey: C.T. Pan (-115) over Charley Hoffman. Give me the consistency of Pan over the past three months over the lack of results of Hoffman. Hoffman opened last week's CJ Cup with a 76 and struggled to a T-48 in the 78-person field. Hoffer doesn't have a top-10 in a PGA Tour event since August 2017. I'll fade Hoffman in this spot hoping that form holds.
(Matchup results last week: Powers: 1 for 1; Hennessey: 1 for 3; Kannon: 2 for 5.)
(Matchup results year to date: Hennessey: 3 for 6; Powers: 2 for 3; Kannon: 4 for 10; Beall: 0 for 1.)
Sleepers (odds from Sportsbook.ag):
PGA Tour Caddie No. 1: Lucas Bjerregaard (66-1) — Here's a name most American fans aren't familiar with, but us tour guys have heard his name for a long time now. Having just took down the title at the Alfred Dunhill Links in a loaded field, it appears he's starting to figure out how to win. He'll still be overlooked in this crowded field, but he'll no doubt be in contention here.
Kannon: Thorbjorn Olesen (65-1) — Let's throw a longer shot in there too while we're at it. Five wins already on The European Tour, coming off of a Ryder Cup victory, and now the 45th ranked player in the world. A WGC title just might be the logical next step for a guy who is climbing up leaderboards with regularity.
Riccio: Patrick Cantlay (40-1): My optimization model gives Cantlay the strongest chance here relative to his odds. I give the young American star 6.5 percent chance of winning—to put that in perspective, I have Rory and Hideki slightly higher than a 7 percent chance of winning. Given the difference in pricing, Cantlay offers intriguing value at a ball-strikers course that might have his name on it.
Beall: Matt Wallace (80-1).
Top 5 (odds from DraftKings Sportsbook):
Gdula: Adam Scott (+1000) [bet $10 to win $100] — Scott has the right combination of recent ball-striking and course knowledge (seven tries here since 2006) to push for a top five after finishing 10th at THE CJ CUP.
Beall: Dustin Johnson (+150) [bet $10 to win $15].
(Results on top-5 picks last week: Hennessey: 1 for 1; Myers: 0 for 1; Powers: 0 for 1.)
(Results on top-5 picks year to date: PGA Tour Caddie: 1 for 1; Hennessey: 1 for 1; Kannon: 0 for 1; Powers: 0 for 2; Myers: 0 for 2.)
Top 10 (odds from DraftKings Sportsbook):
Gdula: Eddie Pepperell (+500) — Pepperell has two wins in 2018, most recently at the British Masters two weeks ago, and has six top-10 finishes in his past nine events, including a sixth-place at the British Open.
Mayo: Julian Suri (+750) — Sometimes stats uncover players you just would never have thought had a chance. While a victory is a stretch, Julian Suri popped off the charts over the short term, grading out alongside Rory, Rose and Dustin. It makes sense from a skill set perspective, and his success at the penal French Open this summer means he adjusts his game to fit the conditions. Worth a play at a deep price. However, if you're looking for long shots, it's probably best to look away from China and focus on the Sanderson Farms back stateside.
PGA Tour Caddie No. 1: Francesco Molinari (+225) — You're getting pretty decent odds on a guy who has proved he can win on multiple types of golf courses over the past three months. Ask anybody on that European Ryder Cup team: He was the MVP by far. It's about time this guy gets the credit he deserves—we're talking about the Champion Golfer of the Year.
Myers: Ian Poulter (+400) — Before his win in Houston last season, Poulter's lone PGA Tour title in a stroke-play event came at this tournament in 2012. He finished runner-up at Sheshan the following year and began this season with a T-10 in South Korea last week so he's acclimated to being in Asia. If he plays anywhere near like he did against Dustin Johnson on Sunday at the Ryder Cup, another top 10 is a lock.
Powers: Francesco Molinari (+225) — When's the last time this guy didn't finish top 10? No, seriously. He's finished T-8 or better, including a pair of wins, in five of his last eight starts. Besides Brooks Koepka, no one has been hotter of late, and he's had nearly a full month to get back to full health after revealing he played through a back injury at the Ryder Cup, not that that slowed him down in any way. Like Matsuyama, Molinari also won at Sheshan in 2010, so he knows the place well. Lock? No such thing … except for Molinari right now.
Beall: Patrick Cantlay (+225) — He was T-15 here last season, and with seven top 25s in his last nine outings, he's been consistently in the mix. Despite not making a wealth of birdies (76th on tour), Cantlay still finished 17th in scoring. Considering Justin Rose's winning score last year (14 under) proved Sheshan allows it share of scoring yet can hold its own, expect Cantlay's steady game to travel well this week.
Hennessey: Tony Finau (+200): I'm doubling down on my pick on Tony Finau to win to take his top-10 odds, too. The guy is a top-10 machine. On a golf course that should fit his game, why wouldn't he pop here, too? I like Finau and Molinari (below).
Francesco Molinari (+225): Molinari at a course where he won before he was Superhuman Molinari? Love those bets.
(Results on Top-10s last week: Riccio: 1 for 1; Gdula: 0 for 1; Mayo: 0 for 1; Beall: 0 for 1.)
(Results on Top-10s year to date: Mayo: 1 for 3; Gdula: 0 for 3; Riccio: 2 for 3; Hennessey: 0 for 4; Beall: 0 for 2; Powers: 0 for 1; Myers: 0 for 1; PGA Tour caddies: 0 for 1.)
Top 20 (odds from FanDuel Sportsbook):
Gdula: Chez Reavie (+300) — Over the past 24 rounds, Reavie leads the field in fairways gained and is 10th in greens in regulation gained, via FantasyNational.com, and enters fresh off a T7 last week. He finished 24th here last year.
Powers: Patton Kizzire (+550) — I know, I know. No one has fallen off a cliff harder than Kizzire did following his two early-season wins last fall. But he still won twice! Are we really relegating him to almost 6-to-1 odds just to finish top 20 now? Seems like great value for a guy that is at worst among the top 35 players in a 78-player field. He just finished T-23 at Nine Bridges, and performed well in his two WGC appearances a year ago, though neither were at Sheshan. Kizzire strikes me as the type of guy that's always got something to prove, and I think he'll prove he's ready to right the ship this week in China.
Hennessey: Ian Poulter (+165) — Not bad odds on somebody who has won at this golf course and whose game is trending up over the past year or so.
(Results on Top-20 picks last week: Gdula: 0 for 1; Mayo: 0 for 1; Kannon: 0 for 1; Powers: 0 for 1; Beall: 0 for 1.)
(Results on Top-20 picks year to date: Mayo: 0 for 4; Gdula: 0 for 3; Riccio: 0 for 2; Kannon: 0 for 2; Powers: 0 for 2; Hennessey: 0 for 2; Beall: 0 for 1)
Gdula: Building around Dustin Johnson ($12,600), Brooks Koepka ($12,600), Justin Rose ($12,100), and Rory McIlroy ($11,900) requires some low-priced picks who balance safety and upside at this no-cut event. Here are some players who will make up my value core to help me rotate in the studs this week.
Lucas Bjerregaard ($7,900)
Hideki Matsuyama ($11,400)
Patrick Cantlay ($10,600)
Kiradech Aphibarnrat $9,300
Mayo: It's beyond difficult to figure who to choose between Dustin, Brooks, Rose, and Rory at the top, so mix and match those guys if you're playing multiple lineups, toss in Hatton, then just load up on the DJ/Brooks skill set at each price level: Bombers, who dominate Par 5s, and score in bunches. As discussed in my full field breakdown, don't forget to leave money on the table in a no-cut, small field event.
I'd recommend playing these guys:
Riccio's lineup: My optimization model should a win-probability total (.4137) for these six—close to the win probability total if you took the five chalkiest players on FanDuel. This is a a very intriguing lineup that I'm confident in, and I don't think many would put these six together. This is a cool group to watch.
Rafa Cabrera Bello ($8,900)
Kiradech Aphibarnrat $6,900