The Loop
WGC-Accenture Match Play Championship: Sunday primer
Saturday on the PGA Tour is known as "moving day," but in match play, the strategy always remains the same: do whatever it takes to survive. Four players did that better than their opponents to move on to what should be an exciting Sunday at the WGC-Accenture Match Play Championship. For the first time in the tournament's 14-year history, both the semifinals and the final will be played on Sunday. This change in format occurred last year when the championship match was shortened from 36 to 18 holes, but the semis ended up being pushed up to Saturday when snow (yes, snow) was in Sunday's forecast. So what can we expect on the final day other than the winner having to play a lot of good golf? Let's take a look.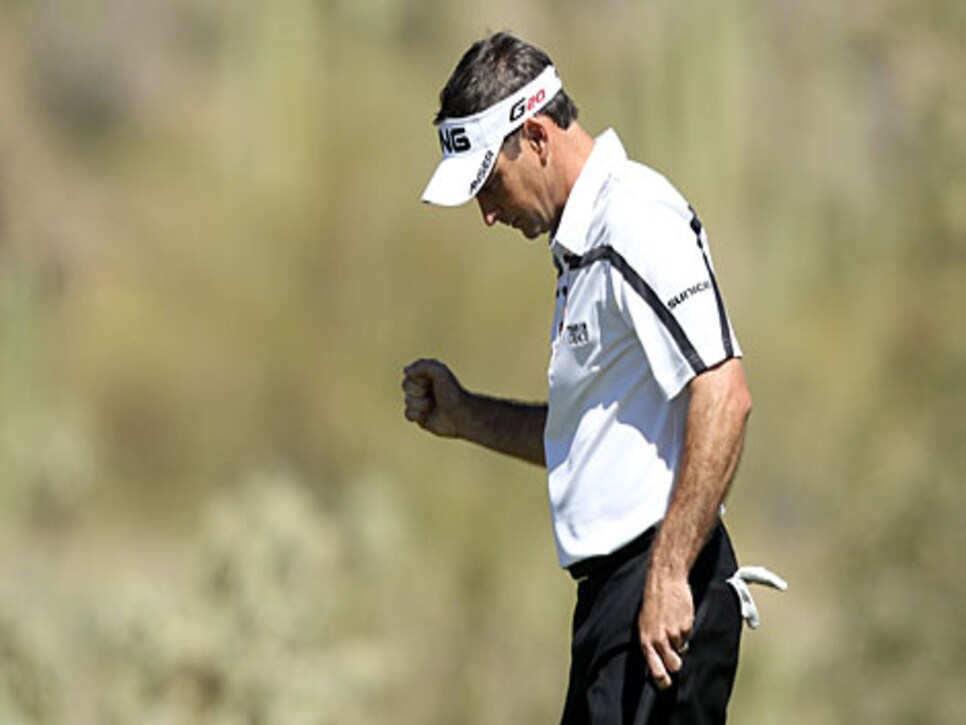 Can anyone stop Mark Wilson? (Photo: Getty Images)
No. 6 Hunter Mahan vs. No. 10 Mark Wilson: Both Americans cruised in their quarterfinal matches to set up this red, white and blue semifinal. It ensures that a U.S. player will be in the championship match for the first time since Tiger Woods won in 2008.
A day after tearing apart the Dove Mountain course at the Ritz Carlton, Mahan didn't have to do much to beat Matt Kuchar on a rare off day. After the 6-and-5 romp, Kuchar, the third-place finisher here last year, joked he "probably made a case for them not to outlaw the belly putter." Meanwhile, Mahan looks very confident with his new Ping Nome putter. He noted in his post-match comments that a less-dramatic offset is allowing him to aim better. A win here won't erase the memory of losing the clinching point of the 2010 Ryder Cup to Graeme McDowell when he chunked a chip shot, but it will certainly elevate his status as a match-play competitor.
As for Wilson, we hate to keep harping on it, but the fact of the matter is only Steve Stricker has as many wins (three) as he does on the PGA Tour since the start of the 2011 season. How easy has it been for him this week? After his 4-and-3 win over Peter Hanson concluded, Wilson practiced playing holes 17 and 18. Probably a smart move considering he has yet to be pushed that deep in any of his first four matches.
No. 1 Rory McIlroy vs. No. 1 Lee Westwood: There's always a risk this format will produce less-than-compelling matches over the weekend, but it would be tough to get a sexier matchup than this meeting of top seeds. Unfortunately for NBC, it's not the final and it will probably be over before the network's coverage begins at 2 p.m. ET, but Golf Channel will have early coverage beginning at 9 a.m.
So what's at stake here? Well, other than a chance to win a first World Golf Championship for either of these well-acquainted players, both have an opportunity to takeover the top spot in the Official World Golf Ranking from Luke Donald by winning this event. For Westwood, who defeated Martin Laird 4 and 2 in the quarters, it would mean a return to No. 1 where he's spent a total of 22 weeks. While for McIlroy, at 22, he would be the second-youngest golfer to earn that distinction. The youngest? His childhood idol, Tiger Woods.
With his appearance in the semifinals, McIlroy, who took care of Sang-Moon Bae 3 and 2 on Saturday, has already guaranteed a ninth top five in his last 10 official worldwide starts. This, despite the fact he recently said he expected some swing changes to take hold by the time he teed it up at Augusta for the year's first major championship. We're going to go ahead and guess that the adjustment period is already over.