News
Wet weather forces NCAA Women's Championship to lose one round of stroke play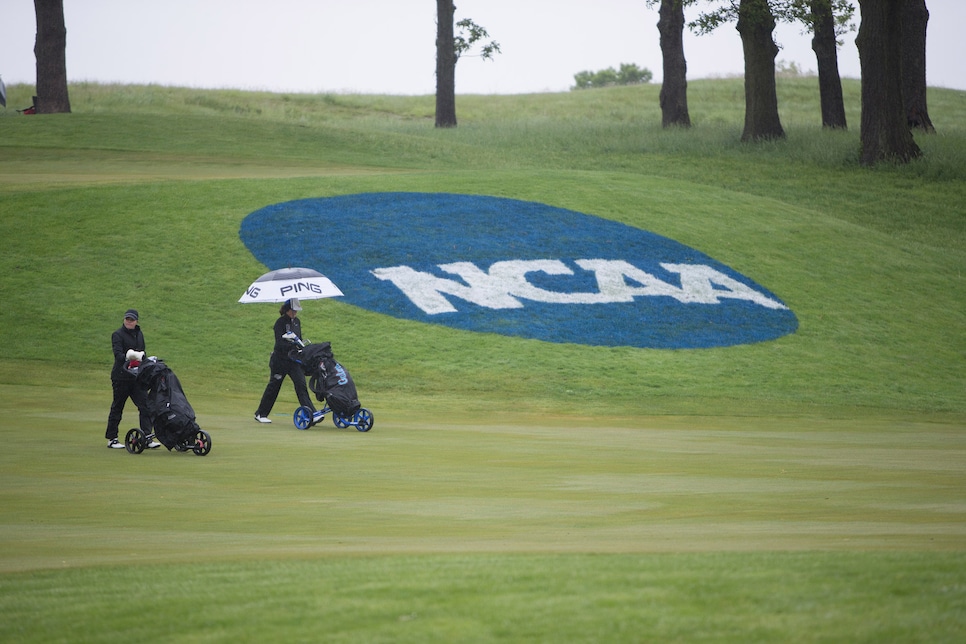 Mother Nature so far is winning the NCAA Women's Championship.
After low temperatures caused high scores during the first round of stroke play on Friday at Rich Harvest Farms outside Chicago, rain and thunderstorms kept the 24 teams off the course on Saturday.
Without a single shot being struck, tournament officials ruled that the stroke-play portion of the championship would be reduced from 72 holes to 54, with the second round to be played on Sunday and the third round on Monday. The low eight teams after 54 holes will then advance to match play starting Tuesday morning and the low individual will be the NCAA medalist.
"With the severe weather threats that we monitored throughout Saturday morning, our committee came to the determination that, given the conditions, canceling Saturday's round was needed to maintain the overall student-athlete experience and the integrity of the championships," NCAA Division I Women's Golf Committee chair Jim Fee said.
The original schedule called for the low 15 teams after 54 holes to advance to 18 more holes of stroke play to determine the eight match-play schools.
Northwestern enters the second round as the team leader after shooting a 13-over 301, two strokes clear of Kent State and 10 ahead of Ohio State, Arizona State, Stanford and Baylor. Purdue's August Kim and Michigan's Elodie Van Dievoet lead in the individual race after each shot even-par 72s on Friday, when the field's average was 80.76 strokes.