The Loop
Wesley Bryan breaks through, Rory McIlroy readies for his wedding, and Rickie Fowler rides solo at #SB2K17
Welcome to another edition of The Grind, where we're nominating Smylie Kaufman for an Academy Award for his brilliant performance in "The Natty Shack." It was a low-budget film, but it involved him getting a certain golf writer to believe that #SB2K17 wasn't going to happen. Smylie was very convincing, but a few days later, he was back to playing shirtless golf and doing Ian Baker-Finch impressions.
Jeez, Smylie, you didn't have to lie. I could have handled you simply telling me I wasn't invited. Eventually. Anyway, I'll put my hurt feelings aside and discuss their fun trip (Man, did it look fun. Really, REALLY fun. . .) and everything else going on in the world of golf.
Wesley Bryan: Did you know this guy used to be a trick-shot artist? We kid about the most overdone story line of the season, but it doesn't make it any less remarkable. In about 18 months, Bryan has morphed from YouTube curiosity into a rising PGA Tour star following his first victory at the RBC Heritage. And look at those pants!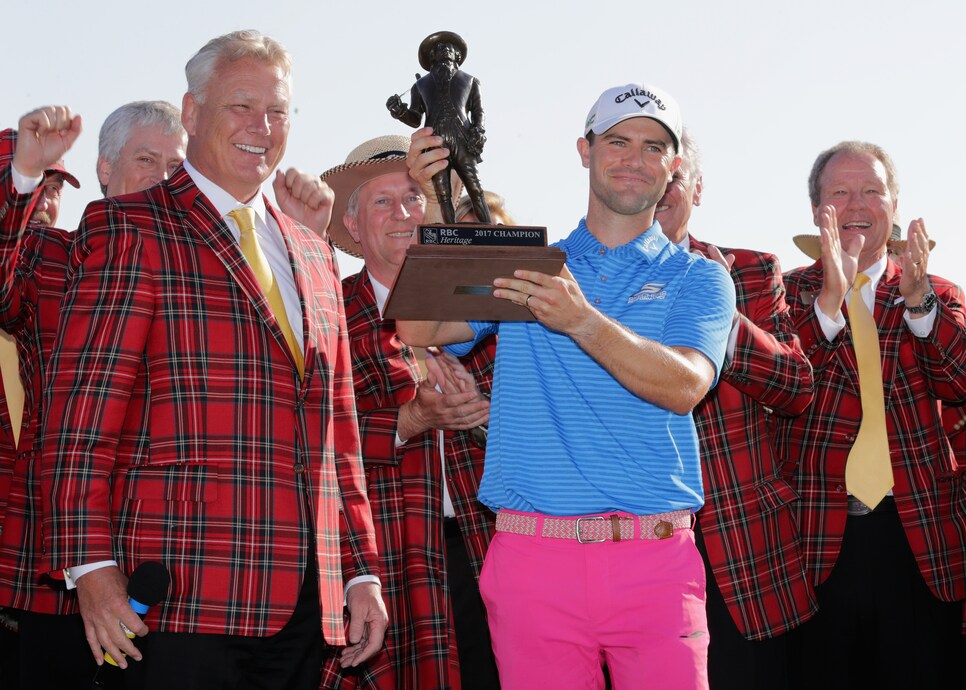 We're also buying that victory meal at Taco Bell. Way to keep it real, Wes.
Luke Donald: He came up just short of a win, but it wasn't because of his short game. Donald put on a clinic around the greens, holing out from everywhere.
We're also buying this guy at Harbour Town. A fifth runner up to go with two thirds? Donald is this event's version of Phil Mickelson at the U.S. Open. But look at the reception he got after coming up just short again.
SB2K17: Another year, another awesome trip to Baker's Bay. This year, the gang had its own filter on Snapchat (a cooler co-worker had to explain what that meant) and added yacht jumping to their activities.
The best part? No season-ending injuries were reported.
Jason Dufner's club drop: We're fans of Duf Daddy's carefree ways, but dropping the putter after a tap-in and leaving it for his caddie to pick up crossed the line. In case you missed it, here it is:
Not cool at your home course. Not cool on the PGA Tour.
SB2K17 haters: Last year, there was a vocal group of people knocking the behavior of these young stars. This year, a lot of people mainly complained about having to hear about their latest trip. Well, too bad. If you want to act too cool for school, fine, but you're going to have to avert your eyes. Most people eat this stuff up.
Stewart Hagestad's career choice: After finishing T-36 at the Masters, this financial analyst returned to his day job and said he plans to get his MBA rather than pursue playing pro golf. Boring. Stew – can we call you Stew? – why not give golf a real chance? Even Shark Tank's Kevin O'Leary begged you to reconsider. Then he probably tried to sell you on one of his ridiculous licensing deals. Man, I love that show.
ON TAP The PGA Tour heads to San Antonio for the Valero Texas Open, aka that tournament where Kevin Na once made a 16 on a par 4.
Random tournament fact: Mike Souchak's 27 under par in 1955(!) is still the tournament record. He did not make a 16 on any hole.
RANDOM PROP BETS OF THE WEEK
-- Wesley Bryan will quit his day job to go back to taping trick shots: 1.17 MILLION($)-to-1 odds
-- Bravo will do a series around #SB2K18: 5-to-1 odds
-- Kevin Na will not make another 16 this week: LOCK (He doesn't play this event anymore)
Remember that hilarious photo of Rickie Fowler amid a sea of WAG PDA at the Ryder Cup? Well, he recreated it in Baker's Bay.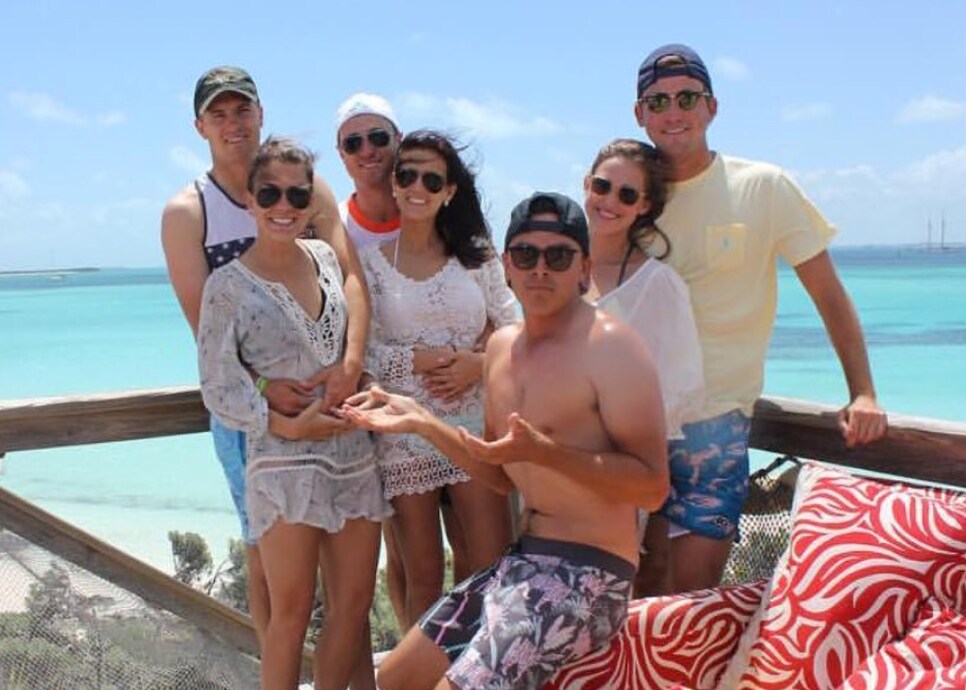 We'd tell Rickie to hang in there, but we're pretty sure he's doing OK.
Sorry, GP. Maybe we should start our own trip?
VIRAL VIDEO OF THE WEEK (TRICK-SHOT DIVISION)
Or should we say, "Unintentional Trick-Shot Division":
VIRAL VIDEO OF THE WEEK (WILDLIFE DIVISION)
How about these dudes playing through a pack of kangaroos:
VIRAL VIDEO OF THE WEEK (EXTREME WILDLIFE DIVISION)
And how about the Barstool golf guys playing through NYC?
Forget about dealing with kangaroos, dealing with New Yorkers takes real guts.
"Honestly, I just threw up a little in my mouth, and I was like, well, shoot, I guess this is what nervous feels like." -- Wesley Bryan.
There's nothing like live TV, right, Jim?
THIS WEEK IN LEXI THOMPSON MAKING US FEEL BAD WITH HER TRAINING
What's with the "mapquest" hashtag? Is that a joke about knowing where the gym is? Regardless, Lexi certainly isn't moping around after losing a major on a controversial penalty.
Nope, definitely not moping around.
THIS WEEK IN PAIGE SPIRANAC BEING PAIGE SPIRANAC
How cute/good is this dog?! It watches Paige hit and then follows her back to the golf cart!
Of course, a lot of guys would be happy to do that as well.
Rory McIlroy's wedding will reportedly take place on Saturday (April 22) at a historic castle in Ireland and feature a performance by Coldplay. Sounds just like your wedding, right? . . . Josh Scobee retired from the NFL, which means the unofficial top spot in the ranking of best current pro-athlete golfer is up for grabs. Matt Ryan is in good shape to take the title, but as we saw in the Super Bowl, that doesn't mean he will. . . . Emma Morano, the world's oldest person who attributed her longevity to a diet of raw eggs and cookies, died at 117. I've got the cookies part down. . . . Two friends and I had the pleasure of seeing the Spin Doctors at Brooklyn Bowl (They're as awesome as ever) – and hanging with lead singer Chris Barron after.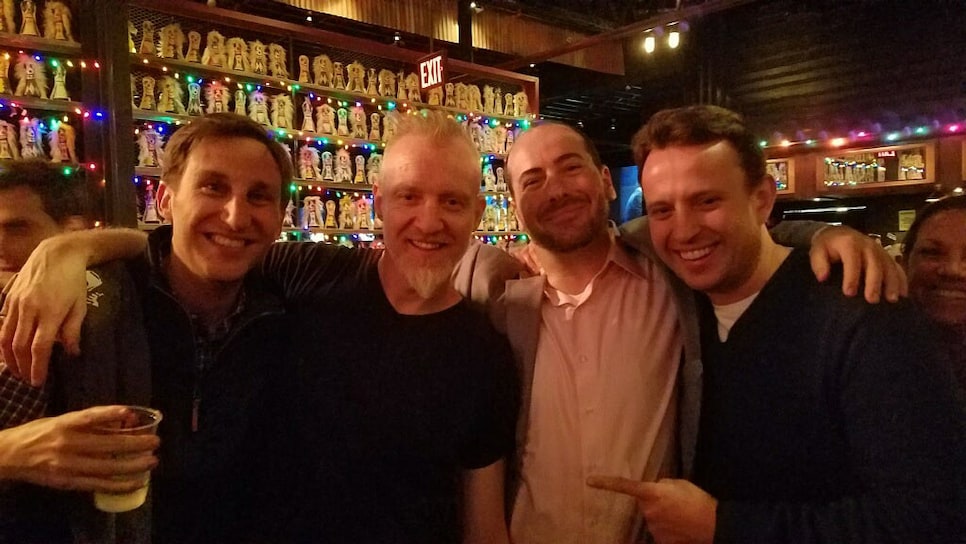 Or as one Instagram follower captioned perfectly, "Four Princes." . . . And finally, The Fate of the Furious pulled in $532 MILLION worldwide in its opening weekend. Really, people?!
RANDOM QUESTIONS TO PONDER
Would Rickie Fowler consider doing a season of "The Bachelor"?
Will Tiger Woods be at Rory McIlroy's wedding?
Will Gary Player still be walking 18 when he turns 117?