The Loop
Wes Short Jr., 52, excited and relieved to be playing in his first U.S. Open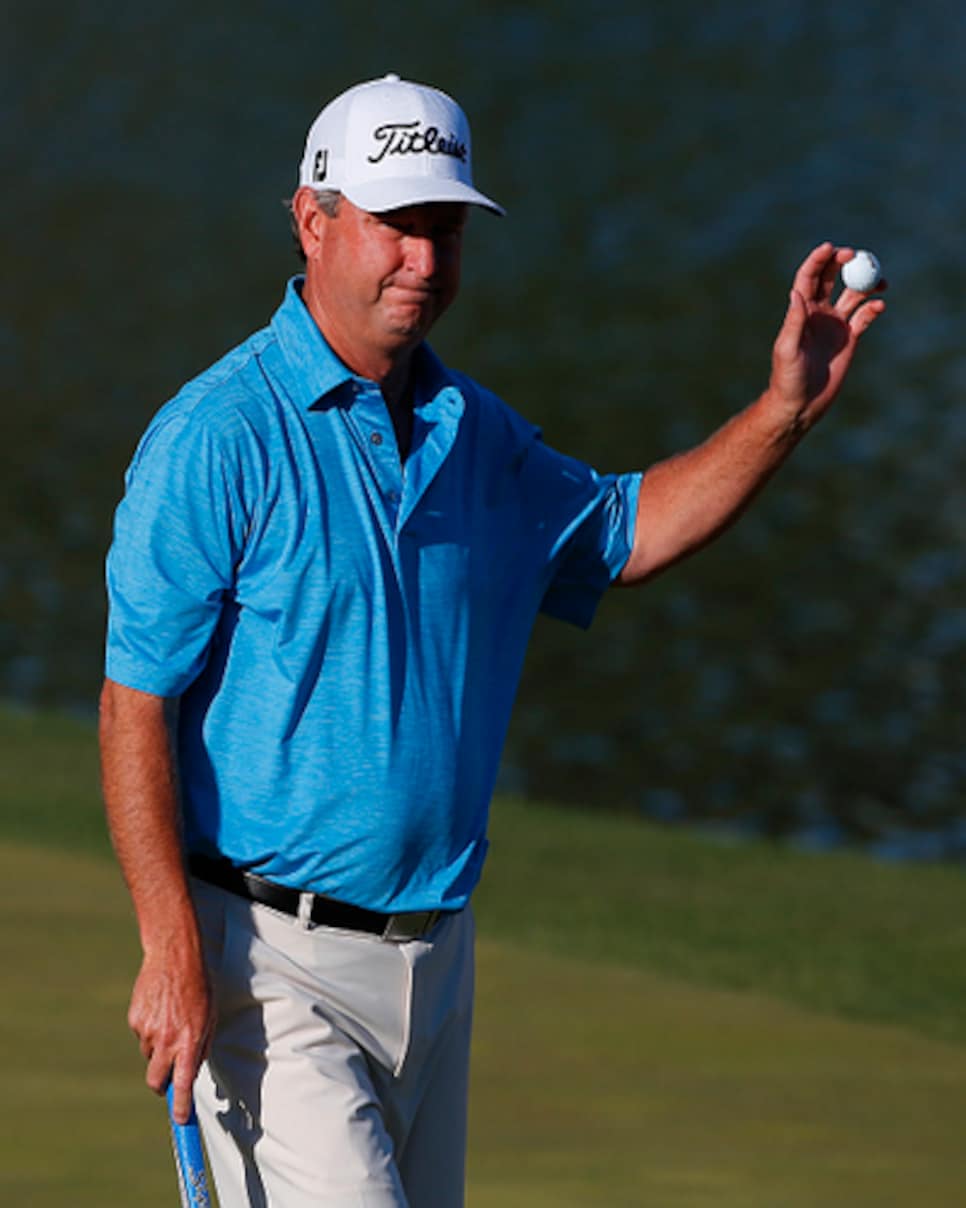 Coming off sectional qualifying, where he became the oldest player to earn a spot into the 116th U.S. Open, Wesley Earl Short Jr. was greeted with a mixture of hearty congratulations and jocular humor at the Constellation Senior Players Championship.
The prize for the 52-year-old Texan is a 7:07 a.m. tee time Thursday at mighty Oakmont Country Club, the toughest course on the Open rotation. Along with U.S. Senior Open champion Jeff Maggert, Short will be representing "us old guys" from the PGA Tour Champions.
"Colin Montgomerie said, 'Congratulations and condolences,' " Short said after last week's opening round at the Philadelphia Cricket Club. "I thought that was pretty funny."
"About damn time," said his 73-year-old father, Wes Sr., alluding to the 34 years that have passed since Short's first attempt at qualifying for the U.S. Open as an 18-year-old high-school senior in Austin.
Short had to laugh for subjecting himself to the upcoming brutality of Oakmont in his belated debut in the national championship. "I always wanted to play in one, and it just kind of sucks that it's at 52 years old," he said.
Last Monday, Short arrived at his Columbus, Ohio, hotel room at 2 a.m. after traveling from Des Moines, Iowa, following a T-17 finish in the Principal Charity Classic. With three hours of sleep, he was on the practice green at Wedgewood Golf and Country Club, looking at the tour players and college stars warming up and wondering, Why's that guy not in the Open? Why's that guy not in the Open?
Chances are no one looked at Short and thought the same thing. But he shot 69-66, two strokes under the number. At Oakmont, he'll be one of only 23 players in the field of 156 to advance through local and sectional qualifying.
Short's career in golf has been unorthodox. With a wife and newborn daughter to provide for, Short left the University of Texas after one year in 1983. To make ends meet, he wielded a sledgehammer at his father's stone quarry for $400 a week, "making big rocks into little rocks so they could be put on a machine and made even smaller."
After giving lessons at a driving range in Austin, Short progressed from the Hooters Tour to the Nationwide Tour in 1998, then made the PGA Tour as a 40-year-old rookie in 2004. He won once in 93 starts, as a fourth alternate beating Jim Furyk in a playoff at the 2005 Michelin Championship at Las Vegas.
Short had back issues even before the Vegas victory. Instead of surgery, he traveled to Germany and went through the Orthokine blood spinning treatments that prolonged the careers of Vijay Singh and Fred Couples. Remaining relatively healthy, he was the medalist at Champions Tour Q School in 2013. The next year, he won the Quebec Championship for his only senior win in 59 starts.
At his qualifier in Ohio, Short finished birdie-par to shoot seven under. Feeling the effects of his short turnaround, he watched the scores come in. After finally learning he had made the Open field, he was "just too danged tired to get excited." He slept for 14 hours into Tuesday in Philadelphia, then challenged at the Senior Players into the weekend before finishing fifth.
Short's long-term goal had always been to reach the age he is now and not have to say, "Hey, I could have made it on tour." At Oakmont, he'll be able to reflect on a golf life well lived. "If you think you can do it," he says, "don't give up on yourself."