News
We're not sure if the LPGA's 2018 season-opener in the Bahamas could have gotten off to a more ominous start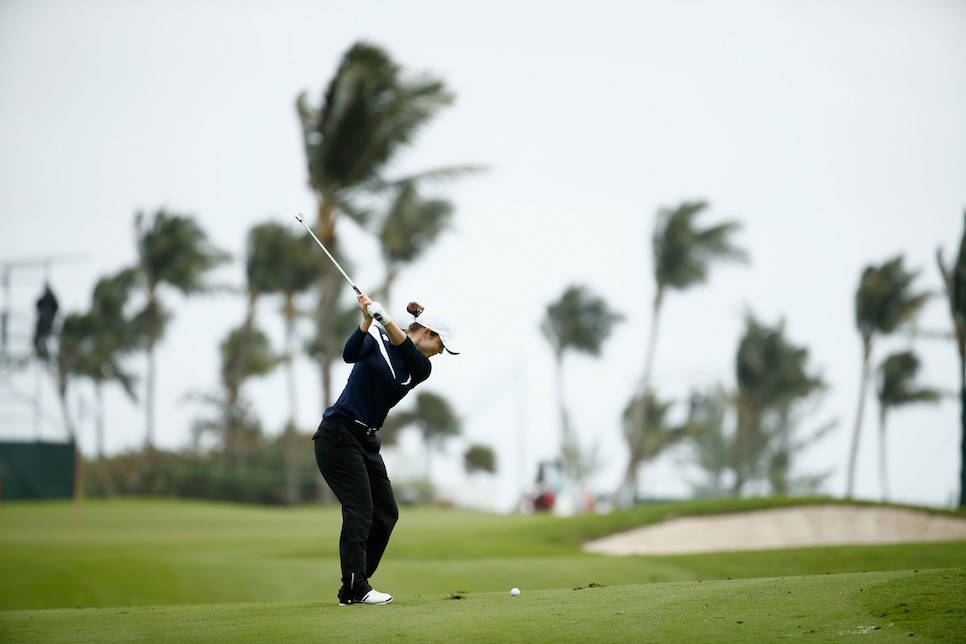 After a seven-week break from the conclusion of the 2017 season, LPGA players were anxious to get back on the course as the tour's 2018 campaign got underway Thursday at the Pure Silk-Bahamas LPGA Classic. But thus far it's been a game of hurry up and wait at the Ocean Club G.C.
High winds caused high scores—Brooke Henderson's opening 68 was the highest score to lead the first round of an LPGA event since 2014—and slow play, with the final four groups unable to complete their rounds before darkness set in Thursday night. The conditions were even worse come Friday, when 89 minutes into the start of the second round officials had to suspend play due to wind that make it almost impossible for balls to settle on greens.
"Yesterday we were able to play and complete the round, but we did have an isolated ball move here and there, but it wasn't much and we could get it right back into play," said Sue Witters, the LPGA's vice president of tour rules and competition. "This morning was a different story. The winds are up from what they were and we got to the point on 13 where we could not get a ball to stay at rest on the green."
Winds were blowing a constant 30-35 miles per hour with gusts in the low 40s. Worse, they were expected to remain that high throughout the day, which is why officials pulled the plug on the round so early. With the sun out, we're not usually fans of tournament's giving up on a day so early, until you see what the players appeared to be facing.
So now the second round is scheduled to resume at 7:30 a.m. on Saturday. However, weather forecasts predict morning winds of 25-32 mph, with gusts to 38 mph. Speeds are expected to slightly drop in the afternoon. And Sunday's forecast has similarly conditions.
Oh, and Monday is more of the same but with the added treat of potential thunderstorms.
In other words, getting in 72 holes by Monday, let alone Sunday, could be tricky, even with just a 108-player field to deal with through the first two rounds.
Wicked weather isn't anything knew for the tournament. In the inaugural playing of the event in 2013, rain was so strong that it flooded the course and forced officials to played three 12-hole rounds. Tee times in last year's final round was pushed up to avoid forecasted bad weather, Brittany Lincicome beating Lexi Thompson in a playoff after both finished at 26 under par.
"Tomorrow hopefully will be more like yesterday," said an optimistic Witters. "The winds will come down a bit, and then Sunday is even better than that. Sunday should be out of the four days the least windy, but it will still be windy."
UPDATE: On Friday evening, the LPGA decided to shorten the event to 54 holes.
"Based on the current weather forecast at the 2018 Pure Silk-Bahamas LPGA Classic, the LPGA has decided to take 72 holes off the table and instead focus on finishing 54 holes on Sunday," Witters said in a statement. "We should be able to complete the second round on Saturday and the final round on Sunday."
UPDATE II: Second-round play finally resumed on Saturday at 11:14 a.m. Eastern. Tour officials say they are still shooting for a 54-hole finish with a Monday conclusion possible if needed.