The Loop
Weeks removed from heartbreak, Scott giving himself another shot
KIAWAH ISLAND, S.C. -- How strong was the wind? Flags cracked like bullwhips. Rain moved sideways. Sand lifted off the beach. Above the 16th hole, 22 pelicans in formation thought to fly east toward the Atlantic only to stall before asking headquarters for a new flight plan. Even as the birds banked west, Adam Scott, from deep in a bunker, flew a wedge shot that clunked off the flagstick, easy birdie.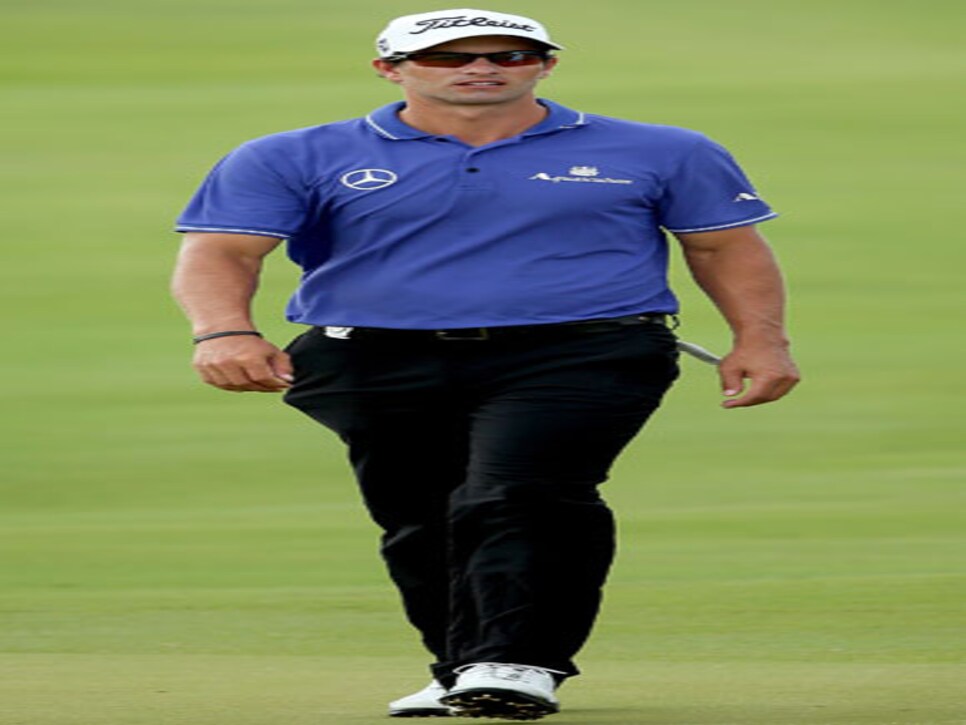 Scott is the Aussie charmer, 32 years old, handsome as an ocean sunrise, who gave away the British Open a month ago. He played brilliantly for all but the final four holes at Royal Lytham & St. Anne's, but in major-championship golf it's never good to hear a "but" after "brilliantly." Four successive bogeys left him a shot behind the winner, Ernie Els, and as nice as it was for the great man Els to win, even he felt a twinge of sympathy for Scott, of whom so much has been expected for so long.
Quickly now, Scott has put himself in the hunt again for his first major. He did it with a first-round 68 in this PGA Championship followed by Friday's 75, a number that's not as bad as it sounds, for this was a day nearly gone with the wind, "a matter of survival," to quote his playing partner Hunter Mahan, whose 80 was as bad as it sounds.
Scott's birdie at the 16th was one of only three he managed Friday. Still, he was fine with the day's work. "I consider 75 kind of a par round of golf out there today," he said. "It's really very tough. I did a lot of good things. I hit a lot of fairways again. . . . But it is hard when you miss the greens. There are some severe spots, and I made a couple errors, but it's going to happen on a day like today. You've just to stick with it, keep grinding. . . .I'm not disappointed with 75."
The Ocean Course was angelic Thursday. It was devilish Friday. All those ledges and cliffs and slopes that didn't matter Thursday mattered a lot Friday when a ball's flight depended on both the striker's skill and the wind's caprices. Though hard by the sea, this piece of architect Pete Dye's genius is only a distant relative of British Isles links courses. Those you can play on the ground, running the ball low under the wind. This one, with elevated greens, must be played through the air. In trade, Dye provides the kindnesses of wide fairways and big greens.
The place is so subtly treacherous that each of Scott's six bogeys Friday came without a shot that a layman would consider poorly struck. The fine line between birdie and bogey, as drawn on Dye's satanic blueprints, was best illustrated Friday at the 12th hole. It's a nice, little hole, a drive and wedge -- except there's a wetlands at the right edge of the green, and the flagstick was four steps from that edge, and that pelican-paralyzing wind came whooshing across from the left.
So Scott's wedge shot, poorly struck, no doubt, by his standards, drifted offline and into the water provided there as penalty for anyone so bold as to accept the architect's dare and fail.  Scott then dropped along the line of flight, put his fourth to 6 feet, and made the bogey putt -- the kind of shot-saving work that may not win majors on Friday but may help you come to Sunday's final four holes with a chance to win.
The weekend is in Scott's mind. "I'm not feeling, now, the way I felt at Lytham," he said. There he felt in absolute control. The tournament was his to take. Not that he said any such thing, but he must have imagined -- who wouldn't? -- the claret jug in his hands, against his lips, his name engraved there forever. "But," he said here Friday, and this was a "but" of hope, "the feeling might come around on the weekend."
It's 72 holes, it's four days, it's 280 shots, maybe a few less, maybe more. Winners can study how they won and find something important in every shot. Scott's bogey-making wedge at the 12th would be one of those.
Another would be the 2-iron off Jean Otter's head.
Jean Otter stood along the right side of the seventh fairway, Scott's 16th hole of the day. She's a middle-aged golf fan from Silver Spring, Md. She didn't see the Titleist headed her way. "If she'd seen it," her friend, Sue McNamara, said, "she'd have moved." Instead, Scott's shot, his second on the par 5, came down in the middle of Otter's head. It knocked her flat. For three or four minutes, Scott stopped play and crouched beside her, asking after her, apologizing, signing a golf glove for her.
A doctor there, Kenneth Thomas, told Otter, "He owes you."  Had the ball followed its apparent flight plan, it would have bounced down a hill, across a walkway, and . . .
"You saved him from going in the lagoon," McNamara said.
Otter, on her back, blood on her forehead and arm, her eyes closed, said, "I told him, 'At least make a birdie.'"
Scott left his third shot short (he said Otter's blood was on the ball) and made bogey. Still, he said, "It was a good break for me, because it kicked it just in the rough." It might otherwise have come to rest in that lagoon, a dismal swamp, home to double- and triple-bogeys.
"I hope she's going to be okay," Scott said later.
Medics wrapped her head in a gauze bandage from the top of her hairdo to her chin. She walked to a cart and was taken to a first-aid station.
"I'll find out if she's all right," Scott said.
He had her name and address.
"I'll send her a bunch of flowers," he said.
And, come Sunday, if Adam Scott goes to the final four holes with a chance to win, Jean Otter might be asking him, again, for a birdie.