The Loop
Weekend Tip: Bunkers got you down? Try Stan Utley's magic method
In the current (July) issue of Golf Digest (hitting newsstands right now with Bubba Watson on the cover--The Driving Issue), there is a great sand-play article by short-game guru Stan Utley. If you're having trouble in the bunkers (as most golfers are), I guarantee Stan's approach will help you. If you can't get the ball out, you will after adopting his method. If you can get it out but would like to improve your play, his method will also help you.
I like its simplicity and how it feels effortless.
The key is, you can create a lot more clubhead speed through impact (where it counts) while hardly trying. The ball pops out of the sand with minimal force. These two points in Stan's words will help you this weekend: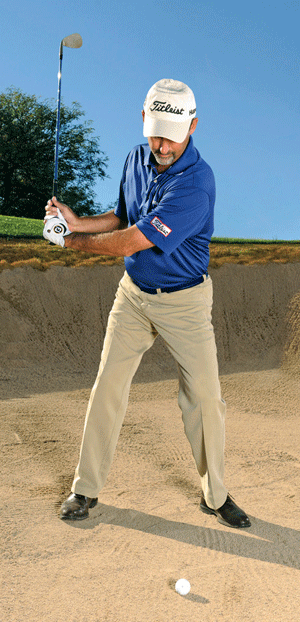 "Here's where you make or break a bunker shot. You hit the sand in a consistent spot by maintaining the position of your head relative to the ball--directly above it. Keep 60 percent of your weight on your left side during the swing. This will help you hit an inch or two behind the ball consistently. Make a hip and shoulder turn while hinging the clubhead up quickly with your wrists (left photo). Keep your wrists and elbows soft, and you'll create effortless speed. It should feel as if you're making a slight reverse pivot and swinging back from inside a phone booth."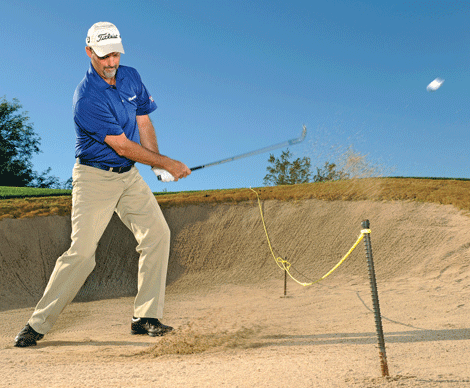 "Getting the clubhead moving fast and skipping through the sand in the right place is like hammering a nail--using your wrist, not your arm. Release your wrist angle early and fast, and get the shaft in an upright position quickly after impact. If you stretched a rope three feet in front of you and two feet off the ground (above photo), the clubhead should miss it as you rehinge. I call this a "narrow" swing."
With a little practice, these thoughts should help you immediately. For the complete article, check out the July issue. And remember to follow me on Twitter @RogerSchiffman.