The Loop
Weekend Starter: Who is the favorite to win the Masters?
We're within a month of the Masters, which means it's officially time to start talking about who will win the year's first major. OK, so we just made that rule up, but we have put together a handy list of top contenders. One of these 13 golfers will definitely probably maybe win at Augusta National. And our top choice right now? Bubba Watson.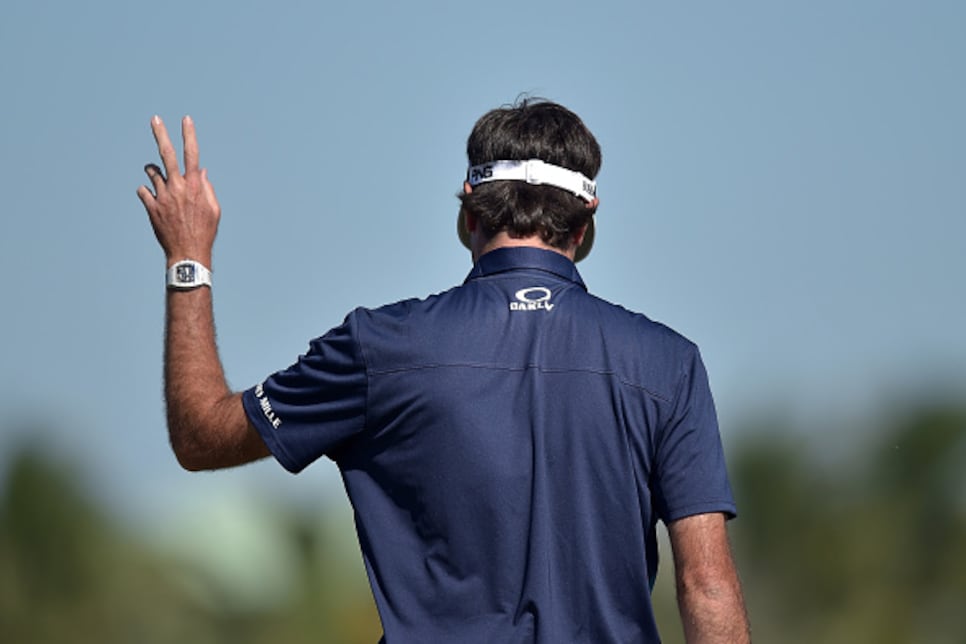 Working in Bubba's favor? Those two green jackets, that win at Riviera, and the high he's still riding from taping a cameo for "Girl Meets World." Yep, Watson is definitely the man to beat. Well, for now. Check back next week. In the meantime, here's what else we'll be talking about on the course this weekend -- especially since we might finally be back on the course this weekend:
1. Valspar Championship: There's plenty to watch for this week at Innisbrook. Will Jordan Spieth get it together? Will Jordan Spieth even play on the weekend? Can either of the two Augusta, Ga., natives contending punch their tickets to the Masters? Will The Snake Pit play as hard as The Bear Trap? Will The Snake Pit claim any actual victims?
2. Peyton Manning: One of the greatest athletes of this generation officially called it quits after 18 years on Monday. Congrats to Peyton on a fantastic career -- and for keeping this decision pretty secret. Apparently, younger brother Eli didn't find out until he was trying to schedule a family golf trip. As a New York Giants fan, I can only hope Eli isn't getting any ideas about walking away anytime soon. Speaking of which. . .
3. NFL free agency: The Giants are making moves for once! This week they handed out $204 million to four defensive players. That's great news for a defense that couldn't stop a Pop Warner team last season, but fired head coach Tom Coughlin has to be saying, "Gee, thanks," and wondering what took GM Jerry Reese so long. In any matter, whatever team you root for should watch out for my Giants next season because they (hopefully) won't be allowing 50 points per game anymore. While we're on the topic of big free-agent contracts. . .
4. Brock Osweiler: Yes, the guy showed some flashes last year when he stepped in for an injured Peyton Manning, but $72 million over four years, including $37 million guaranteed?! Even Matt Flynn, most known for signing a ridiculous contract of his own based on a small sample size behind center, couldn't believe it:
Good for you, Brock. And if you're going to leave that historic defense in Denver, you've made a pretty good choice joining forces with J.J. Watt in Houston.
5. LeBron vs. Kobe: These two all-time great NBA players faced off one final time on Thursday night. The soon-to-be-retired Bryant had a rare good game, but James had his usual very good game and his team cruised to an easy win. Unfortunately, we never got the intense rivalry we all wanted since these two never met in the NBA Finals, and one guy (LeBron) is just much better historically. In other words, while we've appreciated watching both for a long time, it's basically basketball's version of Tiger vs. Phil.