News
Webb Simpson's ridiculous run continues and four other takeaways from Day 2 at Harbour Town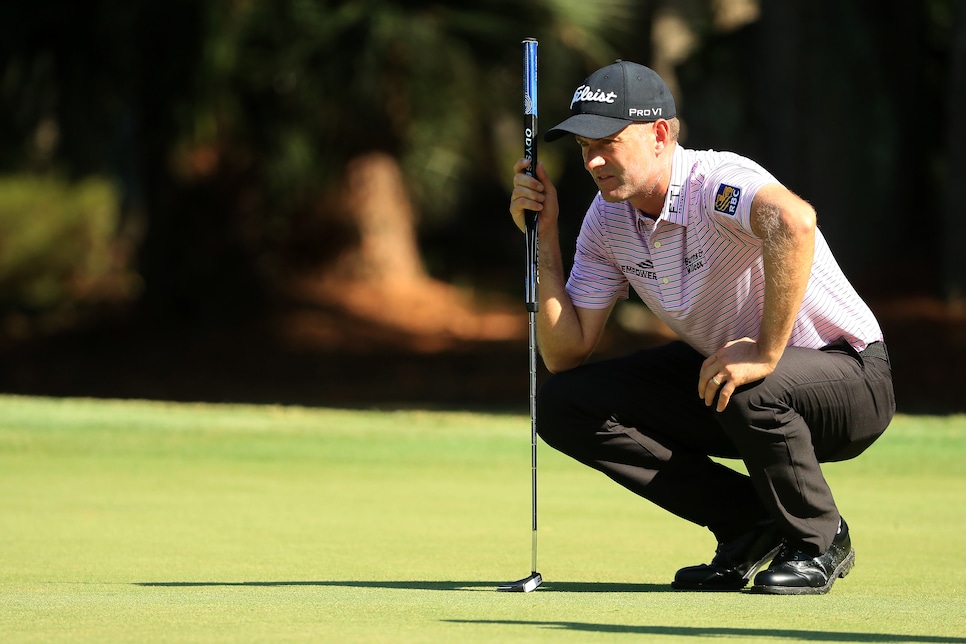 Before word that Nick Watney had withdrawn after testing positive for COVID-19, changing the mood late Friday afternoon at the RBC Heritage, Round 2 had a little bit of everything. There was plenty of Bryson DeChambeau, some more Jordan Spieth heartbreak and a ton of cut-line drama. Harbour Town rarely disappoints during a normal year, and it's certainly not disappointing with its strongest field ever this week. Separating the Watney news (but in no way diminishing its potential ramifications), here are our takeaways from an action-packed Friday in Hilton Head.
Is Webb Simpson the best player in the world right now?
Pre-coronavirus, most would agree that either Rory McIlroy or Jon Rahm was the best player in the world at the time. But I'd put Webb Simpson's last 12 months up against either of them. In fact, let's do that right now.
Since the 2019 U.S. Open (this week last year), European Tour starts included:
Webb Simpson: 14 starts, 13 cuts made, 1 win, 3 runner-ups, 1 third-place finish, 10 top 20s
Rory McIlroy: 18 starts, 17 cuts made, 2 wins, 10 top-5 finishes, 13 top 10s
Jon Rahm: 19 starts, 17 cuts made, 3 wins, 10 top-5 finishes, 14 top 10s
If Simpson had turned one, maybe even two of those second-place finishes into firsts, there'd certainly be a case he's the best player in the world right now (BPITWRN). He has a great chance to become the BPITWRN this week, as he leads Bryson DeChambeau by one at 12 under entering the weekend. He's seven clear of McIlroy and eight ahead of Rahm, who each are just barely going to make this week's cut. Simpson rolled in more than 180 feet of putts on Friday, and ranks first in the field in strokes gained/putting through 36 holes.
DeChambeau, who played alongside Simpson and clipped him by a shot on Friday (64-65), called his putting performance "inspiring." High praise. They'll be paired together again on Saturday, when DeChambeau will also be gunning for the BPITWRN crown. Speaking of …
I'm addicted to Bryson DeChambeau
I realize I'm not alone here (just go check out Shane Ryan's great piece on Bryson and Jordan ). But it still feels good to admit I have a problem in writing. I wrote about him twice today, and technically this makes a third time. Honestly, I could have stretched out two or three more posts on him if I wanted to, but then I'd be entering stalker territory.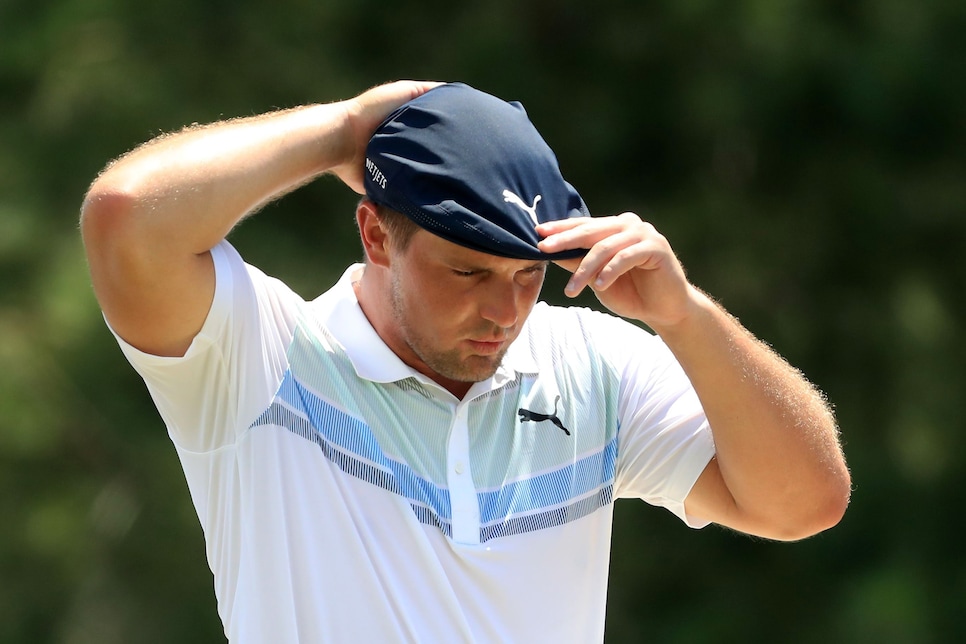 I'm not going to regurgitate Shane's takes, but his point about Bryson making us think is so spot on. No matter what he does, people are going to hate on it, but he's in their brain 24/7/365. The "real estate" joke is way overused online, but Bryson really does have beachfront property in a lot of people's heads.
He might win this weekend (if he can hole some putts he might win by 10). He might fall apart. He might shoot even par back-to-back and finish T-27. Whatever he does, it's appointment television right now, and that's not up for debate.
Here's wishing AK was still in the mix
This has been said before, but pro golf is in such a great spot right now. Tiger Woods is still competing at a high level, Phil Mickelson can still dial it up on occasion and there are an endless amount of exciting young(ish) players that contend on a weekly basis. Last week it was Daniel Berger, Xander Schauffele, Collin Morikawa, DeChambeau and, until he stalled on Sunday, Spieth. Heading into the weekend at Harbour Town, it looks like Brooks Koepka, DeChambeau (again) and Dustin Johnson will try to chase down Webb Simpson. Even McIlroy snuck in a late run on Friday to give himself a chance to make a move tomorrow, albeit a small chance. It's hard to ask for much more out of golf's return so far.
But if I may, I'd love for Anthony Kim to still be among the game's elite, mixing it up in a stacked field like this one. The folk hero turned 35 today, and I was legitimately stunned by that news. Not long ago, he was the next big thing with the picture-perfect swing and an abundance of youthful exuberance. Now, he's five years from being 40 and he's most likely never returning to the sport on the pro level. It makes me sad. I speak for many in saying we miss him now more than ever.
Brooks Koepka is the bet this weekend
Over on the BetMGM Sportsbook, DeChambeau is the clear favorite at +350, while Simpson is close behind at +400. For a pair of guys who have had a few too many runner-up finishes over the last year, that's not enough value.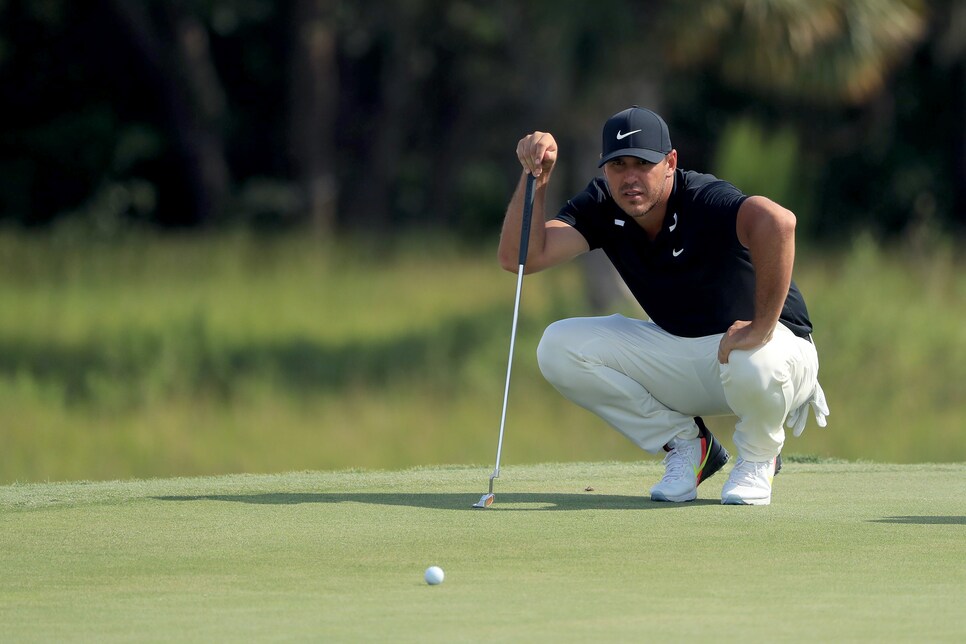 The value lies with Koepka, who is at +1100 and has a little bit of experience in closing out big-time golf tournaments. This is not a major, but the strength of field is enough to label the RBC Heritage as a big-time tournament. Koepka was locked in on Friday, as locked in as he's looked in some time now. Unfortunately, he ended his round on a sour note, bogeying the final hole to finish with a five-under 66. That put him three back instead of two, but it made his odds much more attractive. He'll be getting a look from this degenerate tonight, I promise you that.
Collin Morikawa is a machine
As he's proven over last 12 months, Morikawa is far more than a cut-maker. He already has one PGA Tour win, almost added a second last week and has three other top-seven finishes to his name. But his cuts streak to begin his professional career might be just as impressive as those finishes. On Friday, he appeared almost certain to make it 22 straight, and he did so by making two clutch birdies late in his round to reach five under, one shot clear of the cut line. The kid is NAILS. Period, stop.
Just as I finished typing that, Slugger White blew the horn for a weather delay while Morikawa was making his way to the 18th green, where he's facing a 25-footer for birdie. Barring a meltdown of epic proportions, Morikawa can three-putt his way to the weekend if he'd like. Once he does that, he'll be three made cuts away from matching Tiger Woods record of 25 straight made cuts to begin his pro career. If he four-putts, then my ability to mush things could be considered a legitimate superpower.