The Loop
We filled out a March Madness bracket based on quality of golf. And your winner is . . .
Whatever the year, whatever the formula, whatever the indications or the seedings, every year millions of people fill out "March Madness" brackets, and millions are proven wrong.
We took a slightly different approach this year. Carefully balancing our various rankings and the general (often biased) opinions of those around the Golf Digest office, we generated the definitive bracket based solely on the quality of golf around the competing schools. This doesn't account for how good the college golf teams are, but rather students' potential access to good public courses, golf weather and a few other factors.
Here's how the bracket turned out: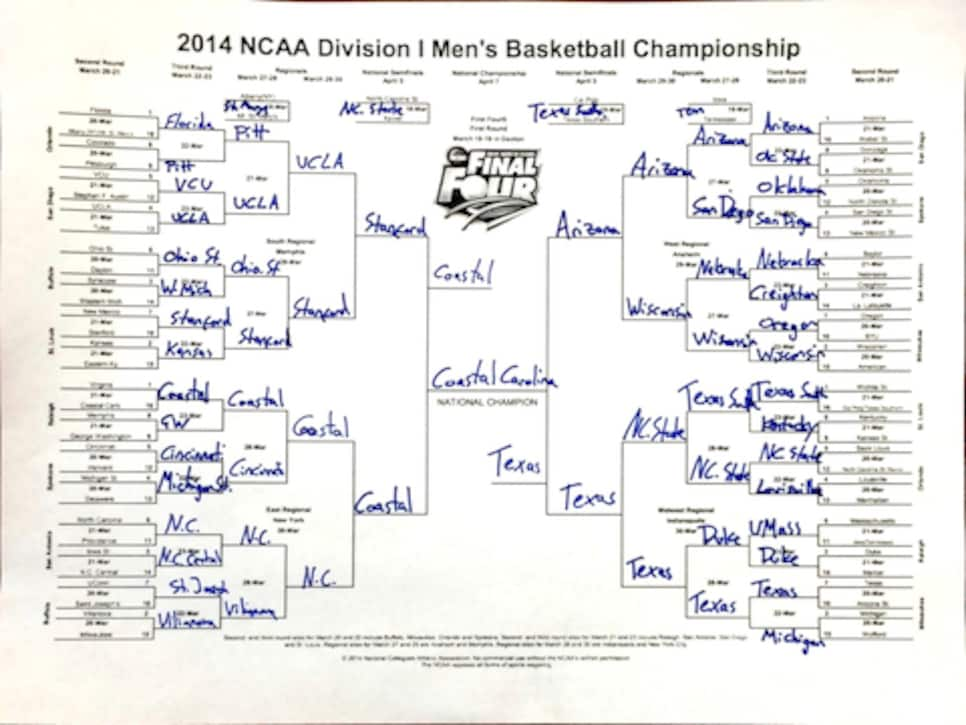 A No. 16 seed has never topped a No. 1 seed in the history of the tournament, but with good golf the determining factor, it will happen twice in 2014. Boasting all of Myrtle Beach's top golf courses, Coastal Carolina in neighboring Conway, S.C., topped University of Virginia while Texas Southern, located in Houston, the eighth best city in the U.S. for golf, breezed passed Wichita State. No. 7 Texas against No. 10 Arizona State was the game of the day, but we gave it to Texas in a thrilling overtime victory. University of Texas' superior golf course -- plus its location near a TopGolf -- proved key.
A Mostly Western Final Four
Three from the east and one from the west. The juggernaut Coastal Carolina strolled passed Stanford after casting aside the U.S.'s third best golf city, Cincinnati, in the sweet 16. Meanwhile, Arizona's nice weather and three 4.5 star-rated courses gave it the edge over Wisconsin (also in overtime), but couldn't hold up against Texas. Texas had a bit of an easy run compared to some of the other teams, but there's no denying its golfable weather and location near Barton Creek's spectacular Fazio Foothills course gave it a worthy final berth.
The Much-Anticipated Final
Never mind how it will fare in the basketball tournament, Coastal Carolina would run the tables in our competition. University of Texas may have TopGolf, nice weather, good surrounding courses and a deadly college football-golf atmosphere, but golf is synonymous with the Coastal Carolina culture. With one five and 27 4.5 star *public *courses all within 50 miles of the university, and the school itself offering a PGA Golf Management program, it's the clear winner.