The Loop
Watson Leads And The Race For The Cup Heats Up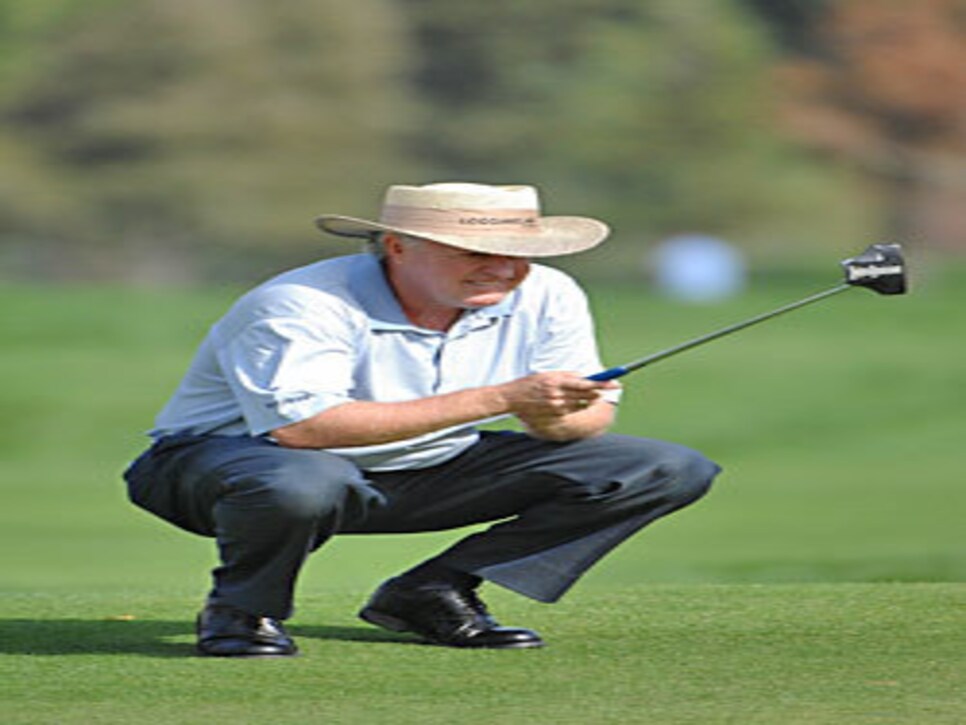 SONOMA, Calif. -- By shooting a third-round 67, Brad Bryant pulled within a shot of leader Denis Watson (right) in the Charles Schwab Cup Championship at Sonoma GC. More interestingly, Bryant positioned himself squarely in the middle of the season-long Schwab Cup points competition.
"Hopefully, we won't be worried about scenarios or anything else, and we'll just go play," Bryant said of the possible outcomes Sunday in the Schwab Cup race.
Last year's competition came down to the final green, with Jay Haas scoring a 20-point victory over Loren Roberts for the $1 million annuity. This time, in theory anyway, it could be much tighter.
Now, the chances of the tournament shaking out exactly like this might be only slightly less than the odds of winning Lotto, but it is fun to consider.
Roberts, T-18 after 54 holes, leads Haas, who is T-14, by 165 points in the Schwab race. Bryant, T-2 with Jim Thorpe after 54 holes, trails Roberts by 697 points. If he wins the tournament Sunday, and Roberts and Haas finish out of the top 10 and don't earn any points, he will win the Schwab Cup.
If Roberts finishes out of the top 10, then Haas has to place ninth or better to win the cup. If Roberts finishes 10th, Haas will have to finish fourth or better to win the cup for the second consecutive year.
The most intriguing plot? If Haas finishes solo fourth, Roberts solo eighth and Bryant wins the tournament tomorrow, Haas will claim the Schwab Cup with 2,905 points, Roberts will be second with 2,904 and Bryant will be third with 2,903.
"I've got to go out and think about shooting as low as I can tomorrow," said Roberts. "That's the only defense I have. I can't do anything about Brad winning the tournament or Jay beating me or anything else. I have to see if I can finish in the top 10 and go from there."
If Roberts and Haas are to control their own destiny Sunday, they will have to putt better. Roberts shot a nifty 31 on the incoming nine Saturday to salvage a 69, but it came after some un-Boss of the Moss like putting.
"I had five three-putts through 45 holes," Roberts said. "I don't usually have five three-putts in five months. These greens are very, very tricky. You have a 35- or 40-footer and you get the ball breaking just a little low of the hole, you've got some problems. You've really got to pay attention to what you're doing."
Haas has been no more pleased with his putting. "I have played pretty well from tee to green but have putted just atrociously this week," Haas said. "This was [my] best putting day today, and I made two putts outside of six feet. It's just disappointing. I have no touch. I'm trying all kinds of different things. This is not the time of the year, nor the greens, to be struggling on. The first day, I turned a 62 into a 68. It was a joke."
(Photo: Marc Feldman/Getty Images)