The Loop
Watch Dustin Johnson hit the strangest cartpath-aided shot you'll ever see
If Dustin Johnson meant to do this, he's a much smarter golfer than anyone thought. After finding himself in a cluster of bushes/trees to the left of the 10th hole during the final round of the Memorial, it appeared Johnson had no shot. And then, by using a cartpath -- and gravity -- he pulled off what has to be the strangest 50-yard shot you'll see all season. Check it out:
Technically, PGA Tour Shot Tracker listed DJ's ball traveling a total of 48 yards. And by our count, it took 44 seconds for the ball to travel those 48 yards. Pretty good considering he had no good place to take a drop. The unusual recovery shot allowed Johnson a 120-yard look at the green, which he hit to 12 feet. Unfortunately, he couldn't convert the par putt, but it was still a noteworthy bogey.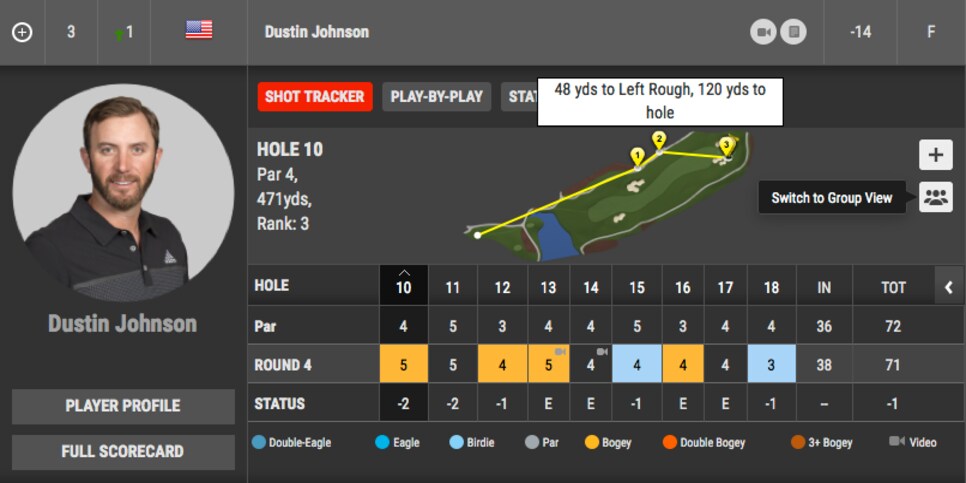 The hole was part of a wild back nine for Johnson that wound up costing him a win at Muirfield Village. Johnson made three bogeys in a four-hole stretch around the turn and closed with 38. Even with a birdie on No. 18, he finished one shot out of a playoff won by William McGirt.
Johnson hasn't won since last March, but he's now finished in the top four in four of his last seven stroke-play events on the PGA Tour. If he can pull off shots like this -- especially, on purpose -- another victory can't be too far off.