News
Washington D.C.'s Top 150 Golfers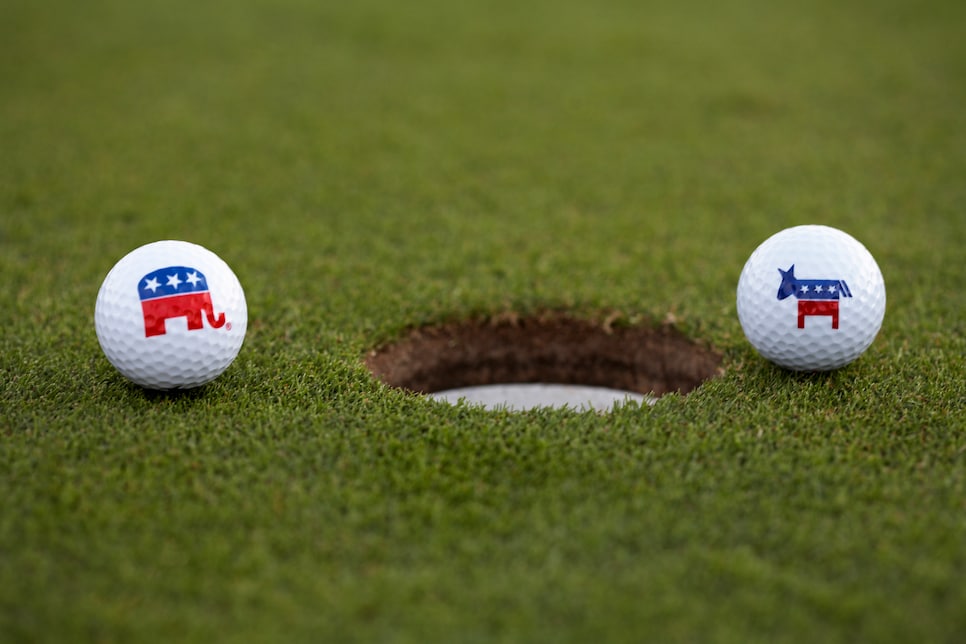 When members of Congress say President Barack Obama "has the bug," they aren't talking about the stomach flu.
As confirmed by the 300th recorded round of his presidency—during last summer's presidential vacation on Martha's Vineyard—the man is addicted to golf. So much so that he has lowered his handicap while in office from an approximate 18 to "an honest 13"—or so he told David Feherty in a televised interview. (A White House source has put Obama at 12.)
In an age of divided government—and outspoken critics of Obama's penchant for playing—it should be noted that either number leaves him trailing some powerful Republicans. Retaining a position above them all, however, is T-Mobile lobbyist Tony Russo. A +3.1 who has won club championships at Robert Trent Jones and Congressional, Russo tops our 2016 Washington Golfer Rankings, as he did in our last edition, in June 2011, followed by Majority Group co-founder Rob Ellsworth at +1.8. Donald Trump is No. 12 on our list at 2.8, and Bill Clinton is T-129 at 16. (No word that he has been able to coax Hillary out onto the course, although he once told Golf Digest he tried to encourage her to play once a year.)
The top elected official on our list is Republican Sen. David Perdue of Georgia, the former CEO of Dollar General. His Index of +0.6, maintained at Ocean Forest on Sea Island, might be a tad dusty, but those who have played with him say it's no vanity number. "He almost never hits a bad tee shot," says regular playing partner Hubert L. (Herky) Harris Jr. "He brings intensity and knowledge to the game, although he's playing a lot less since getting elected."
Also in the upper echelon of the ranking are South Carolina representatives Trey Gowdy (1.0) and 8-handicapper Mick Mulvaney. With California Rep. Steve Knight (2.7) and Shady Oaks member Roger Williams (R-Texas and a 4.9), they're formidable opponents when the Republicans tee it up against the Democrats each year in the Congressional Challenge organized by PGA Tour lobbyist Dan Tate Sr. to benefit The First Tee.
"The Republicans not only have more golfers, they have better golfers," Tate says in a resigned tone. "They just kick ass."
That doesn't mean the Democrats don't have just as much fun. Rep. Joe Courtney of Connecticut, a 9.9, and Rep. Ed Perlmutter of Colorado, a 14, often play with Rep. John Yarmuth of Kentucky, the low Dem at 3.3. They love to get out to Langston, a public course in the city. Teeing off at 6:30 a.m., they play a quick nine before heading to the Capitol. Congress might work better if more rather than less golf were played, they say, and others concur. "It always gives you common ground for a conversation," Courtney says.
Indexes as of Aug. 15, 2016. Handicaps that are not USGA Indexes are approximate, provided by the golfer listed or those familiar with his or her game.
1.) TONY RUSSO
Vice president, federal legislative affairs, T-Mobile, +3.1
2.) ROB ELLSWORTH
Partner and co-founder, Majority Group, +1.8
3.) DAVID PERDUE (R) Sen.-Ga., +0.6
T-4. CHRIS LAMOND
Partner, Thorn Run Partners, 0
T-4.) ALEX URREA
President, CSA Strategies, 0.0
6.) NAT HOOPES
Executive director, Financial Services Forum, 0.4
7.) TREY GOWDY (R) Rep.-S.C., 1.0
8.) FRED EAMES
Partner, Hunton & Williams, 1.8
9.) LUKE ROSA
White House senior associate director and trip manager, 2
10.) ERIC RIZZO
Vice president, government affairs officer, Fifth Third Bank, 2.2
11.) STEVE KNIGHT (R) Rep.-Calif., 2.7
12.) DONALD TRUMP (R) Republican presidential nominee, 2.8
13.) BOB OKUN
CEO, The O Team, 2.9
14.) JOHN YARMUTH (D)
Rep-Ky., 3.3
15.) CHRIS CYLKE
Senior vice president, National Music Publishers' Association, 3.8
16.) CHRIS COX
Founding principal, Navigators Global, 3.9
17.) GEOFF GONELLA
President/managing partner, Cornerstone Government Affairs, 4.0
18.) MATT McCARDLE
Director, aviation and transportation, government operations, Boeing, 4.1
19.) LINDA DIVALL
Founder/CEO, American Viewpoint, 4.5
T-20.) MIKE COLLINS
Principal, Mehlman, Castagnetti, Rosen & Thomas, 4.8
T-20.) ROBERT DIBBLEE
Senior vice president, government relations, National Association of Real Estate Investment Trusts, 4.8
T-20.0 KYLE SIMMONS
Co-founder, Simmons & Russell Group, 4.8
T-23.) MICHAEL WILLIAMS
Senior advisor, Kelley Drye, 4.9
T-23.) ROGER WILLIAMS (R) Rep.-Texas, 4.9
25.) ARTHUR MASON
Executive vice president, Cassidy & Associates, 5.1
26.) BOB CORKER (R)
Sen-Tenn., 5.2
27.) JOHN BREAUX
Senior public policy advisor, Squire Patton Boggs, 5.6
28.) JOHN HADDOW
Partner, Upstream Consulting, 5.7
29.) ANDREW KAPLAN
Vice president, government and external affairs, Takeda Pharmaceuticals, 5.9
T-30.) JOHN STIPICEVIC
Partner, CGCN Group, 6
T-30.) DAN TATE SR.
President, Dan Tate LLC, 6.0
T-30.) STEWART VERDERY
Partner/founder, Monument Policy Group, 6.0
33.) ED ROGERS
Chairman, BGR Group, 6.1
T-34.) DON NICKLES
Chairman/CEO, The Nickles Group, 6.2
T-34.) STEVE WATSON
Vice president, government and external affairs, Loews Corp., 6.2
36.) EVAN TRACEY
Senior vice president, National Media, 6.4
37.) CHARLIE SHIPP
Founder/managing partner, SC Partners, 6.5
T-38.) JOHN BUSCHER
Partner, Forbes-Tate, 7.0
T-38.) JOHN SUNUNU
Adjunct senior policy advisor, Akin Gump, 7.0
40.) TUCKER FOOTE
Senior vice president, head of North America public policy and global trade, MasterCard Inc., 7.3
41.) ROBERT FISHER
Vice president, federal government relations, Verizon, 7.4
T-42.) MICK MULVANEY (R) Rep.-S.C., 8
T-42.) MARVIN NICHOLSON
White House travel director, 8
T-44.) JAY CRANFORD
Partner, CGCN Group, 8.2
T-44.) JOE O'NEILL
President/CEO, Public Strategies, Washington, 8.2
T-44.) JIM RICHARDS
Partner, Cornerstone Government Affairs, 8.2
47.) KEVIN BURKE
President/CEO, Airports Council International, 8.3
48.) MATT STANTON
Vice president, Global Public Policy, Under Armour, 8.5
49.) SAXBY CHAMBLISS
Partner, DLA Piper, 8.6
50.) PETER CLEVELAND
Vice president, director, global public policy, Intel Corp., 8.7
T-51.) TREY HARDIN
Founding principal, War Room Strategies, Inc., 8.8
T-51.) KIMBLE RATLIFF
Senior director, government affairs, National Multifamily Housing Council, 8.8
T-51.) KENT WELLS
Vice president, Federal Relations, AT&T, 8.8
54.) RICHARD HUNT
President/CEO, Consumer Bankers Association, 8.9
T-55.) JIM LANGDON JR.
Partner, Akin Gump, 9.0
T-55.) JOE PAULSEN
Personal aide to President Obama, 9
T-57.) JOHN BOEHNER
Strategic advisor, Squire Patton Boggs, 9.1
T-57.) JIM McCOOL
Director, federal legislative affairs, Southern Company, 9.1
T-59.) CHRISTOPHER CHAPEL
Vice president, governmental affairs, NextEra Energy, 9.2
T-59.) JEAN STATLER
Co-founder/managing partner, Statler Nagle LLC, 9.2
61.) BRYAN ANDERSON
Senior vice president, governmental affairs, Southern Company, 9.3
62.) DAVE McCURDY
President/CEO, American Gas Association, 9.4
63.) JIM RENACCI (R) Rep.-Ohio, 9.6
64.) BOB BROOKS
Executive vice president, Alpine Group, 9.7
65.) JEFF FORBES
Founding partner, Forbes-Tate, 9.8
T-66.) JOE COURTNEY (D) Rep.-Conn., 9.9
T-66.) JESSE McCOLLUM
Director, government and public affairs, Nike, 9.9
T-68.) SAM ADCOCK
Senior policy advisor, Squire Patton Boggs, 10
T-68.) RICK ALLEN (R) Rep-Ga., 10.0
T-68.) JOE BIDEN (D) Vice president, 10
T-68.) MICHAEL BRUSH
Director, White House advance and deputy assistant to the president, 10
T-68.) DEAN HELLER (R)
Sen.-Nev., 10
T-68.) MANNY ORTIZ
Founder, VantageKnight Inc., 10
T-68.) MIGUEL RODRIGUEZ
Partner, Bryan Cave, 10
T-68.) TOM ROONEY (R)
Rep.-Fla., 10
T-68.) DAN TATE JR.
Founding partner, Forbes-Tate, 10.0
T-77.) BARRY HUTCHISON
Assistant vice president, federal relations, AT&T, 10.2
T-77.) ALBIO SIRES (D)
Rep.-N.J., 10.2
79.) DAVID MELCHER
President/CEO, Aerospace Industries Association, 10.5
80.) RON JOHNSON (R)
Sen.-Wis., 10.6
81.) STUART CHAPMAN
Partner, Thorn Run Partners, 10.7
T-82.) JAMIE GILLESPIE
Vice president of government relations, National Association of Broadcasters, 10.8
T-82.) GARY LYTLE
Co-founder, CGCN Group, 10.8
T-82.) SCOTT PASTRICK
President/CEO, Prime Policy Group, 10.8
85.) PAT WILLIAMS
Founding partner, Cormac Group, 11.2
T-86.) RICHARD BURR (R)
Sen.-N.C. (R), 11.3
T-86.) ANDY VERMILYE
Vice president, public policy, Fidelity Investments, 11.3
T-88.) WILLIAM BERTLES
Senior vice president and partner, DDC, 11.5
T-88.) STEVE UBL
President/CEO PhRMA, 11.5
T-90.) TIM CHAPMAN
COO, Heritage Action for America, 11.7
T-90.) JOHN FEEHERY
President, Quinn Gillespie Communications, 11.7
T-92.) PETE AGUILAR (D)
Rep.-Calif., 12
T-92.) XAVIER BECERRA (D) Rep.-Calif., 12
T-92.) BRET BOYLES
Public policy advisor, Squire Patton Boggs, 12.0
T-92.) PRINTZ BOLIN
Assistant vice president, external relations, Union Pacific, 12
T-92.) CHRIS COLLINS (R) Rep.-N.Y., 12
T-92.) JEFF DUNCAN (R)
Rep.-S.C., 12
T-92.) JOHN HOEVEN (R) Sen.-N.D., 12
T-92.) DUNCAN HUNTER (R) Rep.-Calif., 12
T-92.) RON KIND (D)
Rep.-Wis., 12
T-92.0 GORDON SMITH
President/CEO, National Association of Broadcasters, 12
T-102.) BRAD ASHFORD (D) Rep.-Neb., 12.3
T-102.) SAM GEDULDIG
Principal, CGCN Group, 12.3
T-102.) PAT MEEHAN (R) Rep.-Pa., 12.3
T-102.) HAYDEN ROGERS
Managing director, Bockorny Group, 12.3
106.) CHARLES SYMINGTON
Senior vice president, external and government affairs, Independent Insurance Agents & Brokers of America, 12.7
T-107.) DAN KILDEE (D) Rep-Mich., 12.8
T-107.) JIM NUSSLE
President/CEO, Credit Union National Association, 12.8
T-107.) PHIL ROE (R) Rep.-Tenn., 12.8
T-107.) CHARLIE STAMP Vice president, public affairs worldwide, Deere & Co. (John Deere), 12.8
T-111.) ANDER CRENSHAW (R) Rep.-Fla., 12.9
T-111.) ROGER HOLLINGSWORTH
Executive vice president and managing director, global government relations, Managed Funds Association, 12.9
T-113.) LINDSEY GRAHAM (R) Sen.-S.C. , 13.0
T-113.) PETE LAWSON
Principal, Bockorny Group, 13.0
T-113.) BARACK OBAMA (D) President, 13
116.) KEVIN FAY
Vice chairman & CEO, Alcalde & Fay; executive director, International Climate Change Partnership, 13.1
T-117.) BRUCE GATES
Senior vice president, external affairs, Altria Client Services, 13.4
T-117.) DENNIS KELLEHER
President/CEO, Better Markets, 13.4
119.) ERIK WINBORN
Founder/president, Winborn Solutions, 13.5
120.) TOBY SHORT
Director, federal government relations, Duke Energy, 13.9
T-121.) MATT CARTWRIGHT (D) Rep.-Pa., 14
T-121.) JIM COOPER (D) Rep.-Tenn., 14
T-121.) SHAHIRA KNIGHT
Vice president, government relations, Fidelity Investments, 14.0
T-121.) ED PERLMUTTER (D) Rep.-Colo., 14
T-125.) JIM CLYBURN (D) Rep.-S.C., 14.3
T-125.) SCOTT PETERS (D)
Rep.-Calif., 14.3
T-127.) MIKE PENCE (R) Republican vice-presidential candidate, 15
T-127.) CEDRIC RICHMOND (D) Rep.-La., 15
T-129.) LOU BARLETTA (R) Rep.-Pa., 16
T-129.) SANFORD BISHOP (D) Rep.-Ga., 16
T-129.) BILL CLINTON
Former president/husband of Democratic presidential nominee, 16
T-129.) REID RIBBLE (R) Rep.-Wis., 16
133.) ROBERT McDONALD
Secretary, Department of Veterans Affairs, 16.1
T-134.) DAN COATS (R) Sen.-Ind., 17
T-134.) RAND PAUL (R)
Sen.-Ky., 17
T-136.) MIKE DOYLE (D) Rep.-Pa., 18
T-136.) STEVE RICCHETTI
Chief of staff, Vice President Biden/assistant to President Obama, 18
138.) JOHNNY ISAKSON (R) Sen.-Ga., 18.2
T-139.) DAVE BRAT (R) Rep.–Va., 19
T-139.) JASON CHAFFETZ (R) Rep.-Utah, 19
T-139.) JOHN KLINE (R) Rep.-Minn., 19
T-142.) FRANK GUINTA (R)
Rep.-N.H., 23
T-142.) SHELLEY MOORE CAPITO (R) Sen.-W. Va., 23
T-144.) GREGG HARPER (R)
Rep.-Miss., 25
T-144.) FRENCH HILL (R)
Rep.-Ark., 25
T-144.) LYNN WESTMORELAND (R) Rep.-Ga., 25
147.) LUIS GUTIERREZ (D) Rep.-Ill., 26
148.) DON BEYER (D)
Rep.-Va., 26.8
149.) ALAN LOWENTHAL (D)
Rep.-Calif., 27.6
150.) MARC VEASEY (D)
Rep.-Texas, 36