The Loop
I checked weather.com last Friday morning for Bethpage State Park in New York. The rather useful website (not nearly in the league of Google, but certainly plays ball with Mapquest) forecast blue skies, a slight breeze, temperatures in the low 70s and a "golf index" that was a 10 out of 10. It turns out all predictions were accurate except the golf index. I'd have to say the better assessment of the situation would've been closer to a 15 on the playability meter.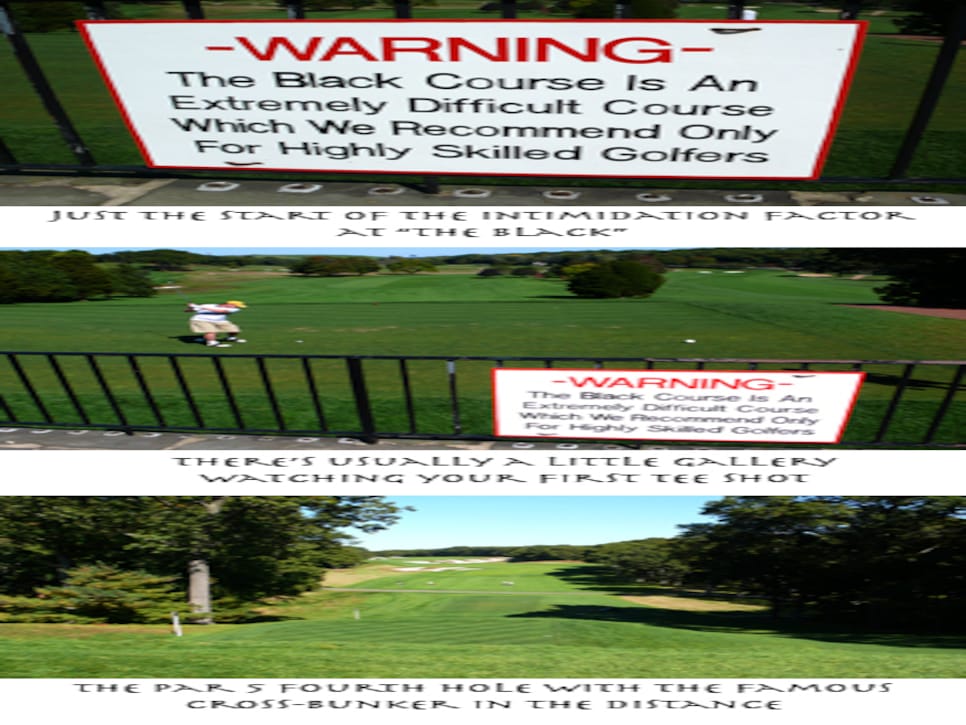 I'm calling it one of the top-10 best-weather days I've experienced in my 13 years of living on the East Coast. It was an especially ideal day to have a 12:51 tee time at the Black course of Bethpage. It's No. 5 on Golf Digest's list of America's 100 Greatest Public Courses and site of the 2002 U.S. Open, which you might recall, is where Digest passed out "Be Nice To Monty" pins, Sergio waggled his way to ridicule from a rowdy crowd (HIT THE beeeeping BALL, SERGIO!), Phil grinned, knuckle-bumped with fans and awe-shucksed his way to a second place as Tiger Woods won his eighth major. The Black course will also be the site of next year's Open, so this outing with a few colleagues (Equipment Editor Mike Stachura and Features Editor Craig Bestrom) was, in effect, a scouting trip.
Finding a fourth on short notice was a story in itself. None of them will know what order they were asked, but shockingly enough we went through at least 15 people on the masthead of both Golf Digest and Golf World before Stachura reached out to one of the Northeast sales reps for Callaway, Mike Shady. He's only a portion of what his surname might indicate.
On the first tee, right near the sign that has become a cliche ("WARNING: The Black Course Is An Extremely Difficult Course Which We Recommend Only For Highly Skilled Golfers"), it was determined Stachura (13-handicap) and Shady (7) would take on Bestrom (10) and me (8) in a best-ball. We played a $20 closeout, with a $10 press (the best, and simplest, betting game in golf). Shady and Stachura have known each other for 20 years, and after I'd announced the teams and the bet, we were all privy to Shady's inner-monologue. "Great. I get cancer boy." This was said, and received, as only longtime friends can say and receive. It was followed by laughter.
Stachura was in a horrible car accident coming home from the airport in February. He was banged up, but essentially OK. Doctors decided to do an MRI for precautionary reasons and found a cancerous growth. Can you say crazy turn of events? A bizarre game of good news: Mike, you survived a head-on collision. Bad news: Mike, we've found cancer. Good news: Mike, we caught it early and we're removing it. Better news the same day we played Bethpage: Mike, you have a clean bill of health.
Back to the all-important golf. Bestrom and I won the bet, lost the press, so we took home $10. We passed on playing the blue tees (7,468 yards) and played from the whites (6,684 yards). If you have amateur status and play the blue tees at Bethpage Black, you're an idiot. The white tees are all you can handle, and if you think otherwise, let me let you in on a little secret: You're just not that good.
Everyone broke 90; no one broke 80. We were all equally impressed by the course condition. You might have read my story about Torrey Pines two weeks ago. Bethpage blows it away in terms of strength of golf course from start to finish, and definitely in terms of condition. At $52 for respective locals, they're still both two of the best bargains I'll ever play. Stachura, Bestrom and Shady all paid $104 because they don't live in New York (still a great deal).
We figure the Black's in such great shape for the following reasons: 1) Dave Catalano, the superintendent of all five courses at Bethpage, and his staff, are very good at what they do. 2) As the host to two Opens in less than seven years, they've received large sums of money from the USGA to help with equipment and manpower. 3) They close the course on Mondays (except holidays), which cuts down on foot traffic and allows for the maintenance crew to catch up on their to-do list. 4) They put nine minutes between tee times (eight minutes on the other four courses), which also cuts down on the number of rounds per year. 5) There are no carts allowed on the Black--it's walking only.
This might have been my 10th time playing the Black. Not sure. The other three guys were first-timers. At the 19th hole, over refreshments and postseason baseball, we all agreed there wasn't anything we played that day that fell in the manila folder labeled, "BAD HOLE." Here's a collection of commentary:
No. 1:__ A stout starting hole. Stachura said his up-and-down 4 from the greenside bunker "felt like a birdie."
No. 2: Add a club (and a half) to your approach shot.
No. 3: Maybe the only "easy" hole.
No. 4: Can't get enough of the view from the back tees. There's a new groomed collection area behind the green.
No. 5: The card says par 4. I say it's a par 5.
No. 6: Either play back with a rescue toward the bunker on the right, or bomb driver over the left bunker for a short shot to the green.
No. 7: Left off the tee makes for the long way home. Right off the tee is tree jail.
No. 8: It's downhill, but don't play it that way. Short is wet.
No. 9: Play it over the left bunker, but not the tree on the left.
No. 10: If this course were a roller coaster, the 10th tee is where you get to the top and start the free-fall. A mother of all par 4s--during the 2002 Open, this is the hole where a number of pros complained that they couldn't reach the fairway--it also has a new collection area behind the green.
No. 11: Not really being able to see where you're going off the tee can make for some odd swings here.
No. 12: It sets up for a draw over the bunkers on the left and ends a trifecta of perfect par 4s. It can't go without saying Bestrom went par-par-par--making him a good choice of PARtner.
No.13: You have more room to the right than it appears on this par 5. If you hit it high, take it over the trees on the right. Before you leave the tee, glance at the new back tee that has been built for the 2009 Open. Yes, those guys ARE playing a different game than we are.
No. 14: Don't be short right. That's a crater or a canyon, but not a typical bunker.
No. 15: If you survive the Friday-afternoon traffic crossing the road (a poor squirrel was toes-up and didn't get to see the weekend), chances are you won't par the best hole on the golf course. Two perfect shots up the hill are only half the battle. On top of that, it's the most undulating green on the course.
No. 16: Now you're going back down the hill to end the collection of great par 4s.
No. 17: The best of four great par 3s, with a narrow landing area surrounded by sand and very little room for error. It's worthy of being mentioned in the same sentence as the 12th at Augusta, 16th at Cypress, seventh at Pebble and fifth at Pine Valley.
No. 18: A funky finishing hole. Visually the bunkering and the clubhouse is a good look. Don't love the hole, but don't hate it, either. After 15, 16 and 17 (not to mention one through 14, you need a break).
No. 19:__ The beers are cold, service is swift and the blue jeans and t-shirts outnumber khakis and collars.
The sun was almost done for the day as we pulled out of the parking lot. I looked to the left and groups of guys had started grilling, cracking the coolers, setting up tents and were preparing to nest for the night. They were lining up for a Saturday starting time.
It's courses like this, at prices like we paid and in conditions that we played, that are good for the soul and spirit of the game of golf. We were all happy to have cancer boy back on the links. That poor squirrel could've used some of Stachura's "good" fortune.