News
Wally Uihlein, Titleist CEO and president, announces his retirement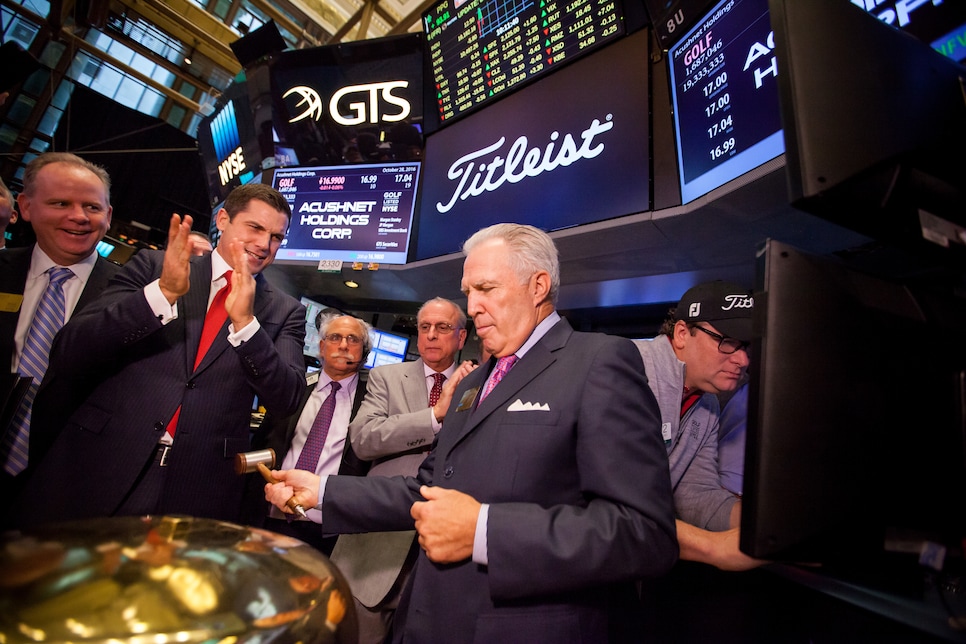 Bloomberg via Getty Images
Wally Uihlein, president and CEO of Titleist and FootJoy parent Acushnet and an industry force for much of the last three decades, unexpectedly announced his retirement Monday.
Uihlein, 68, who will remain as an advisor to Acushnet chairman Gene Yoon and a member of the board of directors, made his retirement effective at the start of the year. His replacement is David Maher, who many had tabbed as Uihlein's eventual successor when he was named COO in June 2016.
Still, Uihlein's departure comes as a surprise if only because he has played such a commanding presence behind golf's most iconic brand for more than 20 years. Uihlein has staunchly preserved, defended and enhanced Titleist's unrivaled market share and tour presence in golf balls, reinvigorated the company's club business and maintained the company's leadership position in shoes and gloves under the FootJoy brand.
Uihlein enforced those leadership positions with an unyielding commitment to tour endorsement. More professional players worldwide by a wide margin use Titleist balls and wear FootJoy shoes and gloves than any other brand. Uihlein also was instrumental in fueling the Titleist club brand by signing high-end putter designer Scotty Cameron to develop the company's putter line that would fundamentally elevate the price point for putters. He also gave a name to the company's wedge line by elevating wedge craftsman Bob Vokey to a Scotty Cameron-like microbrand.
All the while, he's navigated Acushnet through iterations as a part of a public company, the sale to a private international sporting goods brand and most recently helped the company go public in 2016.
Uihlein's retirement marks a seminal moment for the company, as his leadership and loyalty to the brand are legendary right down to the white coats the company's personnel wear at the PGA Merchandise Show. He also oversaw the company through consistent growth along with the sale of the company from Fortune Brands to Fila Korea Ltd. And Mirae Asset Private Equity in 2011.
It was the largest-ever purchase of a golf-equipment company at $1.225 billion. Acushnet remained a standalone operation in Fairhaven, Mass., while also expanding in Asia where golf was growing and even greater potential was possible. Uihlein helped engineer the deal that kept intact the company and brands he nurtured for 20-plus years, allowing him to remain in charge. "If I could have achieved anything when I started here, it would be to get the company in a position where it can sustain the brands, and today that is dictated by the globalization of golf," said Uihlein at the time of the sale. "Companies that are U.S.-centric will be roadkill on tomorrow's scorecard."
Uihlein was at the helm for one last major move when the company went public late last year with an IPO with the common stock trading on the New York Stock Exchange under the ticker symbol "GOLF." The initial offering price was $17 per share with just under 20 million shares of common stock to be sold by existing shareholders of Acushnet. This morning the stock opened at $17.09.
In the midst of the business, Uihlein has been eloquently outspoken in arguing against equipment restrictions. He repeatedly has made the case that there should not be separate equipment rules for professionals and amateurs, the so-called bifurcation argument. Uihlein instead made "the case for unification."
In his essay, he wrote, "While some lament that PGA Tour players aren't playing the same game as amateurs, this is more a commentary on the skill of the professional golfer than amateurs' desire to play a different game. Part of the fabric of the game is the relationship between the game's best players and all golfers who play."
Prior to being named COO, Maher, 49, served as senior vice president for worldwide sales at Titleist for four months in 2016 and previously was vice president, Titleist U.S. sales from 2001-2016.
"We thank Wally Uihlein for his forty plus years with Acushnet and the terrific leadership he has provided during this time," Yoon said. "Acushnet will continue to benefit from his extensive knowledge and experience in areas such as strategic planning, acquisitions, player promotion and golf equipment regulatory matters.
"I also want to congratulate David Maher on his promotion to President and CEO. During his 26 years with the company, David has demonstrated both the leadership and strategy skills that will ensure that Acushnet will continue to be one of the leading companies in the worldwide golf industry."