News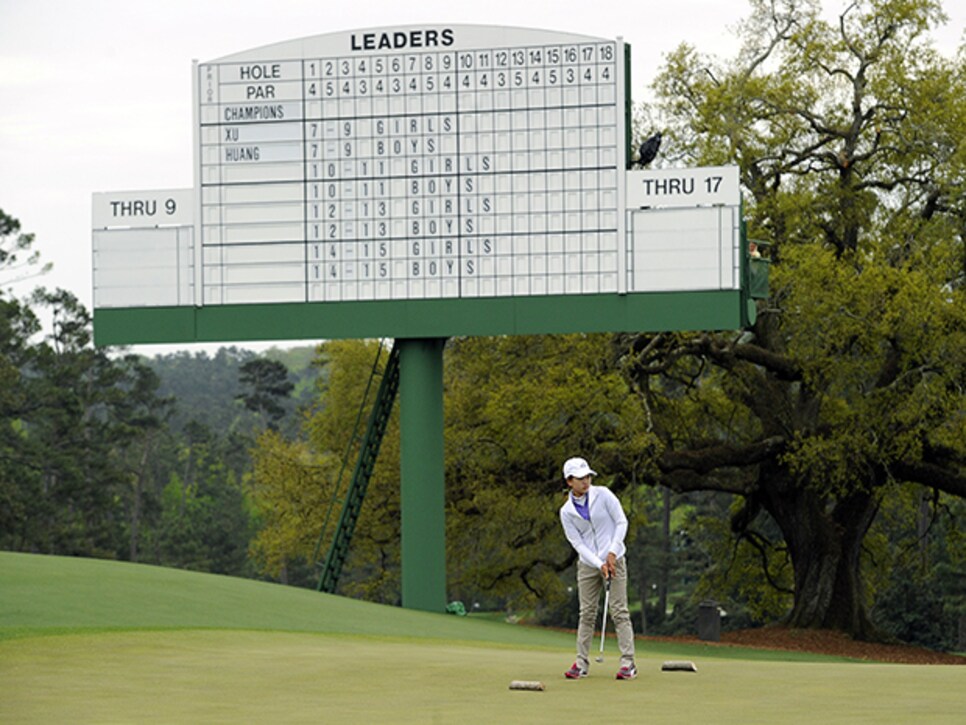 Less than two months after winning her 10-11 age division during the Drive, Chip and Putt Champoinship at Augusta National, Lucy Li is now set to play in a women's major. (Getty Images)
We had a feeling the Drive, Chip & Putt Championship at Augusta National before the Masters would some day be a springboard to greatness for junior players, but this is ridiculous. Just six weeks after she won the girls 10-11 age group, Lucy Li became the youngest to ever qualify for the U.S. Women's Open.
Talk about paying immediate dividends.
Not even Tiger Woods is going to be able say he was at both Augusta National and Pinehurst
No. 2 this year. But Lucy will.
Her 74-68 on the Old Course at Half Moon Bay south of San Francisco on May 19 not only topped the field of 78 vying for three spots, but she won by seven strokes.
Mull that over for a minute: An 11-year-old won a 36-hole U.S. Women's Open sectional qualifier by seven strokes. And lest you think this was a pitch-and-putt layout, the par-71 Old Course played a very adult 6,241 yards.
This was no fluke. Li, from Redwood Shores, carries a +1.8 handicap and is a product of the Northern California Golf Association's highly successful Youth on Course program.
She broke the record for youngest qualifier set by Lexi Thompson in 2007 at 12. Beverly Klass played at 10 in 1967, but there was no qualifying then.
And that is the key point here. Lucy qualified. One of the great things about the U.S. Open (men's or women's) is anyone who meets the handicap requirement can try to earn their way in. We're not talking sponsor exemptions or invites. We are talking teeing it up and playing your way in.
Of course, Li's success raises a bunch of questions. One is when will this youth movement end. I've heard of glass ceilings, but is there a grass floor? How low can we go? An 11-year-old tearing apart a 6,200-plus yard course? When I was 11, I needed a bike to go that far.
But look at the way things are going. In 2005, Paula Creamer became the youngest winner of a multiple-round LPGA event at 18. Thompson took that mark down to 16 in 2011. A year later came Lydia Ko, who lowered the record to 15.
Then she won again at 16.
Yes, there are cautionary tales, but there are also indications that those in charge -- read the parents -- are getting smarter about how to do this.
Klass was a disaster, the Whiz Kid guinea pig who was pushed too hard and ended up not only out of golf but struggling to function.
Aree and Naree Song burst onto the scene as 13-year-olds invited to play the 2000 Kraft Nabisco Championship, an LPGA major. Aree finished T-10. She joined the tour in the late summer of 2003, at 17 on an exemption to the age rule, and finished second in the 2004 Kraft.
Then, on May 1, 2004, she celebrated her 18th birthday during the third round of the Chick-fil-A Charity Championship. She was also leading the tournament. But the next day she shot 78 and finished T-23. While it is an oversimplification to say she was never the same again, the fact is that she was never the same again.
There were health issues -- most likely stress-related -- and she played her last LPGA event in 2011 at the age of 25. Naree is also out of the game, also after serious illness.
Of course, the Michelle Wie saga is well documented. At 14, she was a girl playing against men in professional events. It is only now, at 24, that she has found her identity -- and her game.
But the smart players -- and the smart parents -- have learned from the mistakes of others. Creamer, Thompson and Ko all won lots of amateur events before moving to the next level.
Once, I asked Earl Woods if he had been tempted to let Tiger turn pro as a teen instead of waiting until he was 20 -- and had won three U.S. Amateurs and three U.S. Juniors.
"I wasn't going to let him go until I was sure he could play with the big boys," Earl told me. "I wasn't going to do anything to hurt his confidence. I wanted him to build up a mindset of domination."
That's exactly what happened. By the time Tiger turned pro at nearly 21, he believed he could beat anyone. And that's exactly what he did.
The challenge for Li -- and her parents -- will be to take things in measured doses. She handled being the youngest ever competitor in the U.S. Women's Amateur last year admirably, which is a good sign. At 11, she will not only be competing in the U.S. Women's Open, but she will also be dealing with all that goes into being a footnote in history.
This could all go wrong. But it could also go right.