The Loop
Virginia's mid-season addition
To shake up the team or not to shake up the team. At the risk of alienating English Literature professors at the University of Virginia, that was the question Cavaliers women's coach__ Jan Mann__ recently faced. When you're in the third year of building a college golf program from scratch, and your squad has started becoming regular tenants inside the top 25 of the national rankings, anything that might put a stop to such visitations has to be greeted with Oliver Stone-like scrutiny, much less the telling words of William Shakespeare. Even when it involves the addition of a highly touted junior golfer so anxious to get her college career started that she finished her high school studies a semester early.
Ultimately, Jennie Arseneault, a 17-year-old from Grinnell, Iowa by way of the Leadbetter Academy, was too talented for Mann not to welcome to Charlottesville, Va., in January and allow her to join the Cavaliers squad mid-way into the 2005-06 season. And while the Cavaliers line-up might have been shaken, it hasn't been stirred. In Arseneault's first tournament, last week's Papa John's Collegiate Championship in Miami, she finished a respectable T-18 while the Cavaliers posted their fifth top-five finish in five starts. The second-team AJGA All-American is in the starting five again this weekend as Virginia travels to the LSU/Cleveland Golf Classic in Baton Rogue, La.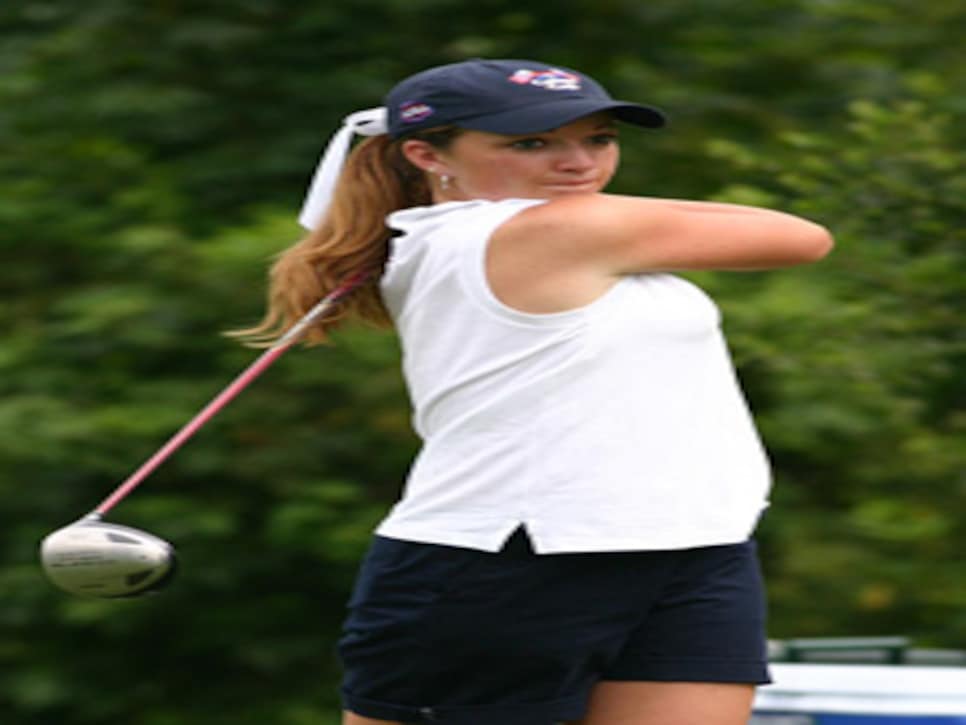 "I would not recommend [starting early] to most high school players, but she's exceeded my expectations," Mann says. "Just to be able to adapt, to make the adjustment the way she has, she's just done a fantastic job."
(BLOGGER''S NOTE-3/6: Arseneault finished T-11 at LSU.)
In-season roster changes are something professional sports franchises deal with all the time, but aren't so typical for college teams (although early enrollments of football players is on the rise) and are practically non-existent with golf programs. By the time the spring season has arrived, routines had been created, pecking orders established and team chemistry (hopefully) has been concocted to just the right potion. Tip the balance by tossing in a fresh face and you add more depth, but you also create more competition for playing time—and potentially more hard feelings—just when you need your team to be coming together.
To Arseneault's credit (and Mann's relief) no one was more cognizant of such potential hazards than the team's newest member, who didn't become sold on the idea herself even until after spending time with the team last October during her official visit. "I was a little bit nervous about the way other players would re-act," says Arseneault (photo above courtesy of the AJGA). "I didn't want anyone upset that I was coming in. But after meeting the team I was comfortable that things would be OK."
Rather than have it viewed as a potential threat, Mann and Arseneault did their best to present her addition as an opportunity. To facilitate the transition, Mann assigned players the responsibilities that ordinary occurred when "first-years" go through orientation before enrolling in September. One player made sure Arseneault knew where her classes were. Another instructed her on how to use the bus system. Another showed her the sights of the city. By doing that, says Mann, it helped build a relationship between the team and Arseneault that assuaged any fears and created new bonds.
According to Mann, the team—anchored by 2005 NCAA runner-up Leah Wigger and sophomore Lauren Mielbrecht—bought in to the message. "My team wants to be a national champion and they're willing to work had for it," Mann says. "They feel like Jennie in the line-up just makes them that much stronger."
That Arseneault wound up a Cavalier at all was the result of a twist of fate created by a natural disaster. While Mann targeted Arseneault as her No. 1 recruiting prospect the previous spring, the coach assumed her efforts had gone for naught when Arseneault verbally committed to attend Tulane last May. Yet an e-mail from Arseneault's father, David, the men's basketball coach at Grinnell College, a few weeks after Hurricane Katrina devastated the Gulf Coast, re-opened the prospects of Jennie coming to UVa.
"I was trying to be optimistic and say 'Oh, everything will be OK. New Orleans will be back to normal soon,'" says Jennie. "But my parents kind of prodded me to start looking at other schools because they knew how serious it was."
In her fall search, Arseneault narrowed her new options to two schools—Virginia and Ohio State—letting each know of her desire to both enroll and being competing at the start of the spring semester. "I played mostly all the junior tournaments I could play in [2005] and I didn't really want to go through another summer of that," she said. "I was ready to start playing college golf." After visits to each school, she choose the former, a decision that became even more of a relief when Tulane had to drop its women's golf team in December.
No doubt the golf transition seems to be going well; the fact Arseneault has qualified for the traveling squad for the Cavaliers first two events suggests her skills, particularly her short game, are ready for the college level. (A lack of distance off the tee, according to Mann, might be her lone weakness and is already being addressed by trying to create more shoulder turn.)
If there have been any hiccups, it's getting comfortable the rigors of academic life. Recall that Arseneault had no three-month summer break to allow her to prepare for the college class load—rather it was a two-week catching of her breath. "It's a matter of getting used to college life," she contends. "Things get easier every day."
The same can be said for the Cavaliers, Mann's squad making the psychological move from being happy just to be contending in tournaments to expecting to win them. Arseneault has similar expectations, and with her addition the Virginia women are that much closer to being among the nation's perennial elite.
Pay no attention, then really, to what month she arrived on campus. The way things have shaken out, Jennie Arseneault has gotten to UVa just in time.