The Loop
As she teed it up with teammates in a qualifier last Monday for the opening tournament of the spring, University of Virginia senior Leah Wigger had an unusual swing thought rattling inside her head. The first player to sign with the Cavalier women's golf team was keeping a secret entrusted to her the previous weekend by the woman who brought her to Virginia in the first place, Jan Mann, one that wouldn't be made public until day's end.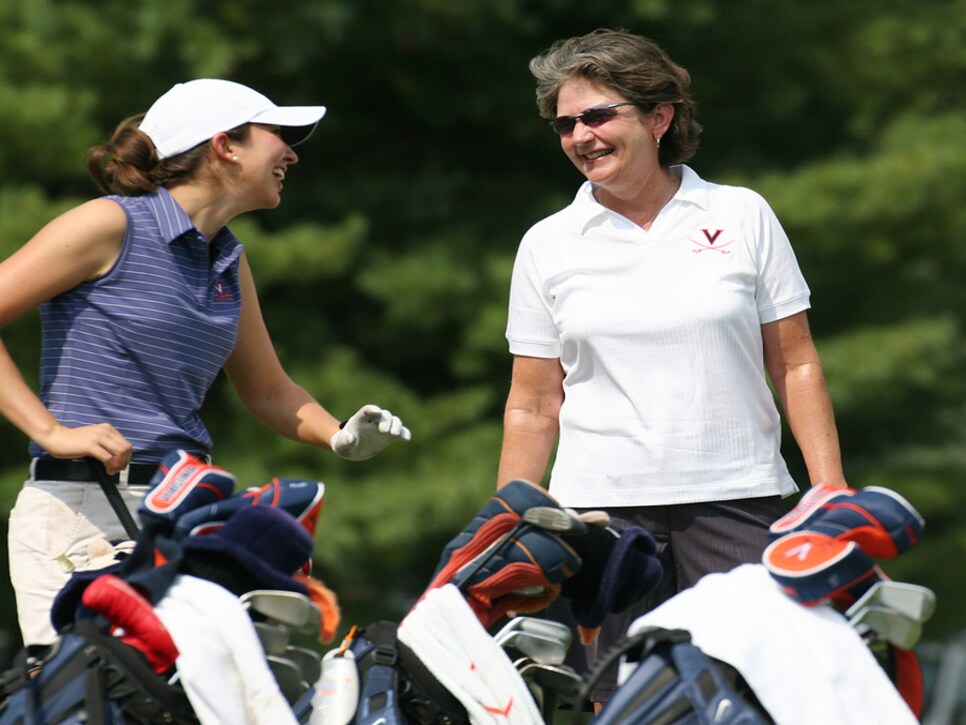 "It was kind of awkward," Wigger said. "Going through practice it was like 'Geez, these girls are going to get some bad news in a couple hours.' "
Indeed, it's not every day your coach, the woman who had built the program literally from scratch and turned it into a national power in just 3½ years, announces she is retiring at the end of the season.
When Mann first asked Wigger to meet her over coffee and hot chocolate at a Panera Bread shop on campus, the two-time All-American was nervous she might be in some sort of trouble. It's not about you, Mann told her, so don't worry about it, at which point Wigger got even more nervous.
If it's not about her, what could it be?
"I was shocked, really," said Wigger upon hearing the news. "I always expected her at least to be there a year or two after the [seniors] had left."
Multiple Wigger's reaction by nine, and you can imagine the emotional scene that took place when Mann told the rest of the team inside the clubhouse at Birdwood GC after the Monday qualifier. "Are you serious?" blurted one stunned player, between sniffles and tear drops.
"It was," said Mann, weepy-eyed herself, "one of the hardest thing I had to do."
"I truly feel like out team next year is going to be our strongest ever," Mann noted. "It's just there have been a lot of things that have told me that this was the right time."
Actually, it was four things in particular—her grandsons, living in North Carolina, each at an age where missed moments are lost forever—that ultimately swayed Mann to finally take up a long standing offer from a family friend. Like her husband, John, Mann will join Brax Ltd. back in Wilmington, N.C., to work with universities and athletic departments on fund raising beginning later this year.
Mann's thinking was influenced by past experiences where the increasingly hectic lifestyle of coaching college golf at the Division I level caused her to miss opportunities to spend time with her father, whom she was particularly close to before his death in a sailing accident two years ago. "Even before I was at Virginia, he would call me up and say, 'I'm going to do this, come with me,' or 'I'm getting ready to go do this, come join me,'" Mann recalled. "And I would often times, more than I'd like to admit, say 'Dad, I can't.' I don't want to have that regret with my family."
So it is that she began making plans for the future during the winter break, approaching Virginia athletic director Craig Littlepage last month and choosing to make the official announcement of her pending departure now, prior to the start of the spring schedule, so her replacement could be found early and the impact of her departure could be absorbed more easily by the current players.
Intended or otherwise, Mann's move—and more importantly her motive—sent a message to the college golf world. "It's been wonderful that coaches have called me and e-mailed me, congratulating me," Mann said. "Everybody understands and wished they could spend more time with their family in coaching. I don't encourage them all to quit, but I do encourage them to spend more time with their family."
Recently, discussions began in earnest among men's and women's coaches as to whether potential limitations on summer recruiting, in part to help reverse the continued increase in the number of days they are on the road during the off-season, are needed. As the debate continues, it won't go unnoticed that one of the game's best and brightest coaches, a woman who was the head of the NCAA Division I women's golf committee and has achieved much in her profession, has registered her opinion with her actions.
That same point isn't lost on her players, either. "It will help us keep things in perspective," Wigger says. "If we have a bad round, we'll be like, 'you know, it doesn't matter because there are bigger things in life than a bad round of golf.' You know family is more important."
Meanwhile, Mann's departure will be a rallying point for the Cavaliers this spring. "We have something to play for," Wigger said. "Not to put pressure on ourselves, but it will be more meaningful. We're going to try to make every moment on the golf course and off the golf course, any time together, a very special moment."
For as special a person as Mann is, and as noteworthy a stand as she's taken, you would expect nothing any less.