National Hero
Hundreds descend on Norway golf club after news of a Viktor Hovland tee time goes viral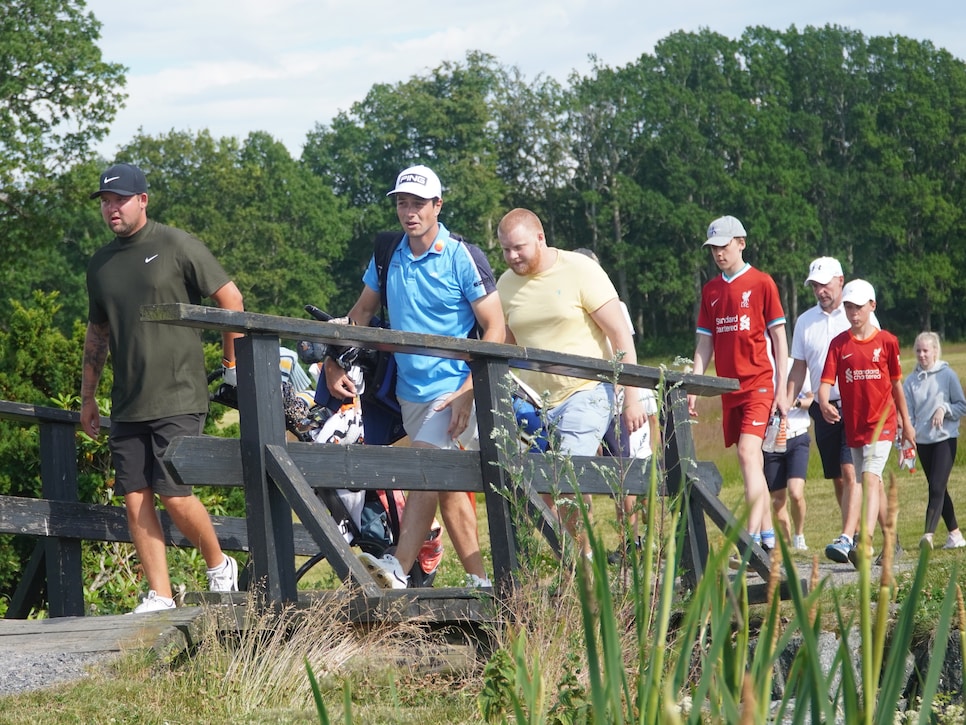 Viktor Hovland is not playing the Scottish Open on the European Tour, but that doesn't mean he will not have had some prep in front of crowds this week before next week's major championship. Hovland, who flew to Europe after the U.S. Open and promptly won the BMW International Open in Munich, is back in Norway, where word got out that his name appeared on the tee sheet for what was a planned quiet home game.
Tom Erik Andersen of the website NorskGolf.no chronicled the day, and did so expertly, though it may be hard to follow if you're not fluent in Norwegian. We're told that this was a planned week of summer rest back home for Hovland before the final men's major of the year. He has been refusing media inquiries, appropriately because it's a vacation, but he has been playing a lot of golf in the Vestfold area outside Oslo.
In Norway, they use a website called Golfbox to book tee times. When one Larvik Golfklubb member went to put his name on the tee sheet, he noticed the young phenom's name there in the 4 p.m. slot. He thought it was a joke, but took a screenshot, which made its way onto a private golf group on Facebook. That screenshot went viral in Norway and the wheels were suddenly put in motion for a quiet sunset round at Larvik to become a spectacle indicative of what one person there called the "Hovland Fever" sweeping the country. An estimated crowd between 200 and 300 people showed up to Larvik.
Larvik is a couple hours south of Oslo and Hovland's company for the sunset round was Andreas Halvorsen, Hovland's former national teammate who's currently on the Latinoamerica Tour, Kevin André Wright, another pro and former Norwegian national champion, and John Arne Riise, a former soccer star, most prominently with Liverpool.
Hovland was apparently made aware that the news was out and a crowd might form. He still proceeded, however, and the hundreds on hand got an experience watching the former U.S. Amateur champion and current 14th-ranked player in the world. There were selfies and autographs aplenty, including between swings during his warm-up on the range.
The crowd reportedly followed Hovland from the first tee all the way around Larvik. The assembly included 11-year-old Noa Terserus Helgesen and his dad, Pål Helgesen. NorskGolf.no talked to the father and son, who revealed they traveled from Bergen that morning. According to Google Maps, that's about 310 miles and in excess of a seven-hour drive, and they planned to make the return trek by car the very next morning. They were dubious that the viral screenshot was real, but were able to confirm it before making the trip. Noa is an avid golfer and the 6:30 a.m. departure yielded not just the up-close viewing experience, but also an autographed hat.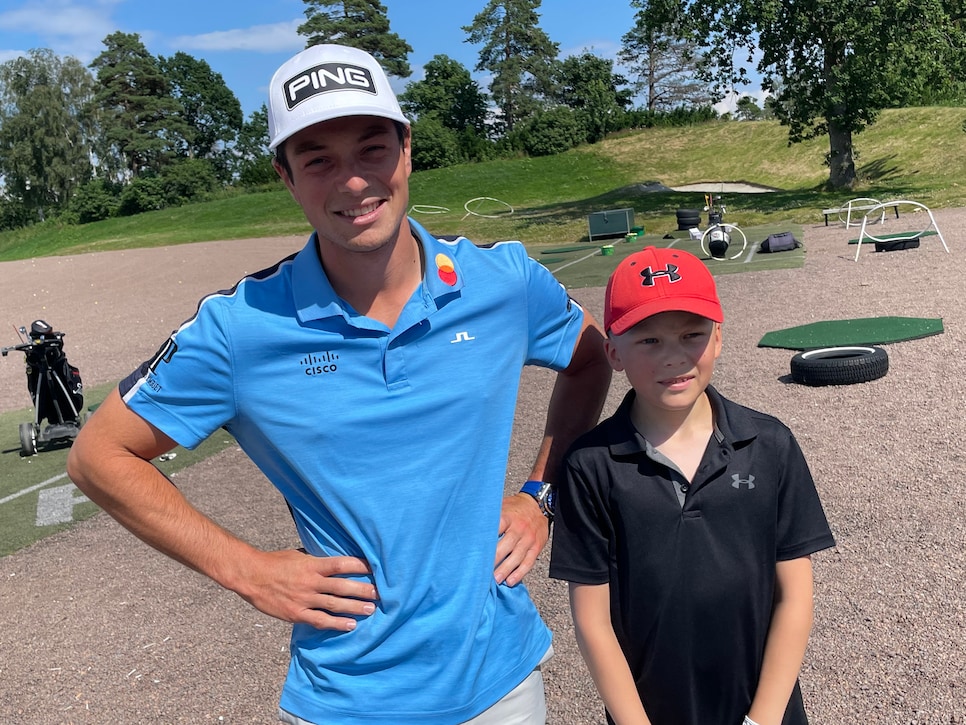 Photo courtesy of Tom Erik Andersen and NorskGolf.no
They were not the only folks from Bergen, journalist Christian Døvle of Norsk Golf said. One spectator, a physiotherapist from that city, paid $351 to take a flight that morning but asked to remain anonymous because he had canceled all his appointments for the day, telling his patients he "had an important meeting." Golfers everywhere can relate and empathize with the "important meeting."
"It is such great fun with Viktor and everything he accomplishes abroad," the physiotherapist told Andersen. "And now he suddenly is right around the corner. You don't get many opportunities like that!" The term "right around the corner" is relative, or used loosely in translation here, as this individual booked his flight at 10 a.m., hopped on WF411 leaving Bergen at 11:30 a.m., and was on the range in Larvik next to Hovland at 3 p.m.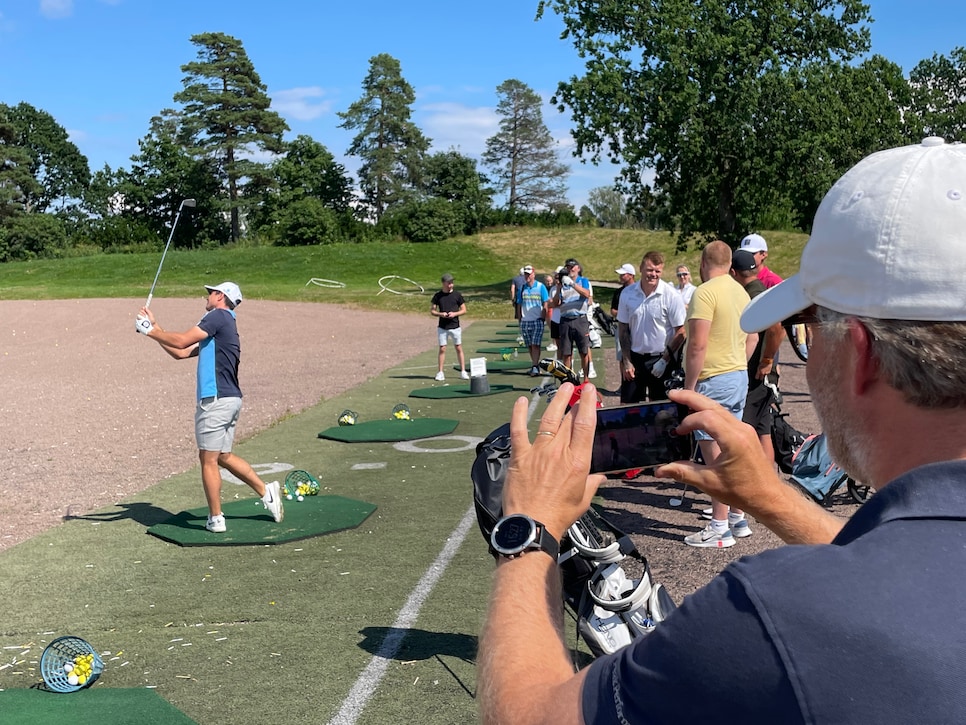 Photo courtesy of Tom Erik Andersen and NorskGolf.no
Perhaps the most amusing tale of the day from Andersen came not from Hovland and the crowds that followed him, but from the poor souls who were on the tee sheet before the star-studded group.
These unsuspecting golfers showed up to the course for another quiet, vacation round. But there they were set to tee off with what Andersen said was well over 200 people already crowding around waiting for Hovland's 4 p.m. tee time. The group said they were just a few tourists spending the summer at a cottage nearby and had no idea what was happening until Riise and then Hovland showed up on the range.
As they got set to tee off, Andersen observed one player's hands literally shaking from nervousness due to the nearby crowds and Hovland. When his drive was pure, the crowd roared and the regular Joe "celebrated towards the blue Vestfold sky, like a true major winner."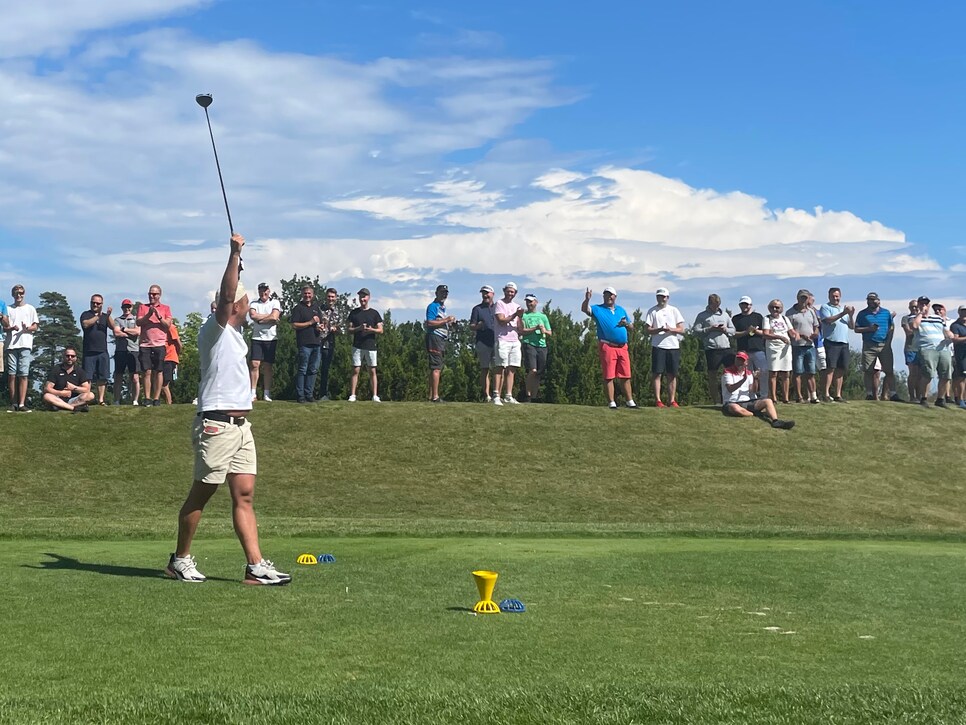 Photo courtesy of Tom Erik Andersen and NorskGolf.no
Hovland did not speak to the home country press, as he continued what is supposed to be a media-free vacation. He did, however, take out his phone at one point to capture the chaotic scene around him. He reportedly took in the crowd in stride, smiling and obliging the autograph and selfie requests throughout the day.
The first Norwegian to win on the European Tour thanks to that victory in Munich at the end of June, Hovland's next start will be his first in golf's oldest major. With the 2020 Open canceled due to the pandemic, the 23-year-old had to delay that debut to next week at Royal St. George's. Since the last time there was an Open, Hovland has two wins on the PGA Tour, bagged that Euro Tour victory, and rocketed some 200 spots up the World Ranking with immediate and consistent contention as a pro. It's part of why he'll be among the top 20 or so players with the lowest odds at that major, and why news of a tee time back home causes an immediate outbreak of Hovland Fever.