Highlights
Watch Viktor Hovland juuuust miss making a hole-in-one on a par 4 at the Hero World Challenge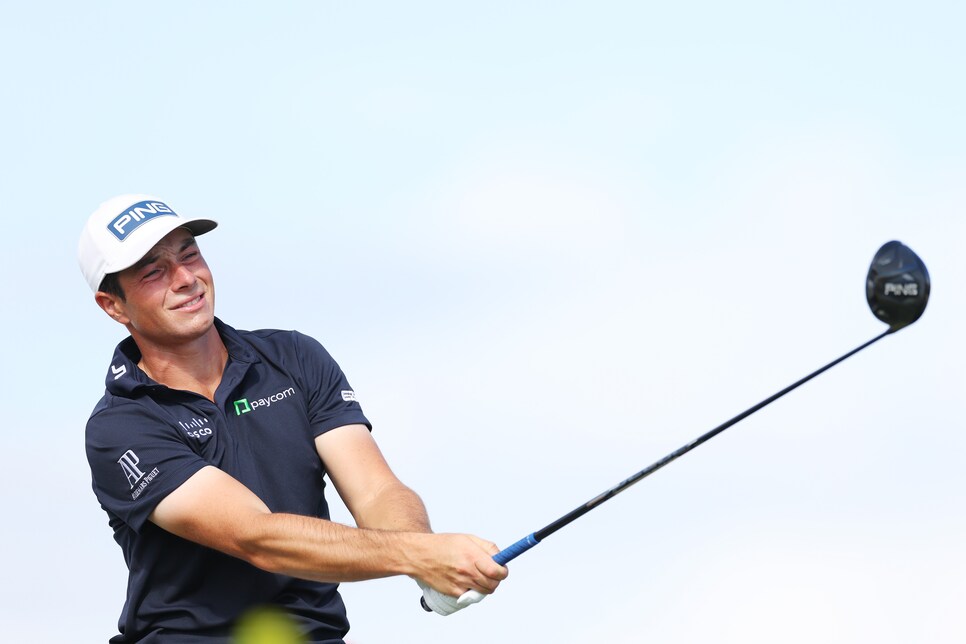 The so-called "Resort Golf King" is doing it again. And this time, he almost added a bit of history.
Viktor Hovland, the defending champ in the Bahamas and whose three career official PGA Tour titles have come in Mexico and Puerto Rico, got off to another great start at the Hero World Challenge. The Norwegian is among the early leaders at Tiger Woods' event thanks in part to an eagle on Albany's par-4 14th hole. An eagle that was nearly an albatross.
With the 307-yard hole only playing 276 yards, Hovland took dead aim at a front pin. His drive landed just on the front edge of the green, took a couple small hops and rolled just past the cup. And we mean just past it. Have a look:
Man, that was close. Moments later, Hovland converted the short eagle look to vault into the lead at four under par:
Now for the obligatory part of this post where we tell you there has only been one hole-in-one made on a par 4 in PGA Tour history. That was Andrew Magee at the 2001 Waste Management Phoenix Open, when his tee shot on the 17th hole caromed off the putter of Tom Byrum on the green and into the hole.
Technically, this wouldn't have been the second such ace because the Hero is an unofficial PGA Tour event. But don't worry, Viktor, we would have counted it.
In any event, Hovland's strong start in the Bahamas is about the least surprising development of 2022. All hail the Resort Golf King.