WGC-Workday Championship
Viktor Hovland says miracle chip at the 13th hole at The Concession was 'just a guess'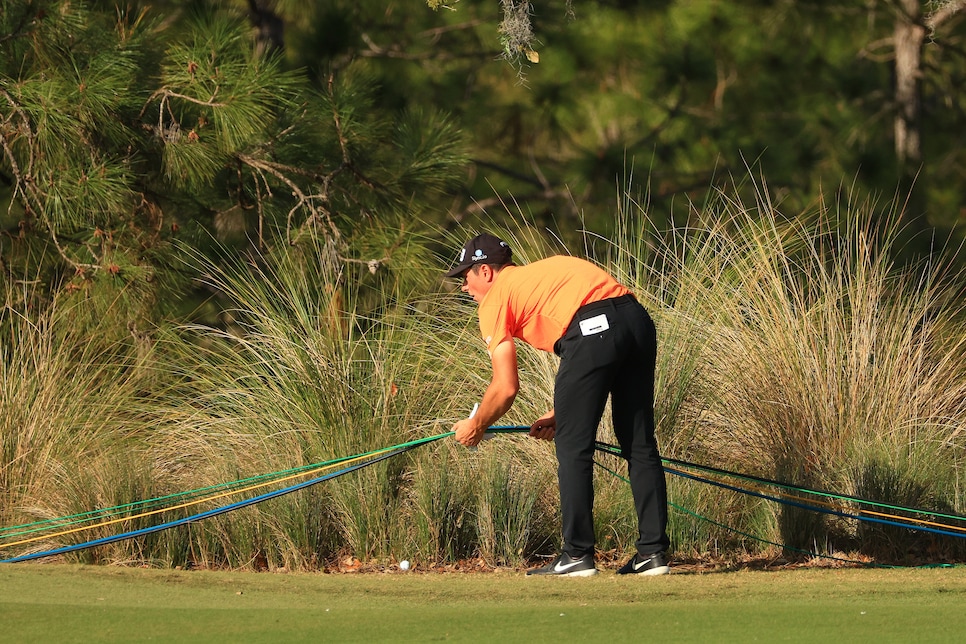 With the amount of money, FedEx Cup and World Ranking points, and, let's face it, pride on the line at each week's PGA Tour event, there wouldn't seem to be a lot of room for "guessing." It's why the pros read a putt from every angle. It's why they calculate everything from air density to which way the grass is growing. It's why their yardage books are bigger than the menu at the Cheesecake Factory.
And yet, with the WGC-Workday Championship hanging in the balance, Viktor Hovland did the unthinkable. He simply "guessed." At the par-5 13th, having already pulled within two strokes of Collin Morikawa's lead, Hovland's second shot sailed the green, coming to rest up against a bush in the native area. After what had happened just two days earlier at the ninth hole, you'd think Hovland would do everything in his power to avoid another catastrophe.
Hovland rehearsed with a few different clubs, ultimately deciding on an 8-iron and pulling off one of the best up-and-downs we'll see all year:
"It's certainly up there," said Hovland when asked if he's ever had a better up-and-down. "Yeah, that was just a guess and it happened to come out just perfect and rolled through the fringe just amazingly."
Just a guess? Down two with six holes to go on a course begging you to make a triple bogey or worse is a wild time to be playing guessing games, but sometimes you guess right. And remember, this shot was from a guy who claimed he "sucks at chipping" a year ago. Of course, in explaining the pre-shot process further, it sounded like a little more went into it.
"So first, I thought I was going to hit a 60-degree and just literally hit it as hard as I could through the thick stuff and hopefully try to catch it clean somehow. I realized that probably wasn't a very smart play. That would have been a fun shot, but a lot of things could go wrong.
"And I was thinking about the putter and thinking about the 3-wood, but the problem was I had to get so steep on it, didn't have a backswing and with no loft on it, I might not get it out of there. So I essentially ended up using an 8-iron doing the same thing because at least I have some loft there that's going to move the ball."
OK, so maybe it was more than just a guess. Hovland's remarkable birdie pulled him within one, but a disastrous three-putt bogey at the following hole, coupled with a Morikawa birdie back at the 12th, all but ended his chances. Expect the young Norwegian to get back in the mix soon, especially if he's going to add a wizard-like short game to his bag of tricks.