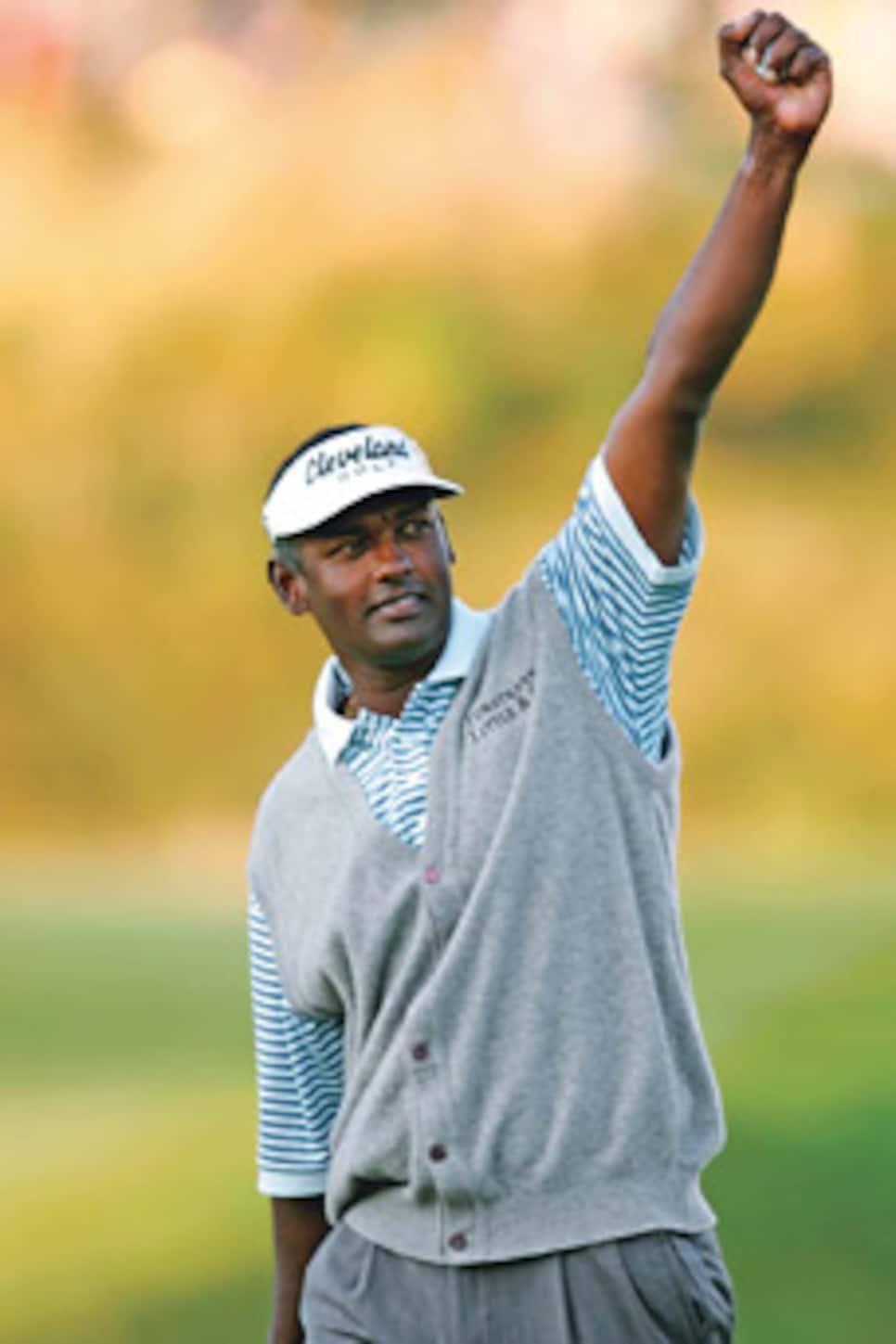 The last of Vijay Singh's three majors was the PGA Championship in 2004.
Vijay Singh would never show it, but he misses being part of golf's conversation.
Of course, the fortunes of most players have been drowned out by Tiger Woods' domination, and there has been the usual clamoring for Phil Mickelson to make a run. But the biggest reason is the understandable but undeniable decline in Singh's performance since his monumental 2004 season, when he won nine tournaments, set the season money-winning record and became the only player in the new millennium to supplant Woods at No. 1.
Singh has fallen from that great height, especially in the major championships. In the past six majors he has missed three cuts and finished no better than a tie for 13th, and last year he dropped to 13th in the world, his lowest ranking since he was 18th a decade ago.
The consensus is that a 45-year-old professional golfer, no matter how motivated, disciplined, fit and talented, has almost surely seen his best days. Few are making Singh a favorite in this year's Masters, even though he has finished eighth or better in six of his past eight appearances at Augusta.
And as more six-footers run by the hole, Singh looks less and less capable of handling Augusta's greens with the kind of career putting that carried him to the green jacket in 2000.
If Singh minds the silence, or hears the murmurs, he doesn't show it. He's too busy listening to the voice in his head, the one that's disappointed by his play since his last victory, a year ago at Bay Hill. So after missing the cut at the PGA Championship won by Woods, Singh embarked on a bold makeover.
"When I see myself sliding off, I don't like it, and I had to take a hard look at why," says Singh, sipping coffee after his morning workout. "When you're not playing well, your head doesn't function very well. You get in this negative mode, and you start blaming things on people. I think you've got to look in the mirror and figure it out. So I made some changes."
As 2008 opened, Singh was in full renovation, committed to dramatically altering his swing plane so that it resembles Jack Nicklaus' rather than Ben Hogan's. Singh is also switching from the belly putter back to a conventional length and eschewing his left-hand low grip. Departed from Team Singh are caddie Paul Tesori and close friend and trainer Joey Diovisalvi. They have been replaced by Chad Reynolds, formerly the looper for Singh's regular practice-round partner, Tom Pernice, and Jeffrey Fronk, formerly an assistant with the Jacksonville Jaguars and New York Jets. Both personnel changes were based in large part on the willingness of the replacements to dedicate even more time to Singh.
"The changes have been a little hard because Paul and Joey went through a lot with me, but I want that feeling of winning back," says Singh, who ended 2007 with a victory in Korea and a second in Singapore before a playoff loss at Pebble Beach followed indifferent results earlier this year. "It hasn't shown up yet, but it will come. I believe I can beat everybody out there. I know that."
Think of swinging a sledgehammer... You're using gravity to your advantage.'
Upon reflection, Singh's self-assessment doesn't sound any less plausible than a guy from the archi-pelago of Fiji becoming the No. 1 golfer in the world. And after watching a slimmed-down Singh (215 pounds, from 227, at 6-feet-2) hit balls with the sound and force that make other pros stop and look up, it occurs that there might be other reasons Vijay has been dropped from the conversation.
Even with 31 PGA Tour victories (a record 19 of them achieved after turning 40), including three majors and induction into the World Golf Hall of Fame, Singh in some minds will remain the one who was suspended from the Asian Tour in 1985 for allegedly altering his signed scorecard -- a charge Singh has always denied -- and who, in 2003, became a talk-radio punching bag by candidly but clumsily speaking out against Annika Sorenstam accepting a sponsor's exemption to play at Colonial.
Wounded by the accusations and criticism, Singh has made himself easy to ignore by keeping a wary distance from the media -- going to press tents for group interviews only when he is the defending champion, in the lead or tied at the end of a round, or after winning -- the minimum of what the tour asks. He regularly declines other requests for interviews. It made for particular awkwardness when he was No. 1, but the lack of coverage of his decline seems almost by mutual consent. For his part, Singh is used to keeping his own counsel and stoically hiding scars. He once characterized his upbringing in a large but not close family by saying, "I wasn't alone, but I was lonely." Courting favor is not in his makeup, and -- as he made clear in a rare one-on-one interview -- public attention is something he endures more than he enjoys.
"I mostly keep to myself, and maybe people get the wrong idea," he says. "You know, there are eyes on you all the time. Not only is it the 4½ hours that we actually play golf, but before and after, so it ends up being a seven- or eight-hour day where people are watching you. Sometimes TV's watching you. When you go to dinner, even if they're not watching you, you feel like they're watching you. You're on watch all the time. So you have to almost put yourself in a cocoon.
"People see that side of me and think it's wrong, I just don't mind that. Because they don't know any better. If I let that bother me, then I'm the loser. In my heart I know what kind of person I am, and that's good enough."
Singh says those concluding words with the assurance and pride of the self-made man. They're the same qualities he projects when he strides onto his personal kingdom, the practice ground. More than a decade ago, longtime Fuzzy Zoeller caddie Cayce Kerr took in Singh's cool aura, imposing physical gifts and strong will and called out, "Big Daddy from Cincinnati," and Singh has remained Big Daddy ever since. Watching him go through his bag -- creating a divot pattern that leaves six-foot-long trenches with edges so straight they look like they were traced by a yard tool -- it's obvious he takes satisfaction in a thing done well.
"Even to this day I get a thrill out of just hitting balls," he says. "Seeing the shot and then hitting the shot.
If I can hit the ball the way I want to hit it on the range, I'd rather do that than play golf. I just love the feeling of hitting good golf shots."
All the purpose and passion makes Singh's area on the range -- always strewn with weighted clubs, training devices and alignment props -- a natural checkpoint for other players. Bubba Watson stops by to talk trash about driving distance, the joshing finally turning into a playful shadowboxing session, Singh breaking out martial-arts kicks that once held him in good stead as a bouncer at an Edinburgh nightclub. When Frank Lickliter approaches to ask for help to achieve spin with a lob wedge, Singh obliges with a demonstration of "tour sauce." Sharing a launch monitor with Jerry Kelly, Singh reacts to one of Kelly's pokes by ceremoniously calling out "152!" in joking reference to Kelly's relatively meager ball speed. (It was actually 156 miles per hour; Singh's was more than 170 mph.) On Tuesday at the TPC Scottsdale, a businessman named Michael Brown had the privilege of carrying Singh's bag after making the winning bid in a charity drawing. But when Brown left the faces of Singh's irons dirty, Singh looked down at them and solemnly intoned, "Bro, don't make me fire you before we even get started."
All of the encounters were punctuated by Singh's high-pitched giggle, equal parts Muttley cartoon-dog wheeze and the cackle of basketball icon Bill Russell. "It's one of the great laughs," says comedian George Lopez, a friend of Singh's who played with him in the FBR Open pro-am. "It's a kid's laugh, uninhibited and infectious. Sometimes Vijay will try to tell me a joke but completely chop up the setup and the punch line. But when it's over he'll laugh his laugh, and it makes the joke funny."
Singh's best delivery is deadpan. It was on display in the best of last year's FedEx commercials, in which Singh unexpectedly breaks in on Trevor Immelman as the young South African is fantasizing about a victory interview in front of a locker-room mirror. Singh shows some acting chops by underplaying his line -- "Trevor ... You all right?" -- with body language that both mocks and empathizes.
I learned from the best... even though I'd almost never ask a question, I'd really watch.'
"Vijay has got this presence where you know he's really aware," says Lopez. "Some people think he's aloof, but I respect that silence, because I understand that it's his way into his process. I think all really successful people have that ability to go deep inside themselves to pull out their best. That's Fort Knox in there."
Singh isn't about to divulge all his secrets, but he does share some of his philosophy.
"Golf is about knowledge, and studying another player -- more than listening to a teacher -- is the best way to get it," he says, recounting his formative pro years in the late '80s on the European tour. "I learned from the best. Seve, Langer, Lyle -- I loved playing with those guys. And when Jack, Trevino and Player came over for the British Open, they'd let me play with them, and even though I'd almost never ask a question, I'd really watch what they did. And they would tell stories about what they learned playing with Hogan and Snead, so it kind of passes on."
Singh enjoys his role in the chain, and he's known for his generous advice. Bubba Watson remembers flying home from Hawaii in 2006, feeling good after making his first big check. Singh leaned back in his seat and -- in the tradition of Nicklaus to Trevino, circa 1970 -- told him, "The way you play, you need to talk about winning. Don't talk about keeping your card -- talk about winning."
Says Kelly: "There is no one out here more generous than Vijay when it comes to helping another player with his game. He's always been there for me whenever I've asked, good times and bad. There are more misconceptions about him than any other player, because the guy has a huge heart."
Of course, Singh hardens it when it comes to his two biggest rivals. He and Mickelson have maintained a particularly icy relationship since the 2005 Masters, when Singh's complaints that Mickelson's extra-long spikes were tracking up areas around the hole led to a tense confrontation in the Champions Locker Room. "You know, it's 'Hi, Phil,' 'Bye, Phil,' " says Singh. "None of us knows him.
I guess I'd like to know what kind of guy he is."
Singh's relationship with Woods is more nuanced. "We're friends," he says. "I've enjoyed playing against him because he's an incredible performer, but it's been difficult when I'm not playing well. It's good that I passed him for No. 1, but it's also bad because I didn't hold onto it. We meet more times in the gym than anywhere else. We greet each other with respect, but not a lot of words."
The two had a publicly friendly moment at the conclusion of the 2007 Presidents Cup, bumping knees as Singh drove a crowded golf cart while Woods balanced himself on the front.Later, as they stood around the 18th green waiting for the final group to finish, Woods cracked up at one of Singh's jokes. But Singh does not foresee a day when they will be chatty on the golf course.
"You know, the great players, they hardly talk to each other, especially in competition," he says. "Look at Hogan, or Jack. Even Trevino -- a loving guy, but when you play in a tournament with him he might say a lot of words, but none of them are for you. Faldo would not even say hello to you. Seve, I practiced with him a lot, but in a tournament round -- not a word. But all those guys were great players. It's not an accident.
"Today, Tiger doesn't talk. Ernie doesn't talk. Phil talks, but just to relax. You just don't talk. You have to be in your own head. All you're thinking about is your next shot. I think it's like a boxer in a ring. The crowd is crazy, but all he can hear is maybe his trainer. We're the same with our caddies. That's how our world is."
Like a boxer in the final rounds, Singh is seeking a second wind, most of it predicated on the success of a swing change that is more overt and just as daring as Woods' much-critiqued alteration. The big difference is, at 45, Singh has less margin for error.
It was clear that Singh had developed some flaws. After striking the ball the best of his career in 2004 and 2005, when he was second and fourth on tour in greens hit in regulation, Singh fell to 31st and 45th. Perhaps more telling was his driving distance dropping from 301.1 yards (16th on the tour) in 2005 to 293.7 (65th) in 2006, with no increase in accuracy.
Critical mass was reached last year, when after two early-season victories, Singh became just an occasional contender, with only four more top-10s in his 19 final appearances. When he finally decided to take a close look at video of his swing at midyear, he was shocked at how flat his backswing plane had become and how much the shaft of his club was laid off (pointing left of the target) at the top of his swing.
"I could see I was sliding backward," says Singh, who still finished third on the money list. "I looked at what I was doing and said, 'This golf swing is going to kill me if I don't change.' "
Singh has long loathed a hook, and the aggression in his course management is founded in his ability to eliminate the left side of the course with a reliable left-to-right flight. To that end, he has the face angle of his metal woods set extremely open and has tended to take the club back slightly outside the target line. On the practice tee, he always places a plastic bottle slightly in front of his ball and just to the right of his target line, forcing him to consciously swing along and left of the target line -- rather than a draw-producing inside-out path -- to keep the club or the ball from hitting the bottle. His friend Farid Guedra, a golf professional living in Sweden who met Singh on the European tour and works with him each year, says Singh also got flatter when he experimented with a 47-inch driver -- two inches longer than what he normally uses -- for a few months in 2006. "It got him swinging underneath the plane, and he found himself fighting the shot that he hates," says Guedra. "He compensated by getting more and more laid off."
When Singh made the decision to alter his swing, there were no half measures. During the FedEx series last August and September, his peers were shocked to see him taking the club much more inside the target line and swinging it back to the top on a much more upright plane. At the top, the difference from where his driver clubhead had been when he was laid off and where it was after the adjustments was close to two feet -- a huge change.
"I had ingrained some bad habits, so I had to do the opposite," he says. "But I've always wanted the club to be high, like Davis Love and some of the other long hitters. Think of swinging a sledgehammer. There's much more force if it starts down from high than if it starts from the side, because you're using gravity to your advantage. Now is the best I've felt and looked, especially power-wise. I'm hitting a lot farther with every club. There's a lot more pop in the swing. You know, I should have done this swing change a long time ago."
Despite his late-season successes in Asia, Singh opened 2008 inconsistently. Things seemed to jell at Pebble Beach, where he took a four-stroke lead into the final nine holes, but an untimely series of pulls and pushes led to four late bogeys before a playoff loss to Steve Lowery. "I haven't been in this position for a while," Singh said. "This is good, though. Each time you get in a situation like this, you learn more from it. I'm going to learn more from not winning."
In practice rounds earlier in the year, Singh had Reynolds, his caddie, stand behind him along the target line on every full shot. After striking the ball, he would ask, "That time?" to see if on the first move down the club stayed on the desired upright plane or dropped into a flatter one. Especially when Reynolds reported a slight drop, Singh would take a weighted driver and swing it to the top, where he would hold his position for a few seconds before pumping his arms down to ingrain the motion. On many holes, he kept the heavy club in his hand between shots, stopping often to repeat the exercise.
It's "Hi, Phil," "Bye, Phil." none of us knows him. I guess I'd like to know what kind of guy he is.'
"It's still very new, and I've had a hard time taking it to the golf course," says Singh, who knows the drill from past swing changes. "But it's getting to the point where I hardly think about it. Once I stop thinking about it, then I'll be there."
Singh has also made a renewed commitment to putting, the part of the game where he has always needed the most improvement. A ball-beater since his days in Fiji, Singh has never developed the same passion for rolling the ball as he has for hitting it through the air. It's apparent in his body language during long practice sessions on the greens, and even in competition, when his expression as a ball approaches the hole seems more fatalistic than expectant.
Through hard work, he has made himself into a respectable putter who can be brilliant, but his constant switching to various methods suggests chronic dissatisfaction. But where Singh really intends to improve his putting is with more time and attention.
"You see there are great putters who keep on putting great. Why? Because they practice putting a lot," he says. "Here I've been changing my golf swing and working on my physique, and saying through the years how much I need to change the way I putt. But I haven't practiced like the great putters practice. "I know one thing: If you're putting well, you can actually breathe a lot better. Because you know you're going to make those six-to-eight-footers nine out of 10 times. A good example is Woods. He has no fear of playing because he knows he's going to make a lot of those putts. All the really great players are like that. So that's my next step."
At the same time, Singh has cranked up his training regimen, hiring Fronk last July after working with Diovisalvi since 2000. Singh and Fronk meet six days a week, and sometimes seven. When Singh is home, their routine is two 90-minute sessions a day. At tournaments they typically do 45 minutes in the morning and an hour after the round. Fronk, 41, also studies Singh on the range and in competition to evaluate which exercises are best. "It's a lot harder than what I used to do with Joey," says Singh.
It's definitely hard. In the large aerobics room of the Fairmont Scottsdale Princess, Fronk directed Singh through a program of stretching and floor work, followed by high-intensity intervals that employed dumbbells, medicine balls, isometrics, plyometrics and jump-ropes, several of the activities performed on the unstable base of physio balls to build core strength. There was rarely more than 15 seconds of rest between exercises, and Singh breathed heavily and often grunted with effort.
"As far as work ethic, Vijay reminds me of Curtis Martin," says Fronk, referring to the Jets' retired running back. "The guy has no quit in him." As Singh was leaving, Jesper Parnevik showed up wearing very short swim trunks and a tight T-shirt with a deep neckline that looked as if it had been borrowed from Mick Jagger. "Jesper," Singh said, pausing a beat before adding, "Nice pants." After delaying his laugh until he was out the door, Singh said, "One thing about working out: You always feel better after."
With such a regimen, Singh says he'll be winning PGA Tour events until he's 50. A player who has done just that, Fred Funk, thinks Singh can take it even further. "He has so much natural size and strength along with the determination to retain it, that he's going to be able to play the power game longer than anybody else," Funk says. "I could see him staying a top-five player and contending for majors into his 50s."
Singh is well aware that the next major he wins will give him four, one more than Mickelson and Ernie Els, the contemporaries he'll be measured against as the second-best player of the Woods Era. Perhaps with an eye on that prize, the former iron man -- who last year suffered nagging injuries to his elbow and ankle -- is talking for the first time about playing fewer tournaments and shortening his ball-hitting sessions.
"Vijay has always been about quantity, quantity, quantity," says Funk. "It's time to focus on quality."
To Singh, that also means more time with his son, Qass. Now 17 and as tall and even more broad-shouldered than his father, Qass [pronounced Kass] often hits the longer drives when the two partner in the Father/Son Challenge.
You've got to look in the mirror and figure it out.'
Although Singh admittedly was never close to his father, a good golfer who gave him some initial instruction, he clearly longs for an increasing bond with his only child, through golf.
"My whole goal is to get my son playing a little more," says Singh. "He's got more potential than I ever had, more than anyone I've ever seen. He's my life right there, that kid. He's at that critical stage at the end of high school, so I've let him go his own way, and he really works on his game only to prepare for the Father/Son. But I'd love to give all this knowledge I have to my son. Just for him to harness all that and go out and play. I think golf is always in the back of his mind, and if he wanted to play and I wasn't competitive enough, I'd quit and just teach him, you know. That's how much I want him to play well. He'll be my legacy."
Catching himself, Singh takes a broader view.
"I just want him to be happy," he says. "I had to gain happiness, because I didn't always have it. But again, that's experience. When you're unhappy, you have to recognize it, because if you don't you're going to be unhappy the next day, and it's just going to snowball into something that doesn't stop. You can't think, I'm stuck; what choice do I have? You always have a choice."
Singh's latest choice with his game has been a bold one. If it pays off in time for Augusta, he'll be back in the conversation.