News
Viewer Discretion Advised
Loose ends remain in the wake of the Lexi Thompson ruling at the ANA Inspiration, as golf's major stakeholders try to figure out how to move forward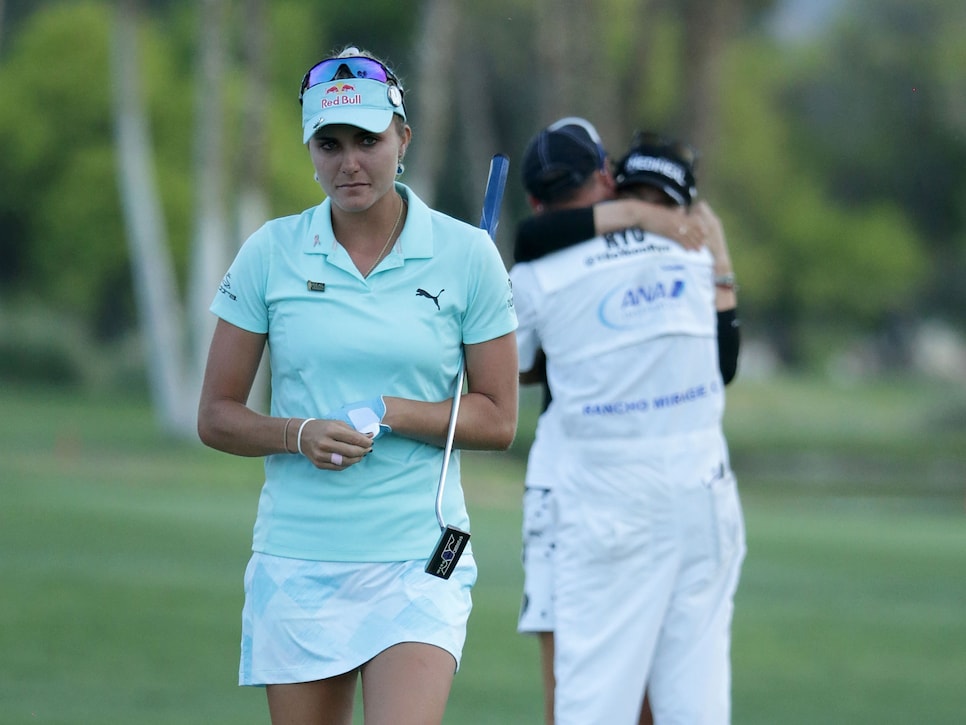 Golf is still reeling from the Lexi Thompson ruling.
For good reason. It was traumatic. The statuesque Thompson, the LPGA's top American star at a time when Asian women are dominating the tour, had a two-stroke lead with six holes to play in the final round of the ANA Inspiration two weeks ago. She was trying to win her second major championship.
That's when LPGA officials informed the 22-year-old that video evidence, brought to their attention by an email from a television viewer, showed she had improperly marked her ball on the 17th green during the third round the previous day. Thompson was informed that she would not only be penalized two strokes for playing from the wrong place, but two more strokes for signing an incorrect scorecard, even though she had not known about the penalty at the end of the third round.
Thompson immediately went from two ahead to two behind. As she learned of her drastically altered situation, she wondered out loud, "Is this a joke?" Fighting back tears, she rallied valiantly with two birdies on her next three holes, and barely missed a 15-footer for a winning eagle on the 72nd at Mission Hills Country Club in Rancho Mirage, Calif. However, to complete this perfect storm of misfortune, she lost the sudden-death playoff to a birdie by So Yeon Ryu. Thompson's brave reaction made her an even more sympathetic figure.
Emotions over the incident continue to run high, in part because golf isn't fully over the controversial—and arguably mismanaged—penalties that were applied to Dustin Johnson and Anna Nordqvist at last year's men's and women's U.S. Opens. In such a climate, Thompson's penalties simply seemed like too much. "I think we've seen some stuff in the past year," Rickie Fowler said at the Masters, "that is not making the game look very good at all."
At a time when the USGA and R&A are in the midst of a rules modernization initiative scheduled to be implemented in 2019, the penalties applied to Thompson seemed to defy the simplification and clarity golf's leaders are seeking. Players in particular called for the end of viewers chiming in with alleged violations, arguing that no other sport allows such input. And just about everyone disagreed with the need to impose a penalty after an earlier round was over, as well as applying an additional two-stroke penalty retroactively for an incorrect scorecard.
In terms of future policy, the most important element of the Lexi fallout were closed-door meetings at the Masters among the heads of golf's major stakeholders—the USGA, R&A, PGA of America, PGA Tour, LPGA and European Tour. There were intense exchanges in which tour leaders, worried about the perception of their products, argued that rules changes were needed posthaste to stop situations that fans and even players found unfair and nonsensical. The most aggrieved party was the LPGA, and its commissioner Mike Whan, who had publicly called the Thompson ruling "embarrassing."
"I understand Mike's perspective," USGA executive director Mike Davis said. "This was hard on Lexi Thompson, and hard on Mike Whan. But it was not bad for the game, because this is exactly the kind of dialogue that good change comes out of."
Davis cited the expedited change that was made to Rule 18-2 ("ball at rest moved") in the wake of the Johnson ruling at Oakmont, which now allows a player whose ball has inadvertently moved on the green to simply return the ball to the original spot without penalty. Davis also pointed out that because of another recent rules change, Thompson only got a two-stroke penalty for signing an incorrect scorecard rather than being disqualified under the previous iteration of the rule.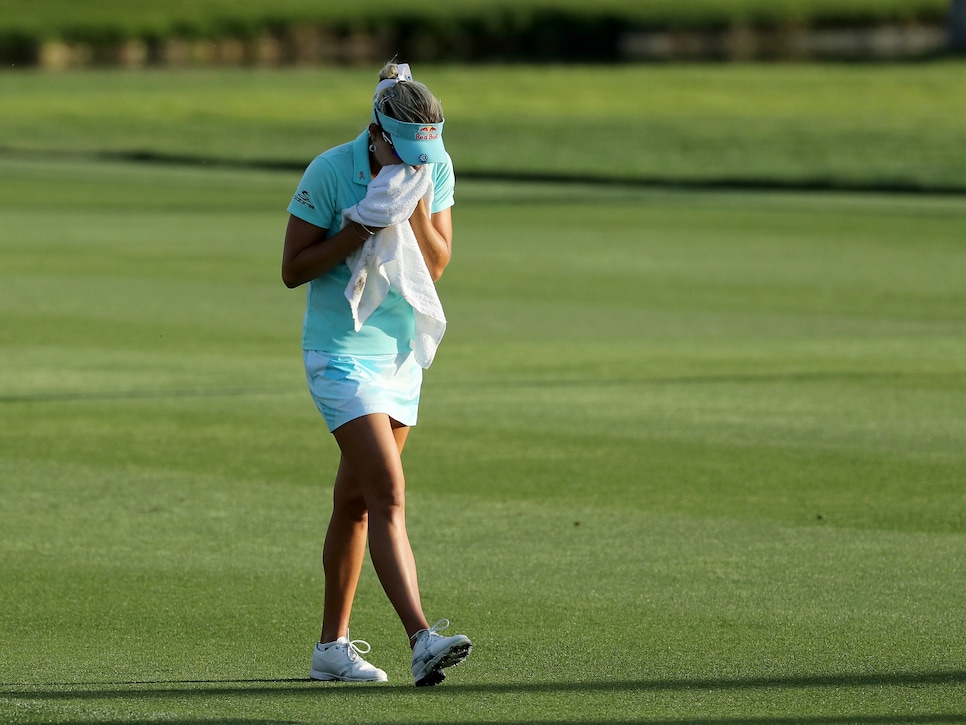 Similarly, the Thompson ruling will probably accelerate a change the USGA has been considering as part of the modernization initiative: relying on the long-held principle of player integrity in situations involving questions over the correct place to drop, or a correct marking of a ball on the green.
In what would be new Rule 1.3a(2), a key passage states: "This means that the player's reasonable judgment would be upheld even if later shown to be wrong by other information [such as video technology]." Such a rule would give more weight to a player's intent when assessing the physical evidence during a ruling.
The likelihood that this will be implemented sooner than 2019 seems to have quelled some of the emotion in the debate between rules makers and the professional tours. On Wednesday evening, Whan issued this statement: "The Masters was an opportunity for me to meet with the heads of the USGA and the R&A, as well as heads of the PGA and European Tours. To be honest, I'm optimistic about the potential outcome of those discussions. It's quite clear to me that the organizations that govern the Rules of Golf [the USGA and the R&A] fully understand the challenges that we faced at the ANA Inspiration and are already actively discussing potential changes."
Golf's leaders hope that the public will come to regard the rules as better reflections of common sense and fairness. But ultimately, it's unavoidable that they will be applied on a case-by-case basis.
In Thompson's case, even under a new standard of intent and reasonable judgment, it's not clear that she would have not been penalized. As the video shows, Thompson missed replacing on the correct spot by about half a ball. Half a ball doesn't seem like a lot, but especially on a short putt, it constitutes a pretty bad mark.
In terms of future policy, the most important element of the Lexi fallout were closed-door meetings at the Masters among the heads of golf's major stakeholders—the USGA, R&A, PGA of America, PGA Tour, LPGA and European Tour.
Most dissenters who argued that Thompson should not have been penalized do so under the premise that she gained no advantage from her mismarking on a "10-inch putt." However, a study of the video replay shows that the putt was longer than a foot, more in the range of 15 inches. On video, it looks longer than the putt I.K. Kim infamously missed in 2012 on the 72nd hole to win the then-Kraft Nabisco Championship, which she went on to lose in a playoff.
When Thompson improperly marked her ball in the third round of the ANA, she was in the highly pressurized situation of leading a major championship, a time when the holing of short putts is most crucial—both for score and for mental equilibrium. It's evident that on the weekends of majors, when greens are most stressed and a little worn, pros are more careful with what normally might be considered a tap-in. And it's acknowledged that short putting is not one of Thompson's strengths.
There is no way to know what was in Thompson's mind when she put her ball down on Saturday. In a tweet after the tournament, Thompson wrote, "What I had done was 100 percent not intentional at all and I didn't realize I had done that."
But even with the best intent, marking a golf ball is a physically imprecise process in which a player can sometimes feel the ball move ever so minutely when he or she puts it down. Says Davis: "Can you replace your ball in the exact spot? Ideally yes. But realistically, is the exact spot most likely? No." It's why Davis likes that the term "reasonable standard of judgment" is part of the proposed new language in the rules modernization.

Anyone who has ever played competitive golf knows there are small ways to gain an advantage when marking and replacing a ball. Balls usually stop in small depressions. When replaced, it's not difficult to imperceptibly set the ball on a spot that is just slightly more elevated. It is also possible to avoid a spike mark in line with the hole by replacing a just slightly off the center of the coin. These kinds of "adjustments" are more efficacious on short putts.
At the highest levels of competition, fellow players take this stuff very seriously. It is a surprisingly large part of locker-room and caddie-yard chatter. Reputations are at stake, and some even players who have never actually been called for such a penalty carry bad reputations. And then there are cases of players who have been punished or suspended. The most recent case on the LPGA Tour involved Chella Choi, who withdrew from the 2014 Canadian Pacific Open after she was presented with video evidence that clearly showed her placing a coin down on one side of the ball and replacing the ball on the other side of the coin—a distance of about two inches from the original spot—on a short putt.
Traditionally in pro golf, abusers have been policed by their peers. At the Masters, Jack Nicklaus reacted to the Thompson ruling sympathetically, but also made a point of saying, "I don't think I ever in my career ever marked a ball incorrectly, OK?" Nicklaus said that he knew of three occasions during his career when players were caught cheating on the greens. At the 2015 Presidents Cup, he said an International player was drawing complaints for the way he was replacing his ball and was notified. "They just got the captains together and had a little conversation with the young man, and it was probably the best thing that ever happened to him," Nicklaus said. An accommodation was reached in which the player was pulled out of the lineup for one of the four days of the matches.
"This was hard on Lexi Thompson, and hard on Mike Whan. But it was not bad for the game, because this is exactly the kind of dialogue that good change comes out of." —USGA executive director Mike Davis
Phil Mickelson felt the Thompson ruling was unfair enough "that she should be given the trophy." He explained: "To have the tournament decided like that, with all the scenarios going around, as far as viewers calling in, as far as it being a one-foot putt with really no advantage, just a little bit of loose marking, if you will, something that happens all the time, intentionally and unintentionally, I just think that's … I think it should be reversed."
But Mickelson's suggestion that improper marking is a common practice could open a Pandora's Box of future scrutiny and accusations.
"I know a number of guys on tour that are loose with how they mark the ball and have not been called on it," Mickelson said at the Masters. "I mean, they will move the ball two, three inches in front of their mark, and this is an intentional way to get it out of any type of impression and so forth and I think that kind of stuff needs to stop. I think that the tour should go to those players and say, 'Look, we've noticed you've been a little lax in how precise you've been in marking the ball. We'd like you to be a little bit better at it'—and see if that doesn't just kind of fix the thing."
In Mickelson's opinion, that would have been the best way to deal with Thompson's mistake. "I think that that should have been handled within the LPGA saying, 'Hey, look, you're a little lax in how you're marking the ball. You need to be careful. Here's a warning, and let's go from there,' " he said.
But such a process has its roots in an era in which video replays were scarce or non-existent, and in which television viewers rarely, if ever, phoned in. Today's ruling bodies, or the tours themselves, could decide that assertions from the viewing audience are not to be considered in rules decisions. Such a policy would go against the fundamental principle of using all available evidence (except, due to a recent change, high-definition video that can detect movements not reasonably discernible to the naked eye) in a best effort to get a ruling right.
Imagine for a moment if Thompson has won the ANA Inspiration without being penalized, and then the video of her misplacing her ball had surfaced?
Golf, the game of honor, would be reeling even more.