The Loop
Video: Environmental group vandalizes Trump golf course with a play on Tiger Woods' name
An anonymous group of environmentalists vandalized Trump National Golf Club (Los Angeles) over the weekend. But they left a clear message on the course in the form of a giant letters carved into grass near the fifth green: NO MORE TIGERS. NO MORE WOODS.
It's a bit cryptic, but the play on Tiger Woods' name is the group expressing its displeasure in President Trump's decisions regarding the environment since he took office. The Washington Post published this statement from the protestors:
"In response to the president's recent decision to gut our existing protection policies, direct action was conceived and executed on the green of his California golf course in the form of a simple message: NO MORE TIGERS. NO MORE WOODS."
Here's a look at the message, written in six-foot tall letter that were ripped into the ground using garden tools: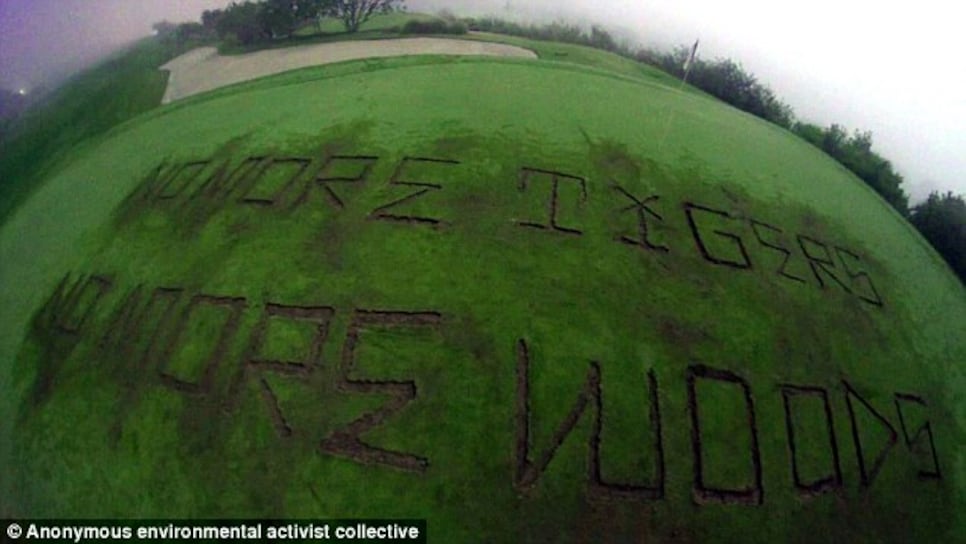 © Anonymous environmental activist collective
And here's a video of the group doing the damage to the course:
One member of the group told the Washington Post that, "Tearing up the golf course felt justified in many ways," and that, "Repurposing what was once a beautiful stretch of land into a playground for the privileged is an environmental crime in its own right."
Neither President Trump nor the course has commented on the matter.