The Loop
Video: Ambush No. 28 at Cuscowilla in Georgia
I'm just back from Ambush No. 29--last week I met up with 20 guys from Rochester, N.Y., and Boston who have been getting together for more than 35 years at the Thendara Golf Club near Old Forge, N.Y. More on the Hart group in future blog posts and the October issue of Golf Digest.
To give you an example of a well-written submission, here's one I received from Tim Guerriero of Auburn Hills, Mich.:
I enjoy your columns and postings, and congratulate you and Golf Digeston your commitment to celebrate and honor that which is most beautifulabout golf:  The friendships, camaraderie and good feelings engenderedby ordinary and everyday golfers playing the game with friends.  I ambut a 23-handicap (for 35 years!) but enjoy the game immensely for manyreasons, but primarily because of its association with very special andimportant people in my life.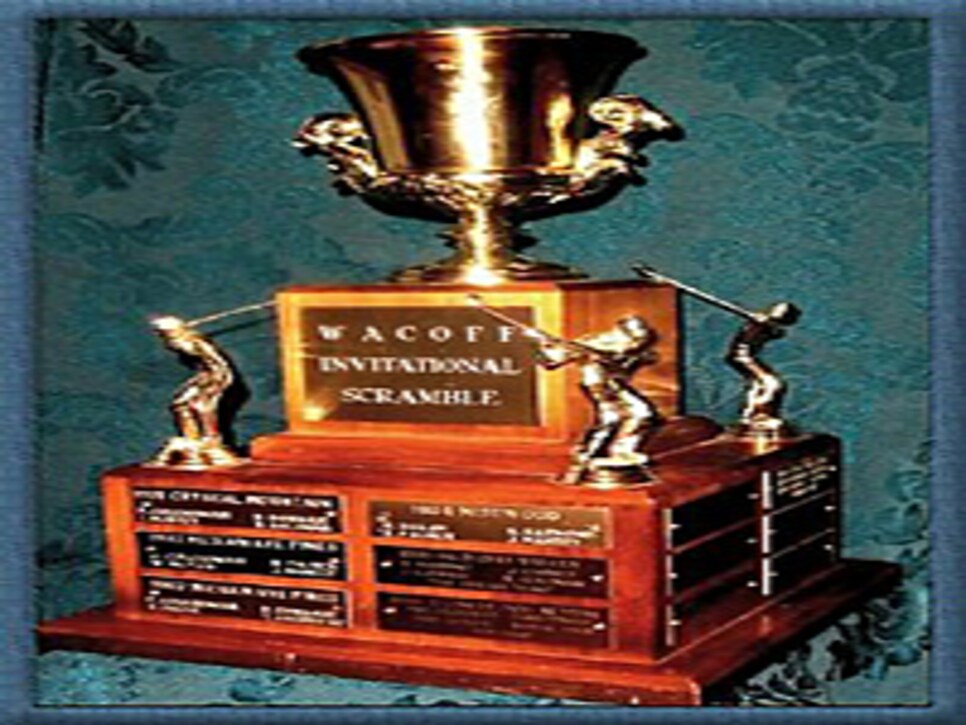 This year we're gathering for our 20th annual retreat at Garland Resort in Lewiston, Mich. Each of the past 19 outings has also been in Michigan, and we have rotated among golf and lodging venues over the years. Participants come from Michigan and a dozen other states. Skills range from 5-handicaps to 36-handicaps. The event is golf-centered, but social and personal at its core. The highlight of the three days of competition is the Scramble Championship, a tournament that participants will spend months psychologically preparing for and an equal time celebrating or lamenting the outcome. The camaraderie, long and lasting friendships (many sustained solely by this event), great food, copious liquid refreshments and outstanding collegial nature of our event is what keeps people coming back year after year, but it is the chase for the ScrambleChampionship Trophy that really brings out the beast in all of us.
The WACOFF has a long and proud history, and I urge you to take just amoment if you possibly can to get a flavor for the event by visiting ourwebsite (wacoff.org) to view our pictures, yearly wrap-ups,literary contributions (including songs, poetry and diatribes) and otherpostings. In short, Matt, I think the event represents all thekey values you and Golf Digest try to portray and communicate in yourAmbush feature: Friendship, communal history and experience, reverenceand appreciation of the game, the ties that bind and the magical rolegolf plays in promoting and securing all of these virtues over manyyears.
You are cordially invited to take your measure of our worthiness tobe the subject of your attention and, if we are so honored, to come,witness, play, drink, gamble or gambol. We are confident we can meetyour measure.
Kind regards,Tim Guerriero on behalf of The Committee
Thank you for one of the best submissions I've received since we started the Ambush in 2008. For some context, I've probably read more than 8,000 entries. It's clear you're a better writer than I am, so now I look forward to losing a few nights of sleep assuming you'll be transitioning into my role as Ambush/travel editor in the near future. I took some time to peruse your website (impressive and well organized--I've ordered the wallpaper for my new bathroom). Unfortunately, I have an unavoidable conflict--because of one of my annual buddies trips. For some background (and to help out other readers), here are some of the criteria for picking a winner each month:
1.__ The entry. Yours is well written, but we covered that. A lot of people don't give me a good sense of the group, which makes it hard to pick them as a short feature for the magazine.
____2.The location. I try not to duplicate destinations, and I Ambushed in Garland already. However, it was a long time ago, and I could go back there again if a group has a good story.
____3.__The dates. I'm only one guy trying to get a few stories done every month. My schedule is a little silly, as you might imagine. I travel more than I'm home. (Or, at least it feels that way.) Sometimes I can't get to the best of the Ambush bunch of the month because I have a scheduling conflict. __
__4. The value. Given the economic crunch, I'm looking to celebrate alpha planners who have secured their group a good deal. Which isn't to say I won't feature groups that go to Sea Island, Pinehurst or Bandon Dunes. In fact, I've been to all three of those destinations for an Ambush. It just means that those groups go with enough people and at the right time of year to get the trip on the cheap compared to a small group that goes during peak season.
Let's stay in contact. Maybe I meet up with you guys next year. The Ambush continues to be my favorite few days of the month. And every month I have a lot of favorite days.
Kinder regards,Matt Ginella on behalf of Golf Digest