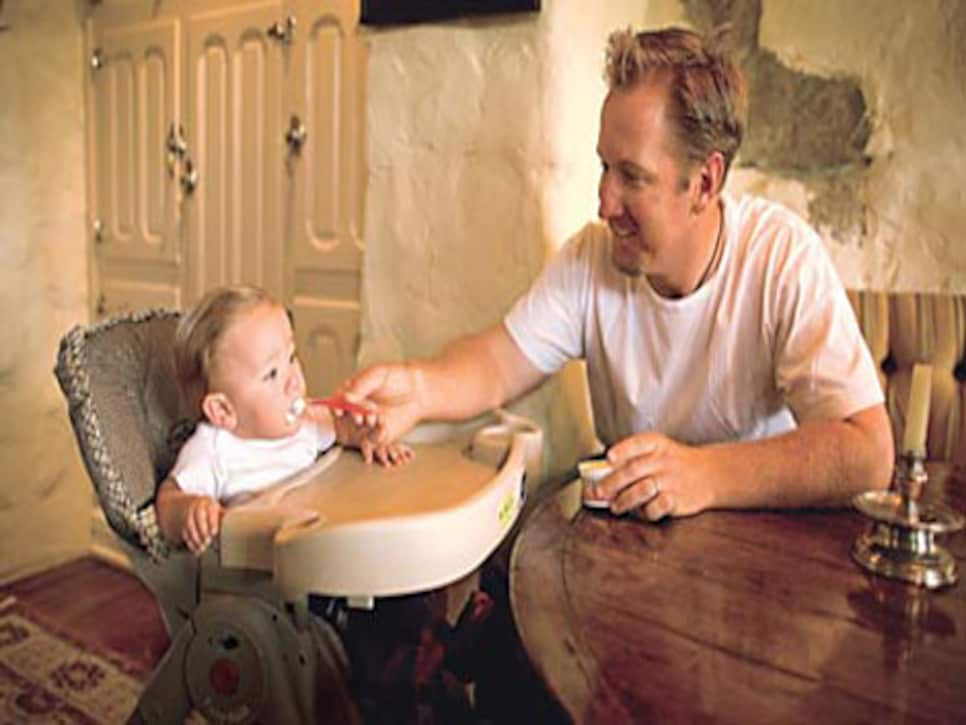 Being a father is "the best," says Duval, at home with Brayden
It has been five years this July since David Duval won the British Open with a bravura performance at Royal Lytham St. Annes. That same season, 2001, he had returned from a wrist injury to finish second in the Masters, tie for 16th in the U.S. Open and tie for 10th in the PGA Championship. Although two years removed from being ranked as No. 1 in the world, Duval was clearly an elite player. Nobody could have envisioned that he would find himself in his present situation, winless since that Open triumph and struggling to recapture his game after a succession of physical ailments and crises in confidence.
Yet, Duval at 34 says he has never been happier, for he is a husband and father of four. Moreover, although he admits to fleeting thoughts about quitting competitive golf, Duval has exhibited signs of progress over last season, when he made just one of 20 cuts and earned less than $8,000 on the PGA Tour. The comeback attempt is perhaps best capsulized by Duval's checkered experience at this year's Masters: He shot 84 in the first round, then opened the second round with a 6 and a 10 before rallying for a 32 on the back side to leave Augusta National convinced that he still has it.
In an extensive interview, the cerebral and introspective Duval does what he's trying to cure on the golf course: He sprays to all fields (including politics, parenthood, even Oprah Winfrey).
When you watch Duval at any tour stop, he is invariably surrounded by thick, supportive galleries. Despite his travails, perhaps because of them, fans want him back. It is an expression of admiration he does not take lightly.
Golf Digest: A lot has happened to you since winning the Open at Lytham. Good and bad.
David Duval: Yeah, good and bad. I've become a husband and a father, which have been wonderful. I've also had to rebuild my swing and my confidence, and that's a work in progress.
__When we approached you about doing this interview, your first reaction was, "Why?" Our response was, "Why not?" People are interested in you, even though you haven't been winning. __
I understand that, and I appreciate it. And if people do like me, I think it's because I'm a stand-up guy. I think about what I say. I don't give stock answers. I'm not trying to cultivate an image with the public, like several of the top players do.
Sorry, no names. But nice try. [Laughs.] What I'm saying is that, unlike a lot of portrayals of me, I'm not hiding behind the sunglasses. I'm out there working. I'm not trying to sell anybody anything, but I do realize we're entertainers. People pay their money to come out and watch us play, and I don't want to play crappy for them. But when I don't play well, and I address the fact that I'm not, as I've tried to do for the last few years, maybe that's part of why some people root for me.
There are four children in your family now. You've indicated one reason for wanting to play golf the way you used to play is for them. You want your kids to see what you do for a living.
Absolutely. One reason I got involved in the game was, like a lot of kids, I was curious about what my dad did. [Bob Duval started as a club professional and went on to win on the Champions Tour.] I was around golf at a young age. Our kids obviously know who I am, but I'd like them to see me perform the way I'm capable of performing. Not the way the last few years have been.
What have the last few years been?
Pretty tough. Hard. As bad as things got with golf, I never really thought of quitting the game. I contemplated not playing professionally anymore. I didn't want my professional golf life to destroy my recreational golf life. I didn't want the bad stuff on the PGA Tour to take away any desire to play the game at home. I didn't want to hate the game in such a way that I didn't want to play with my buddies or with my kids. But I was probably another really bad year away from doing that.
I know I'm good. I know the talent is there. I just had to get it back.
How close are you to getting it back? __ __
I'm more confident in my golf swing than I've ever been.
Ever? Even when you were ranked No. 1 in the world?
Ever. But I still have some concerns and worries about my subconscious thoughts on the golf course. Which is natural, I think, because that's how short-term memory works. It tends to be dominant, and I've got to get some bad things out of my system and refill it with good things.
Yeah, I shot 85 at Pebble Beach last year. Before that, at the Bob Hope, I shot 85 at Tamarisk with a 36 on the front. That means I had 49 on the back.
That's not easy to do at Tamarisk.
Oh, it was easy for me. Just keep hitting the ball out-of-bounds. How did I shoot 49 on the back? I two-putted the last hole from about 12 feet, or I would have shot 50.
Is there any doubt in your mind that this story will have a happy ending?
There really isn't. If I didn't think I would make it back, I probably wouldn't be out there trying. If I came out this year shooting 79s and 80s, I probably wouldn't keep at it. But I'm not shooting 79s and 80s. I'm doing what I want to do with the golf ball most of the time.
You've set some lofty goals.
In January, I saw Tom Lehman. I told him I'm going to be on his team [Ryder Cup] in Ireland. I don't know how realistic that is. I didn't do anything last year when other guys were playing and making points. So it's basically my seven months this year against their 19 months. Maybe a more reasonable goal for me is to finish in the top 30 for 2006, make the Tour Championship. I believe I'm playing well enough to get there.
Is it important to you to be mentioned again in the same breath as the top players in the world?
I don't know if that really does matter to me anymore. Playing well and hitting the ball solid matters. And winning golf tournaments. Of course I want to win again. I want to compete, see results.
How would you react to winning again?
I'll appreciate it more than I used to, probably. I never understood why golf was so hard for people. I don't mean just amateurs who struggle with it and don't play a lot, but guys out here, my fellow players. I never quite grasped why they found it so difficult. I do now. I've struggled with it, big-time. I had a taste of the bad, as much as anybody. I never thought that would happen to me, hitting the ball so poorly and having all those negative thoughts.
After I was out here a little while, I knew I could win. What I didn't see was the other side. I never planned on fighting just to make cuts.
You've won 13 events, including a major. Does the Hall of Fame ever enter your thoughts?
Oh, I don't even know how you get in there. I know I'd have to do more than I've done. It would be nice, I guess, but if Ben Crenshaw gets in before Larry Nelson and Curtis Strange, then I don't understand too much about the Hall of Fame.
Briefly, can you trace the run of injuries that started your problems?
Briefly. That's a good idea. The first thing that hit me was bursitis in the left shoulder. That's like 10 years ago. Then at the British Open in 2000, the year before I won, I was really hurting. My back. I was taking a steroid pack and codeine that you can get over-the-counter there. Then I went to the International a couple weeks later and had to quit on the 14th hole of the pro-am. I tried to play the first round and had to quit on the sixth hole. I was out for 10 weeks and missed the PGA Championship. I had all the stuff done, MRI and all. I don't know what caused it. I can't remember one swing that caused it, or any one time when I was doing anything else, like working out or snowboarding. Anyway, I wound up just lying on the floor at my place in Sun Valley for six weeks. I got up to eat and rehab, but that's about it. I was miserable.
And with all that, you went on to win the British the next year?
After hurting my right wrist earlier in the season. I started out that year playing incredibly mediocre to poor. My back was still not right, and I was doing everything not to hurt it more. If you look at my swing through part of 2000 and my swing after, you'll see a difference. You'll see me compensating. I couldn't turn like I wanted to. I wasn't pivoting. I was reversing, I was flipping the club, my stance was getting narrower and narrower. I was a disaster.
How are you physically now?
My back is my back. It is what it is. Everything felt fine at the start of this year, which for me was at the Sony in Hawaii. Then I went to hit some practice balls before the Monday pro-am, and it acted up again. Acted up a lot. I about cried, I was so disgusted.
But you still love golf, after the way golf has treated you?
I love hitting the ball, controlling the ball. And yeah, even the roar of the crowd. I enjoy the roar of the crowd probably less than some players and more than some. But I'm not out here to be a celebrity.
You said after you won the British Open that it wasn't all you expected. How so?
I think I figured it would mean personal validation as opposed to professional validation. You know, look at me: I'm OK. I'm a good guy, not just a good golfer. So in that respect, it was not the end-all, be-all that I made it out to be in my head. And things might have been different had I really felt I was playing well there in 2001. Of all the tournaments I've won, I dare say that's the least comfortable I've ever felt with my game and my ability to control the ball. I've played better and lost. But it was satisfying in that respect, because you could say I actually played the best. It almost sounds like a contradiction, but if you're not hitting fairways and greens yet you're still getting it in the hole, you're really playing the game. Chipping and putting.
Don't get me wrong about this, though. I still want to win majors. I want to win the U.S. Open more than anything. Even more than the Masters.
You've had a couple of close calls at Augusta National. What about what the people there have done to toughen the golf course?
I'll just say it's silly, stretching that course to almost 7,500 yards with those funky greens. The idea that they're Tiger-proofing the course is ridiculous. They're Tiger-prepping it. Or Ernie-prepping it. It doesn't necessarily hurt me, although I don't hit it quite as long as those fellows, but it's definitely cutting down on the number of players you figure can win. I thought it was great what Jack Nicklaus and Arnold Palmer said, criticizing the changes. I don't understand what they're doing at Augusta National. Does anybody?
You didn't have a close call this past April, when you shot 84 in the first round.
I had a bad round, no question about that. It takes only a couple bad swings to ruin your score on any course, but especially at Augusta. And I had a couple bad swings starting out the second round, too.
You started with a 6, followed with a 10, yet wound up with 32 on the back for 75.
Yeah, on the second hole, I hit everything except the fairway. Like someone said, too bad they don't score like the Olympics, where you can throw out the high number. But I did get straightened out on the back nine, and if it hadn't been for a couple lip-outs, I could have shot 30 or even 29. I look at the glass as half full.
Which is how you felt Thursday night, when your dad wondered whether you might not play on Friday.
He did ask me that, and my response was, what kind of a message would that be to my kids, my fans, anybody else? I had a bad round, shot 84, so I'm going to take my ball and go home, boohoo? I never considered withdrawing, and I don't think my dad really expected me to, either.
Of late, you look more like you used to look before you went for the physical-fitness regimen.
You mean I'm fat again? Well, I'm still concerned about health and diet. But I always used to be a little heavy, a little thick, whatever you want to call it. And I just wanted to see how good a shape I could get into if I really worked at it. I was curious. Was it positive or negative? I can't say. That period did happen to coincide with when I was starting to hurt, and eventually lose my game. But I don't know that I can attach the two.
There was a time when people told me I was too thin, too gaunt. I got down as low as 5 percent body fat, my best shape ever. But, if I looked better, I didn't always like the way I felt. I was working out four, five days a week. Lifting, running, the usual. Then a couple years ago, I was in Japan and it struck me: Everything seems to hurt.
What was your weight then?
I was between 185 and 192 pounds. When I won the British, I was pretty light. I just cleaned up my diet a bit. Tried to eliminate fried foods, fatty stuff, sweets. I enjoy having some wine with [wife] Susie, but I don't really drink much. I'd gotten pretty heavy about 10 years ago. I was around 225. I'm probably back to 210 now. When someone at the Sony in January mentioned that I looked like I was back in my "comfort zone," I asked him whether he meant my "buffet zone."
I never did the workouts so I would look good at the beach. I'm like anyone else, I am somewhat concerned about my appearance. But I'm going for a steak when we're done with this.
Your deal with Nike is up at the end of this year. Do you expect to be back with them next year?
If I had my druthers, I would be. I don't want to make any changes. Nike and Bob Wood [president of Nike Golf] are a lot of the reason I've been able to weather what I've been through and turn it around. Bob Wood and I have a good relationship, professionally and personally. He's the kind of guy I would want running my company, if I had a company. He gets it.
Did you ever feel they might cut you loose when you were really down?
I don't know about that. Nike is paying me well [$20 million for seven years], and I did feel pressure to do what I was supposed to do in return: play well. But I haven't had one moment of grief from them. Not one. In fact, when I went to play the U.S. Open at Shinnecock a couple years ago, after a long break, I actually got a call from Bob. He questioned me on whether I should go play, because I was playing so poorly. He asked me whether I was ready. He said as much as, "Don't do it for us." In other words, he cared.
Well, a lot of people probably wondered the same thing: If you're hitting it sideways, why subject yourself to that?
I couldn't miss a U.S. Open. Plus, it was at Shinnecock. I wasn't going to miss that. I was exempt. How do you not go play? I shot 165 [83-82], but I don't feel like I embarrassed myself.
When you hit the skids as you did, you probably found out who your friends are, correct?
Oh, there's a lot of that. A lot of people stuck by me, people who I know outside of golf, plus a bunch of players. My relationship with Justin Leonard is very tight. Davis Love, Freddie Couples, Scott Verplank—there's a guy who's been through it all, Verplank. He went where I went for a while, hitting it crooked. I'm just mentioning a few names here, which isn't fair, because I'm going to leave people out. Like Jim Furyk; there's another one.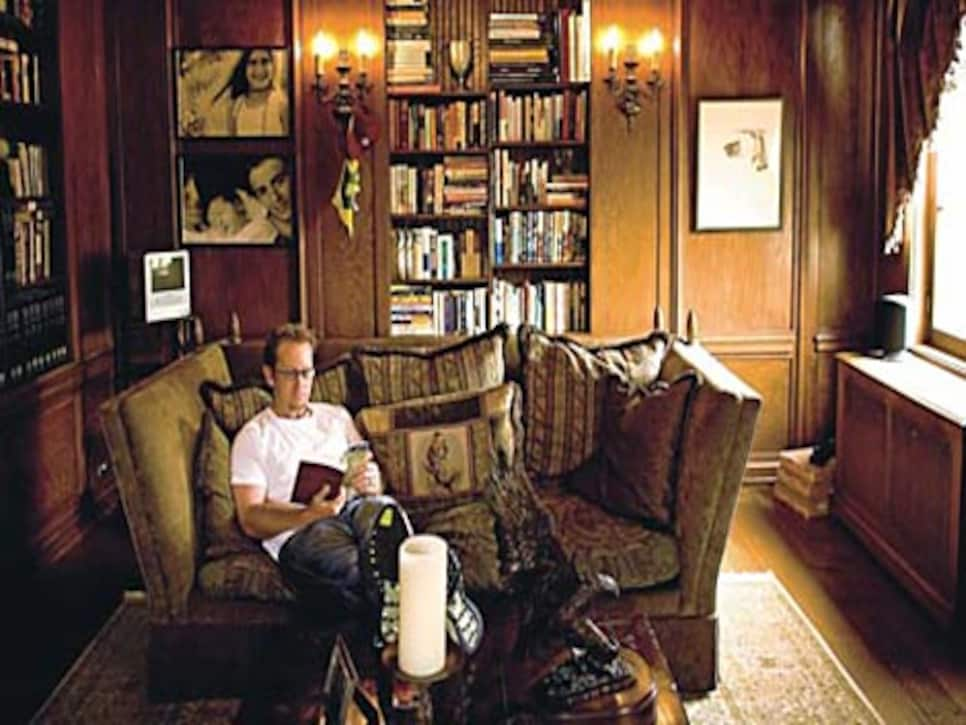 __What about Michael Campbell? When we interviewed him [June 2006] he talked about a spat with you at an amateur event years ago. __
That was a four-man team thing way back in 1992. A long time ago. I don't know if I recall it the way he recalls it, but I remember him hitting a ball that struck a cartpath or road. He wanted to take it out of play because it was scuffed. I told him the ball wasn't cut, so I didn't see how he could. He disagreed. I guess we didn't talk for a couple years after that, but it's over. It was heated at the moment, but I actually think the world of him. Like him a lot.
How are things with you and your dad?
We had some rough patches, like any kid has with parents. But we're real close, as close as we've ever been. He did a lot of good things for me. The best thing he ever did for me was when I told him about Susie. I was living in Jacksonville, right near him and his second wife. We were seeing a fair amount of each other, and I told him I was in love with Susie. I wanted to marry her. He said, "Well, that's awesome, that's great."
I said, "Well, you know she lives in Denver, and that means I'm out of here. I'll be leaving Florida for Colorado." You know what he said to me? "Go!"
Talk about Susie and how you met her.
Susie Persichitte. It was at the International. I was going to dinner with [Dr.] Gio Valiante, a sport psychologist I was working with at the time. There was a 15-to-20-minute window for Susie and me to cross paths. It was Gio's idea to go into town for dinner. I literally had not left that property in three or four years of going to that tournament. Eat at Castle Pines, play at Castle Pines, sleep at Castle Pines. So we went to this place in town for dinner, and almost right away, I saw her across the room, having a glass of wine with a couple of her friends near the bar area. She had just dropped her kids off at the golf course and was on her way home. But a couple of her friends had bugged her to meet up with them, and there she was.
Well, Gio and I were just having a beer, and we wound up going over to Susie and her friends. We started talking. I should say, Gio started talking. He's good at that. I can't ever just go up to people I don't know and start a conversation. Anyway, Susie and I wound up kind of off to the side for a few minutes. Then she got up and went home while Gio and I had dinner.
Did she know who you were?
No. I told her I was there for the golf tournament, but I think she thought I was a vendor or a businessman or something. I don't think she thought I was a writer. But I did get her phone number, under the guise that the five of us would get together again the next night, when Susie and her friends were going to show us more of the town.
So, you wound up meeting the next night?
Sort of. She had to go to a birthday party at a restaurant. We met her there briefly, but she had to go home for something, and we made plans to hook up at another place later on that evening. But it never happened. Gio and I made a wrong turn driving, and Susie and I never crossed paths. I did start using that phone number, though, and we ended up talking a lot. We really hit it off.
Eventually, about three weeks later after I got back home to Jacksonville, I realized I should go back there and have dinner with her on an actual date. That was Aug. 19, 2003. I found out she was an interior designer who was born and raised in the Denver area. She had married relatively young and started a family. Like I say, we hit it off. We were engaged Nov. 8 that year.
For you to get on a plane to cross two time zones to have dinner with someone ... that someone has to be special.
She is special. I married her. March 6, 2004.
Did you have any qualms about marrying into a family?
Not really. She had three children by the previous marriage, but I didn't really meet them until after we were engaged. When she started going out after her divorce, it wasn't like she kept the kids hidden or anything. But she also didn't like having people coming in and out of their lives all the time.
Did you worry, when you became the man of that house, whether the three children would take to you?
Sure, there was some concern. But Susie's philosophy, and I agree with it, is that the kids see how Susie and I love each other, and how good we are to each other. Their love will follow. And now a fourth has followed. Deano's 15, Nick is 13, Shalene is 10. And our little guy, Brayden, is 1. Great kids.
I live a spoiled life myself, so in a sense, yeah, I guess you could say they're spoiled.
What's it like, going from being a bachelor to a husband and father of four?
It's the best. It makes it very hard to leave home, that's for sure. I look at the schedule like I never used to look at it, because I want to adjust it to be home when they're home. I feel responsible, at least in part, for the growth of four children, for the development of four lives. It has done nothing but enhance my life. I'm in the best place I've ever been. I couldn't be happier. It's the first time, in my walk through life, that I ever felt I was making a difference. The first time I've impacted other lives.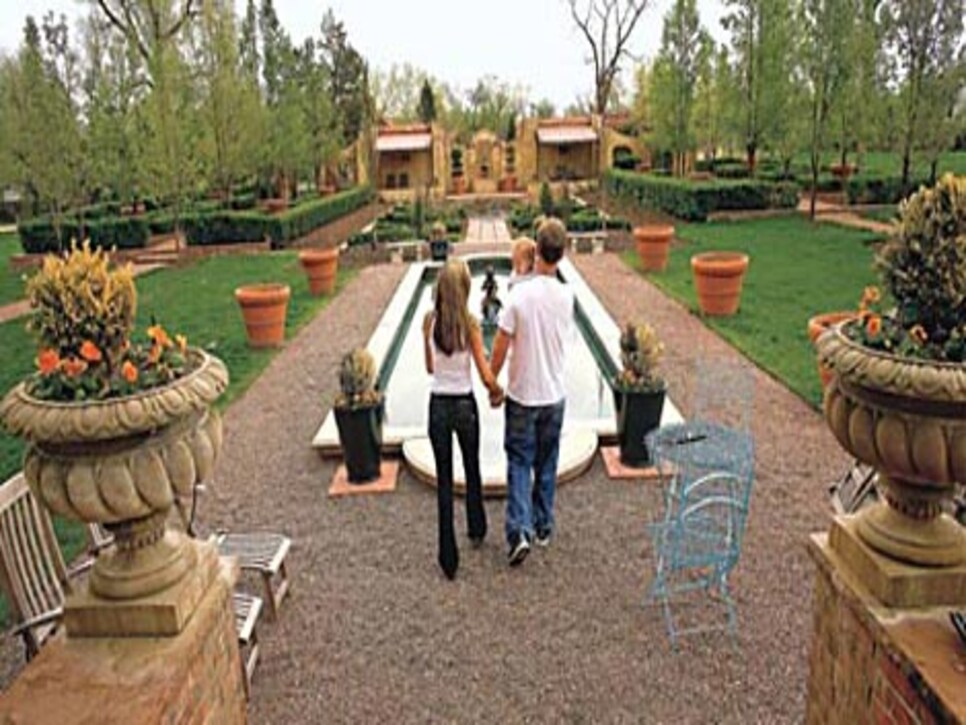 Talk about your little guy, Brayden.
One thing being a parent has made me realize, probably for the first time in my life, is what my parents went through. Not only in raising a child, your own blood. But in losing a child. My brother, Brent, died when I was 9 [of aplastic anemia]. That's not a new story. I cannot fathom losing a child. Frankly, I don't know how my parents got through it. They split, they divorced. The death of my brother doesn't necessarily help me understand more why that happened. I'm sure there were pressures on the marriage with something like that. It's been a long time since my brother died, but I don't know how they moved on. It was tough on me, but I'm just starting to understand how tough it must have been on them. The mere thought of my losing a child makes me cringe, gives me the chills right here.
How do you view your role as a parent?
I say what I believe, and I think that's part of being a good role model. I also think it's being a good role model if you can re-assess after you say something and are proven wrong, and admit it. A parent's job is to love, obviously. But not necessarily to be best friends with your kids. Love them, care for them, raise them to be good people. Some things, the kids might not like you now, but they might like you later.
Do your kids realize, even though you play a game on TV, that it's a job?
I think so. They look at me as a dad first, which is most important. But they really pull for me to play well, and it's hard on them when I don't. When I was at the Bob Hope last January,.Susie was at home, and the kids were spread out everywhere doing whatever. But Susie kept getting these text messages from their phones about how I was doing. "Dad's three under after 13 holes." Which Susie probably knew anyway. But it was cool that the kids were monitoring it. And there are days, lots of days, when I haven't been three under for 13 holes, and I'll call Susie, and she'll say that the kids are worrying about me. They're hoping I'm OK. One thing I can provide for them is an example of how to taste the highs and the lows. Stick with it. Work hard. Bear down.
Do you worry about the world your children are growing up in?
Of course. Who knows what things will be like in 10 or 15 years? When I was growing up, I don't remember us even locking the doors to our house. When I was in sixth grade, I walked what might have been half a mile down to a bus stop, rode 20 minutes, then got off and walked five more blocks to the school. Would I let my kids do that now? No. I don't think anybody would. Which is a shame.
Who's working with you now on your game?
If I go to anybody, it would be my dad or Puggy Blackmon, my coach when I was at Georgia Tech. I saw David Leadbetter for a while. A great teacher and a great guy. Also went to Hank Haney.
There was always an assumption about you, that you enjoyed playing golf more than all the trappings.
That's true to a point. There's a fair amount of b.s. outside the ropes, if you know what I mean.
What did you least enjoy about being the No. 1 player in the world?
That was early in 1999. I was No. 2 or No. 3 before that. Then I woke up one morning, and the computer said I was No. 1. All of a sudden, I was supposed to have all the answers. But I didn't have any different answers than when I wasn't No. 1. Everybody came to me with questions, and I'm the type of person who really wants to give an answer. If somebody asks me how I became No. 1, and I really don't have an answer other than, Well, I'm playing well, then I sound like a moron. The same situation applies when you're playing like crap.
I've been off the radar for a while, and now I'm starting to play better, so now I get asked, why? Well, one reason is that I'm good at this, or at least I'm supposed to be. Another reason is that I've been working at it. But if I give that as an answer, that probably isn't good enough. People don't see you when you're lying on your back in Sun Valley because your back is killing you. People who watch golf on television only see the final product. They don't see any of the preparation.
In 1999, during one of these interviews, you criticized the PGA of America about the distribution of Ryder Cup funds. And in turn, you were criticized.
I got roasted. I simply thought the players should have some say in directing charity dollars. I never uttered a word about being paid to play, nor did I want to be paid. I never mentioned the word "boycott." Anyway, the PGA of America wound up letting us designate $100,000 each to a charity of our choice. They said it was $200,000, but half of that is going to a PGA of America program at the school of our choice. In my case, Georgia Tech. So it's actually $100,000 that we get to designate.
I don't have any issue with that. It's something, which is better than what it was.
I guess. There were a few guys who felt they should be paid for playing a Ryder Cup, which is fine; that's their position. I didn't want to get paid, but I got beat up. I got a kick out of some of the other players who weren't on the team giving me crap for talking about Ryder Cup money when they actually got paid for doing stuff at the Ryder Cup, like clinics for companies during the matches. The only guys who don't get paid at the Ryder Cup are the players in the Ryder Cup. The captain makes money. That's a problem I had with Crenshaw in 1999.
Well, he talked about the purity of the Ryder Cup, and what he did with all that purity is make a bunch of money off the thing. He wrote a book about it; he had his clothing company involved. He kept saying how it burned his ass, us talking about charity dollars and hurting the sanctity of the event. But after he took his big stand and sold everybody else down the river, he did what we did with the charity money. I asked him point blank, "If you were so against this, why would you want anything to do with that charity money?" He took his $100,000 and sent it to the charity of his choice. Where's the purity in that?
Tiger Woods and Phil Mickelson backed you. Do you think they wanted to be paid?
I don't think so. I think they make enough money. Some other guys, maybe. Tiger and Phil were staunch in their belief that we should have some say in where at least a fraction of all that money from a Ryder Cup went. I felt like I was the whipping boy, but Tiger and Phil got their share of grief, too.
Did the media wear you out?
There was one reporter who kept asking me what I wanted, and I thought I made it clear to her: "Dollars to the charity of our choice." Like they do at the Presidents Cup. I thought she understood. But, that night, she went on TV saying I wanted to be paid. The other idea floating around was that we wanted $100,000 in our name to go to a charity because we were looking for a tax write-off. Come on. Be serious.
__Meanwhile, you also said before 1999 that the Ryder Cup was an "exhibition," and you weren't quite sure what to make of it. __
I did, and I wasn't. I think I was put off a bit by what happened at Kiawah Island in 1991. I think a lot of golf fans were put off, too. You know, the "War on the Shore" and all that. It seemed to have gotten out of hand. I wasn't clear on what all the fuss was about. Then I played in 1999 at Brookline, my first Ryder Cup, and I loved it. Awesome. We were down 10-6 going into Sunday singles, and everybody was telling us we couldn't do it, we've lost.
One of my most cherished memories in golf. I was walking up to the ninth green, and there was a grandstand behind it, so you couldn't see the scoreboard from the fairway. But as I got to the green, I could see the whole thing was red. I was the sixth match out, and we were ahead in every match. And not just 1 up. It was like 2 up, 4 up, 3 up.
When did it hit you that the Ryder Cup was something special?
Friday and Saturday we started hearing how bad we were. Our guys were getting beaten up, and remember, this is only a month or so after the money controversy. Johnny Miller said on TV that Justin Leonard should go home and watch the thing on the couch. I like Johnny Miller, but what he said there was absurdly wrong. And then the newspaper articles. The same writers who were ripping us about the charity dollars, were those writers taking a week of vacation to come and criticize us for free? Were they getting paid to do their thing that week? I believe so. I mean, whatever you thought about us, we were giving a week of our time to play for our country, and to say that we didn't care or weren't any good ... well, kiss this.
Was the Saturday night team meeting as cathartic as we've been led to believe?
It was a good session, guys and their wives or girlfriends talking about what the week meant to us, that sort of thing. We were getting smoked, but I don't know that we were playing that badly. The Europeans were chippi.g in and making a bunch of long putts. Then on Sunday, those things started going our way. We were down 10-6, but not getting outplayed 10-6.
Was the '99 Ryder Cup a bit overcooked?
It's hard for someone like me who was playing in it to judge. Did we celebrate too much when Justin made that long putt on No. 17? Yeah. Was it unsportsmanlike? Yeah. Did we also have to wait on Sergio Garcia when he was jumping around and dancing the two days prior? Yeah. That's what it is. That's part of the mystique of the Ryder Cup. It's very emotional, there's a lot of patriotism. Get over it. This September in Ireland, I expect the spectators to be polite, but there won't be much doubt about who they're rooting for.
Did you see much of the last Ryder Cup?
Some. It was hard to watch. Not only because we were taking such a stomping, but not being there.
Could you see being a Ryder Cup captain someday?
I'd do it. I imagine I'll have to play on another team or two at least to be considered, but I'd love to do it. I know if you lose, the media makes the captain out to be a dog. Who cares? I could handle that.
Do you have problems with the media?
Not necessarily. What's frustrating is that we're in a different town every week, so every week there are a lot of the same questions. I understand that. But if one of you wants to do a story on me, it might be a good idea to go watch me play, don't you think? Would you write a story about a football game you didn't see? If a writer comes to me after a round and asks me how I think I played, and I ask him how he thinks I played, and he tells me he didn't actually see me hit a shot ... well, that's puzzling to me.
How do you think Tiger handles this circus?
He certainly does a better job than I do. He might be better at it than anybody in the history of the game. He's not just a golfer. He's a celebrity, a rock star. I can't do it the way he does it, but I also don't wish I was any different than what I am.
Speaking of different on the PGA Tour: Are you a registered Democrat?
I am. But it's not like I think along strict party lines. Before Alito was confirmed for the Supreme Court last winter, I was watching TV one day and saw the Senate vote on the streamer at the bottom of the screen. I want to say four Democrats voted for him, and the rest against, while maybe one Republican voted against him and the rest for. Strictly politicized. Is that right? The only people who thought he belonged on the highest court in the land were Republicans?
Are the people who run this country voting with their conscience, or are they doing what they have to do to get re-elected or stay in good standing with their party? It's a joke. In a perfect world, starting with the president, you would think our country's leaders would stand for what's right, regardless of what side of the political fence that's on.
Why are all the other golfers on tour Republicans?
If they all are, I don't know why. I suppose the safe guess would be because of tax issues. With Republicans in charge, the conventional wisdom is that taxes will be lower. With Democrats in office, taxes will be higher.
Did you vote for John Kerry in the last presidential election?
I did. But I think I'm like a lot of people in the country. I am socially a Democrat, in that I want all the social programs and health care to be what they should be. But I am fiscally a Republican, because I want to pay as little as I can in taxes. My choice was, would I rather pay 38 percent or whatever it is to have a Republican in the White House? Or would I rather pay 40 or 42 percent with a Democrat as president and feel like social programs were looked after properly? My choice was, I'd rather pay more.
Would you vote for Hillary Clinton in 2008?
I don't know. I'd have to look at all the issues. If she were running against John McCain, I'd probably vote for McCain. So, there you go. Like I said before, I'm not strictly for either party. I lean toward what I think is best for the country.
Are you more interested in current events than the average golfer or the average athlete?
I don't think so. I try to pay attention to what's going on in the world. But ask my wife, and she'll tell you. When I'm in the house, "SportsCenter" is on TV more than anything else. "SportsCenter" and CNN. I guess I'm convinced that somewhere during the third repeat of "SportsCenter," the outcome of that one game is going to change: I know I've seen this, but I know it's going to turn out differently.
That would probably surprise a lot of your fans who think of you as cerebral, maybe even bookish.
Well, I do like to read, especially fiction. But that goes in spurts now, especially with the kids around. I read A Million Little Pieces, and I thought it was an amazing book, despite all the controversy.
So you followed the story behind the story, that the author [James Frey] apparently fabricated some events?
First of all, I know James a little bit. He's real good friends with a buddy of mine who I grew up with. There's no question in my mind that James has taken too much grief. The story is still there, even if there are some details that were different from actual events. It's a great book that touched a lot of people. Oprah Winfrey, who had James on her show, calls into Larry King's program and says that the meat of the book still rings true. If a few little things are askew, she said it wasn't anything you couldn't look past. Then, a couple weeks later, when she's taking heat for the stand, she changed her mind just to save face. I thought that was pitiful, watching her do that. Just pitiful.
You like money as much as anybody. Are we running over each other going to the bank and in the process, sacrificing values?
Are you saying people are angrier than ever? I don't know. I think people are inherently good. Everybody is looking to make a dollar and get ahead to achieve financial security for themselves and their families. You can't begrudge anyone for doing that.
Is society more aggressive? Maybe a little bit. To narrow that down to golf, yes, the galleries have gotten a lot louder, a lot pushier. Just the other day, some guy comes up to me with a hat and says, "Here."
I said, "Here, what? Are you giving me this hat? Thanks."
He looked at me, dumbfounded. No, he wasn't giving me the hat. He was giving me the hat to sign for him.
Whatever happened to, "Will you please sign this hat?" No big deal, but when adults do that, and when kids see adults behaving like that, then kids will grow up doing the same thing.
You said before that you're spoiled. Do you think you're making too much money for hitting a golf ball or endorsing a line of equipment?
I do think we're spoiled, but it's a market type of thing. If that's the value placed on what we do, then that's what the value is. The one aspect that's different in golf and tennis from other sports, like team sports, is that a top player will earn his or her income by producing. Even money that comes from off the course, like from companies. Those companies see value in a player playing their clubs or whatever, and that identification helps a company's bottom line. If there's a problem in pro sports, it might be players getting those huge contracts without having to produce. Here's $6 million guaranteed for signing out of college. In some cases you don't even have to play. There's a lot of that in baseball, and I love baseball. Football players, on the other hand, are probably severely underpaid for what they go through. Football contracts aren't guaranteed, like baseball contracts are. You see a lot of those football players after they've retired, they can't even move around. They're crippled.
You say you're a basebal. fan. Does the suspicion of drug use in that sport bother you?
It's easy to be critical, but a lot of those guys worked out to get stronger and better. If someone tells you that if you take this pill a couple times a week for six weeks and you might hit a lot more home runs and sign a $75 million contract that will set up your family for life, a lot of people might do it.
You've talked politics and golf. What about the politics of golf?
I was on the PAC [Player Advisory Council] for a few years. We talked about the same things every year, and nothing ever changed. I was asked to run for chairman of the PAC, and I said, no, thanks. I just didn't see why it mattered. We talked about slow play and length of pro-ams at every meeting, and nothing ever happened.
Did you feel that management wasn't listening to labor?
I suppose management is listening. It's just there are never any solutions. Just talk.
What changes would you like to see made?
For one, they have this rule that if you don't play in the pro-am on Wednesday, you can't play in the tournament starting Thursday, unless you can prove you were too sick or too hurt to play. Back when I was a top player, like all the top players, I had to play in every pro-am, but the guy who was maybe 75th on the money list didn't have to play in any of them. Or the guy who just got his card from Q school. Why should top players be penalized by having to play every one? I understand that if Tiger Woods is in the tournament, sponsors and the PGA Tour want him to play in the pro-am. But there's got to be some leeway, some balance. Spread it around.
That's never going to change until they fix how they go about it. Instead of warning guys that they have a slow time, don't tell them they're on the clock. Players know when they're out of position. Forget the warnings, forget the money as a punishment. Hit them with strokes. That'll hurt.
Do you like where the tour is headed with the new schedule?
I don't know a whole lot about this FedEx Cup system and the playoff at the end of the season. They're still figuring that out.
Now, why the PGA Tour is trying to be like NASCAR, I don't get that at all. That puzzles me. I also don't understand what's going to happen to those other eight or so tournaments after the Tour Championship. What about them? Don't those people matter? Don't their sponsors matter?
It sounds like it's all about television.
All we talked about in those meetings the last few years was trying to reach the nongolf fan, to "grow the game." Well, they're not going to do that on The Golf Channel. They signed with them for 15 years? I don't understand that. That's a long time, isn't it? Meanwhile, we've lost the brand name in sports, ESPN. How does the PGA Tour ever let go of that? I don't know the dynamics of it all, but at this point, you have to question the leadership of the PGA Tour.
What would you like to see changed outside the ropes?
Well, there's a nine-member Policy Board, which is above the PAC I was talking about before. Of those nine members on the Policy Board, five aren't players or ex-players. Those volunteer directors are businessmen or whatever, and they've all been very successful in what they've done. Which is fine. But when I was involved, I asked all the time about how you would get one of those five nonplayer directors off the board if you wanted to? I never got a straight answer. What if 100 of the 125 players on the PGA Tour want to get one director out of there? How do you do it? Is that [Commissioner] Tim Finchem's call, or do we have a say? Like I said, I'm still waiting for the answer.
And you're expecting it any day now?
Not really. When the players have only four of the nine votes on the Policy Board, then it's not really our tour, is it? We can't have a union because we're not technically employees, and we don't have an association. Yet, we are the product. I mean, people pay to come see us play golf, correct? You sign away a lot of stuff when you join the PGA Tour. It's not really very democratic. A lot of how the tour operates is about perpetuating the mechanism of the tour.
What about appointing an ex-player as a commissioner?
I've heard the name Peter Jacobsen floated around. Also Greg Norman. He's been successful in business. Very much so. Did he get any credit for the World Golf Championships concept? That was his idea, wasn't it? I guess he just fought the battle too soon. I don't know if we need an ex-player as a commissioner. Maybe a vice-commissioner? A co-commissioner? Somebody who's been out there who could voice the concerns of the players. I don't know whether Norman would want that, or if he would take the pay cut. I don't know how any of this would work, but it won't matter for the next six years, anyway, because I see where Finchem signed a contract extension.
Did hitting rock bottom make you a better person?
Probably, because something like what I've gone through helps straighten out your priorities. What's important and who's important, starting right with Susie. She wants me to play, and wants me to play well, as much as I do. But if I decided I didn't want to play anymore, she wouldn't care. If I called her tomorrow and said, "I'm done," she'd say, "OK, when are you going to be home? I'll have dinner and we'll have some wine."
Did you know David Duval...
Is averaging just more than 72 strokes per round this year, down from 75.56 in 2005....After ranking second, first, second, seventh and eighth on the PGA Tour money list from 1997-2001, Duval dropped to 80th, 211th, 210th and 260th....Did not compete from November 2003 until the 2004 U.S. Open....Starting in the 1998 Masters, had finishes of T-2, T-6, T-3, 2 at Augusta.
*This is the 119th Golf Digest Interview in a series that dates to 1991. For highlights of previous interviews, including Bob Verdi's memorable interview with David Duval in 1999, please see golfdigest.com/interviews. *