The Loop
In the January issue of Golf Digest I wrote about a trip I took with some friends last March to Las Vegas to play golf by day, watch the first round of the NCAA basketball tournament by night. I'm not a big fan of Vegas, don't really do strip clubs (my mom reads this blog) and I don't even like staying on the strip. My new favorite place to stay if and when I go to Vegas is the Red Rock Casino, 20 miles from the airport, it has everything you need under one roof. It has a modern motif, several choices for food, gambling and a pool scene that you'll need to see for yourself. (When you do see it for yourself--no need to thank me.)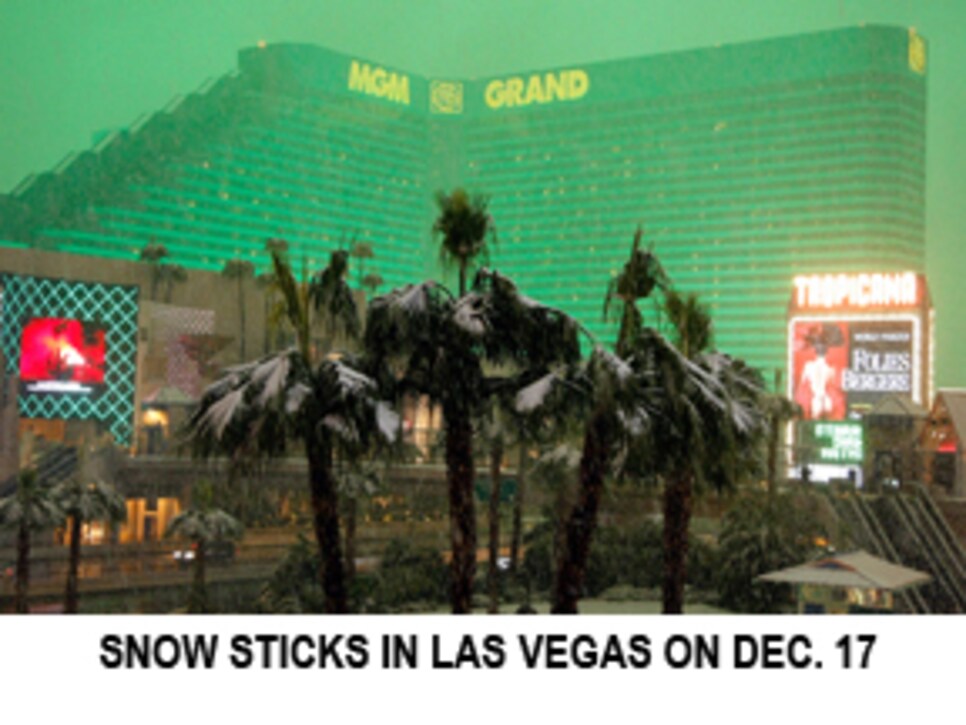 That being said, the week to go to Vegas, to stay on the strip and do what my friends and I do every year, is the first week of the NCAA tournament. It takes March Madness to a different level of social insanity. Lock it in for life. Play an early round of golf, get back to the casino for some food and settle into a big chair in front of a wall of flat screens, order drinks and let the drama unfold before your bloodshot eyes. This is one of those trips where you think about sleep and then remind yourself and your friends, "We'll get plenty of sleep when we die."
Sin City is not recession-proof. I received this information worth passing on about some potential deals out there:
__Las Vegas has a reputation for being a very high-priced golf destination, but currently, due to the holidays and the economic crunch, there are deals available for tee times at Las Vegas golf courses or Las Vegas golf packages. And we're not talking savings on twilight rates for a few dollars, but tee times at peak times are currently available at huge savings, sometimes totaling hundreds of dollars per player or foursome.
You can go to the official websites of Las Vegas golf courses, or the websites of official partners of the Las Vegas golf courses. For example, GolfLasVegasNow.com links directly to the official websites where readers can make tee times or reserve golf packages.
One of the top deals available right now is you can play golf at three themed Las Vegas golf courses for just $125 each when you book all three. The courses are Royal Links (inspired by British Open courses) Bali Hai (tropical golf on the Las Vegas Strip), and Desert Pines (Carolina in the desert)--all recently ranked in the top 50 by readers of Golf World. Taking advantage of this deal can potentially save you more than $400 per player.
The Johnny Miller-designed Badlands Golf Club is offering a $59 green fee and a room at the Suncoast Hotel.
There is unlimited golf available at the Las Vegas Paiute Golf Resort (three Pete Dye courses), where you pay $125 for all the holes you can play that day.
You should also look into the Golf Card. For $249 you get your first round free at TPC Las Vegas, Bear's Best Las Vegas or Rio Secco for free. With the Golf Card you get 20% off green fees for all three of those courses as well as Cascata.
Lake Las Vegas Resort is the home to both a Nicklaus resort course (Reflection Bay) and a Tom Weiskopf resort course (The Falls) and you can play either for just $125. Lake Las Vegas offers a true destination golf resort where the award-winning courses are located just steps from your room.__
That's assuming you're actually in your room when you're in Vegas.
(photograph by Getty Images)