College Golf
Vanderbilt freshman Gordon Sargent wins the national championship with a birdie on the first playoff hole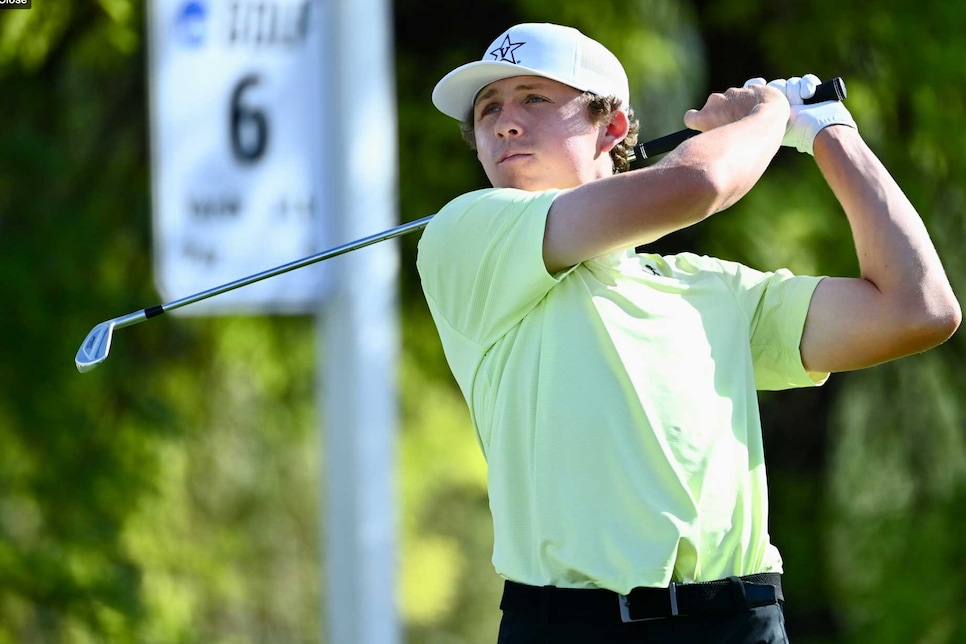 Photo courtesy of Vanderbilt
It was more dramatic than artistic, at least until the first extra hole on Monday, when Vanderbilt's star freshman Gordon Sargent with pinpoint accuracy won the individual title at the NCAA Championship in a four-man playoff.
Sargent holed a five-foot birdie putt on the 18th green at Grayhawk Golf Club in Scottsdale, Ariz., his first birdie of the day, to defeat Ryan Burnett of North Carolina, Parker Coody of Texas and Eugenio Chacarra of Oklahoma State.
Sargent joins an elite group of players that includes Ben Crenshaw, Curtis Strange and Phil Mickelson to have won the national championship as a freshman. The last of the nine to accomplish the feat was USC's Jamie Lovemark in 2007.
"It definitely took a lot of patience out there," Sargent said. "It was playing tough. I just kind of stuck to my game. Just a tough day and I managed expectations well."
Though he seemed less euphoric than one might expect from a national champion, Sargent is not done for the week. He will lead Vanderbilt into the eight-team match-play competition that starts on Tuesday, with another national championship at stake. Joining top-seed Vandy in team play are Oklahoma, North Carolina, Texas, Oklahoma State, Pepperdine, Arizona State and Texas Tech. Impressively the eight schools were all ranked in the top eight entering the week.
"We all came here for a national championship team-wise, so nobody's satisfied yet," Sargent said. "I think you soak it in after this week. Still got work to do."
It will be a tall order for the team competition to produce the dramatics that the individual title delivered late in the afternoon. There was a five-way tie for the lead at even-par on the 72nd hole—two having concluded their rounds (Coody and Burnett) and the threesome of Sargent, Chacarra and Oklahoma's Chris Gotterup playing the 18th hole.
None of the five bettered par. Coody and Burnett shot even-par 70s, Chacarra a 72, and Sargent and Gotterup 74s. Gotterup failed to join the playoff with an 18th-hole bogey, while Sargent and Chacarra made pars to join the group that went to overtime.
Sargent, who had a one-shot lead coming into the final round, would not have been the favorite heading into the playoff, given the birdie-free 74 he closed with. On the other hand, his freshman season suggested he was unlikely to wilt, either.
He is 14th in the World Amateur Golf Ranking and a finalist for the Haskins Award and he played up to his reputation on the extra hole. His tee shot trickled into the right rough, then he stiffed his approach to set up the game-winner.
Meanwhile, Chacarra and Coody hit their tee shots into a fairway bunker and neither hit the green with their approach shots. And Burnett hit the green in two, but left himself a 30-footer that he was unable to convert.