News
Valspar: Hadwin beats Cantlay by one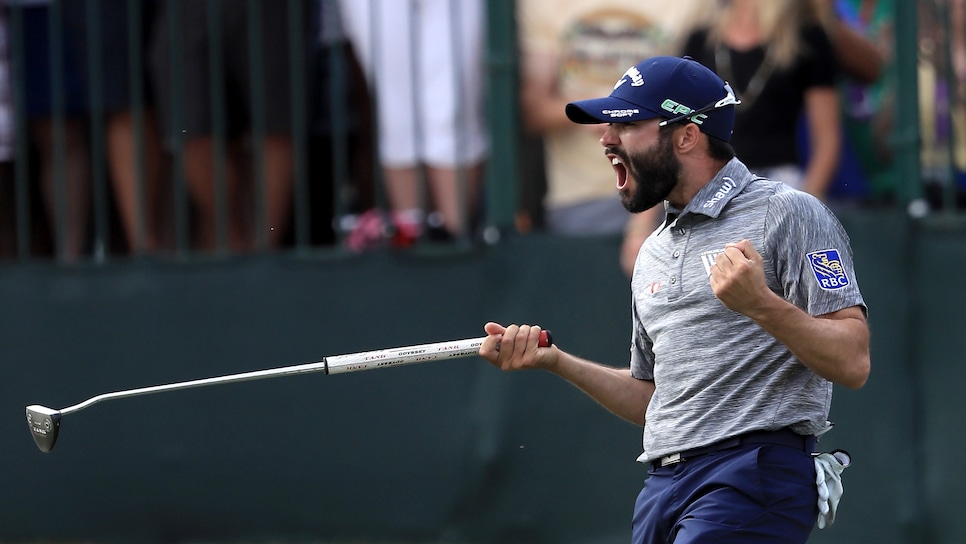 Canadian Adam Hadwin withstood a back-nine charge from Patrick Cantlay on Sunday to win the Valspar Championship, the first PGA Tour victory of his career.
Hadwin, who began the final round on the Copperhead Course at Innisbrook Resort in Palm Harbor, Fla., with a four-stroke lead, won with tap-in par putt on 18 moments after Cantlay missed an 16-foot par putt.
Cantlay began his rally with a birdie on the ninth hole, the first of three in a row and five in a six-hole stretch. He still trailed by two when Hadwin hit his tee shot on the 16th hole into a water hazard, leading to a double bogey that dropped him into a tie with Cantlay.
At 18, Cantlay was unable to get up-and-down from a greenside bunker for par, leaving Hadwin only a one-footer for victory.
"I don't know what to say right now," Hadwin said. "I fully expected Patrick to make that [par] putt. I said yesterday I just wanted a chance to win coming up the last and I had that chance. I thought we were going to have make birdies to win it."
Hadwin, who posted a 59 in the third round of the CareerBuilder Challenge and finished second in January, shot an even-par 71 for a 72-hole total of 270, while Cantlay had a three-under par 68 to finish one back.
By finishing solo second, Cantlay earned $658,800 and retained his PGA Tour membership. He was playing on a major medical extension dating to the 2013 season and needed to earn $624,746 in 10 starts.