PGA of America
Tony Finau pulls a Tiger Woods, inspires junior golfers from afar to win national team title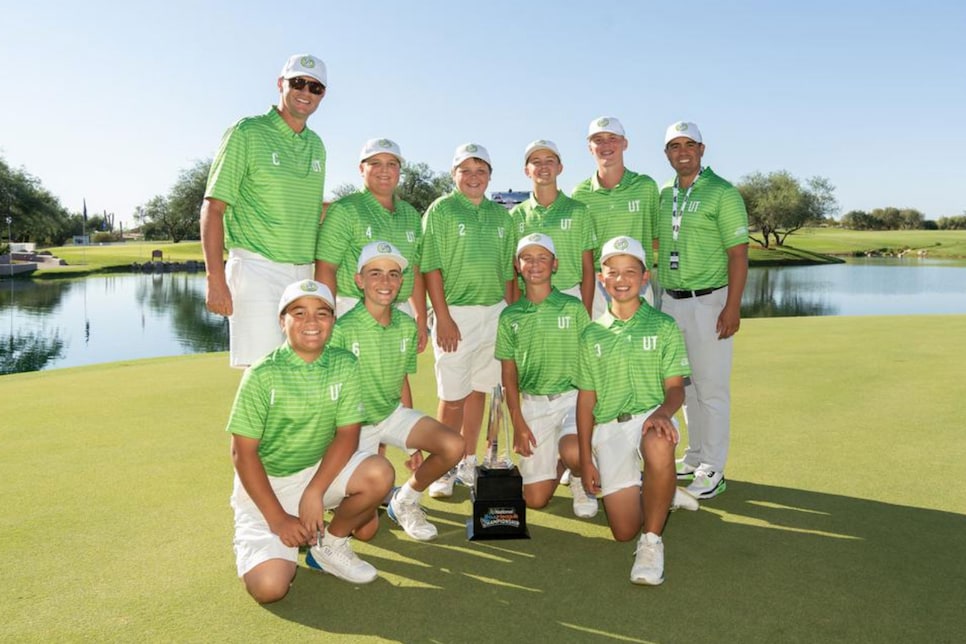 Team Utah poses for a photo after winning the 2021 National Car Rental PGA Jr. League Championship at Grayhawk Golf Club.
Darren Carroll/PGA of America
The U.S. Ryder Cup had nothing on Team Utah in the celebration department on Sunday at the PGA Jr. League National Championship. Tied with Team Connecticut with three matches remaining at Grayhawk Golf Club in Scottsdale, Utah's final three pairings swept all three points. When the last putt dropped on the 18th, the team mobbed the final duo of Will Pedersen and Tyse Boman on the 18th green, replacing bottled water for champagne.
"Oh my goodness, it was just amazing," said Utah captain Tele Wightman, a PGA of America professional, of the 7.5-4.5 triumph in the team's debut in the championship. "You've got Oklahoma, Florida, Connecticut [in the semifinals] … such good teams, but we really believed in ourselves and felt like we had a team that could get it done. Then you are watching [the match unfold] and you think, this could be happening. The shots they pulled off towards the end, it's amazing."
The event was the culmination of a big year for the PGA of America's PGA Jr. League program, which saw a record 64,000-plus boys and girls participate across the country. All-Star teams from 12 states advanced through qualifying to get to Grayhawk. In its ninth year, the program got some unique exposure this weekend with the competition broadcast live on ESPN2.
Among those watching at home was Tony Finau, a two-time U.S. Ryder Cup participant and a native of Utah. Finau had a tangible connection to the team; he is cousins with that father of Jordan Ofahengaue, an 11-year-old who paired with Jaxon Erickson and earned 2.5 out of a possible three points in the championship round.
"He was so proud of us," Wightman said. "We have incredible support back home and all around, and it was cool to get a phone call from Tony."