U.S. Women's Open 2021
U.S. Women's Open leader Yuka Saso has done an eerily great job of replicating Rory McIlroy's swing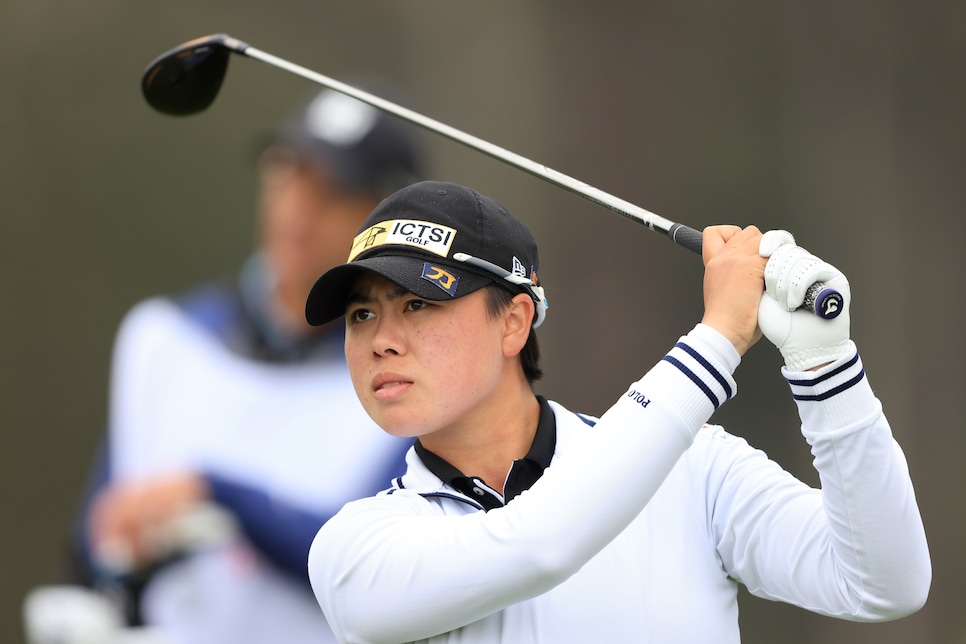 Yuka Saso hits her tee shot on the fourth hole during the second round of the 76th U.S. Women's Open.
Sean M. Haffey
SAN FRANCISCO—It could be said that U.S. Women's Open leader Yuka Saso is, well, a little obsessed with the golf swing of Rory McIlroy. How much? Does making it part of her bedtime routine count as having a competitor-to-competitor crush?
After shooting four-under-par 67 at Olympic Club on Friday to take a one-shot lead over Jeongeun Lee6 heading into the weekend, Saso, 19, affirmed that she has watched YouTube videos of McIlroy's swing before going to bed each night. She doesn't do that anymore, but she still takes a peek every so often.
"The last time I watched it was Masters," she said. "I was just watching his golf and swing for like one hour, maybe more."
Saso has never met McIlroy. "But I hope I will in the Olympics," she said.
Golf observers will get a chance this weekend to see just how well Saso has done at mimicking the action of the four-time major winner. It's remarkable when you take a close look.
Saso, whose mother is Filipino and dad Japanese, is all but unknown to a casual American golf fan. Her most notable previous results in the U.S. are reaching the semifinals of the 2016 U.S. Women's Amateur and 2019 U.S. Girls' Junior, and finishing third in the 2019 Augusta National Women's Amateur. She turned pro later that year and in 2020 earned her card on the LPGA of Japan Tour, where she won in back-to-back starts.
Ranked 40th in the world, Saso made one LPGA start this year, on a sponsor's exemption in the LOTTE Championship in Hawaii, and tied for sixth. She tied for 13th in last December's U.S. Women's Open after missing the cut in her debut start in 2019.
In a remarkable coincidence, Saso has a chance to tie Inbee Park as the youngest champion of the Women's Open, and she would be the exact same age—19 years, 11 months, 17 days—as Park when the South Korean captured her first major in 2008.
On the difficult Lake Course, Saso has suffered only two bogeys in each of her first two rounds—an impressive performance considering that she ranks near the bottom of the remaining field with only 50 percent of fairways hit. She's hit 66 percent of greens in regulation, however, and she's only needed 26 and 27 putts in the first two rounds for a second-best average in the field.
"if I go in the rough, my mindset is just to go for the fairway," Saso said. "It's really long and lsticky, so yeah, it's really hard to get on from it. But yeah, I'm glad that I'm a little bit good out of it."