News
U.S. Women's Open 2020: The champion explains why she wore a mask all week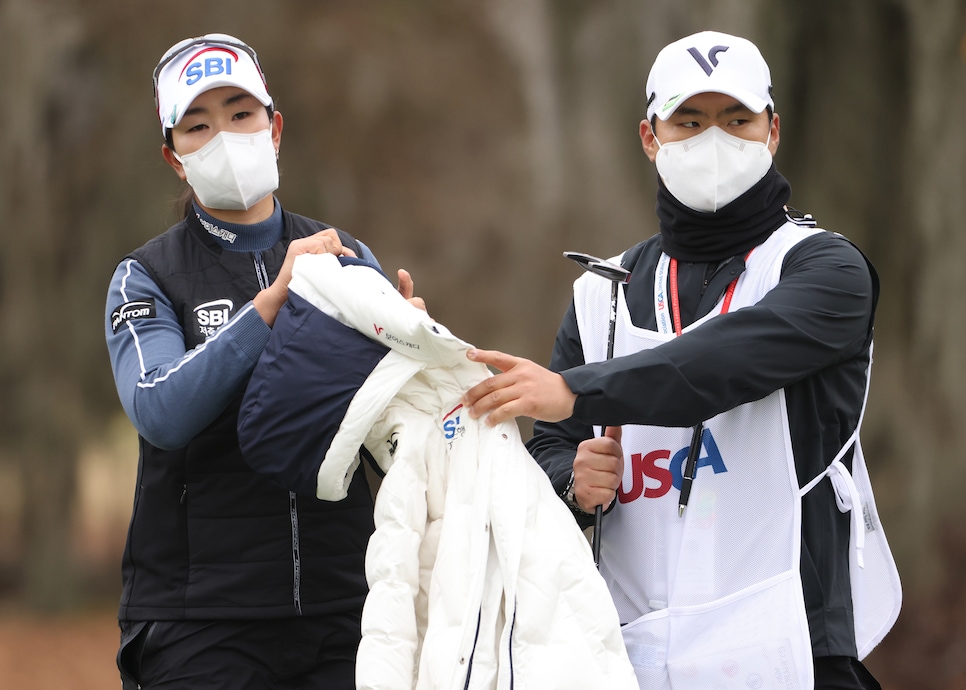 A Lim Kim and her caddie, Daihoun An, wore masks throughout competition in the U.S. Women's Open.
Jamie Squire
The smile was so obviously there, even if we couldn't see it. During A Lim Kim's remarkable run of three straight birdies to end the final round and seize the U.S. Women's Open title, the slight crinkles around her eyes revealed her happiness, because the rest of her face was covered with the mask she wore all week to protect herself and others against COVID-19.
Kim, 25, wasn't the only golfer to wear a mask during the major, but she will be the most remembered, considering what has transpired in the world since the coronavirus became a global pandemic in March.
The mask was something of a jarring image, considering that in most sports masks are worn by some players on the sideline—though some clearly choose not to­—while Kim was competing at the highest level of her sport and trying to precisely swing a golf club. It should be noted that few male golfers and their caddies have chosen to wear masks on the PGA Tour.
Kim, whose triumph on Monday came in her first start in the U.S. Women's Open, said after her win that she simply wanted to take the most precautions she could. Even after signing her scorecard on Monday, she continued to wear the mask while she sat alone in a hospitality tent, only pulling her covering down to take bites from a banana and drink.
"Every time I practice, I usually wear a mask, so I'm kind of used to it," Kim said through an interpreter during her champion's press conference. "I'm OK to get positive tests for COVID-19, but I don't want to affect other people, players, a caddie that's playing within the group, so that's the reason I wear the mask throughout the round."
The players who wore masks during competition at Champions Golf Club were predominantly those who hail from Asia and previously played most of their golf this season on the Korean LPGA Tour. Among the others who donned a covering while they played was the tournament's defending champion, Jeongeun Lee6.