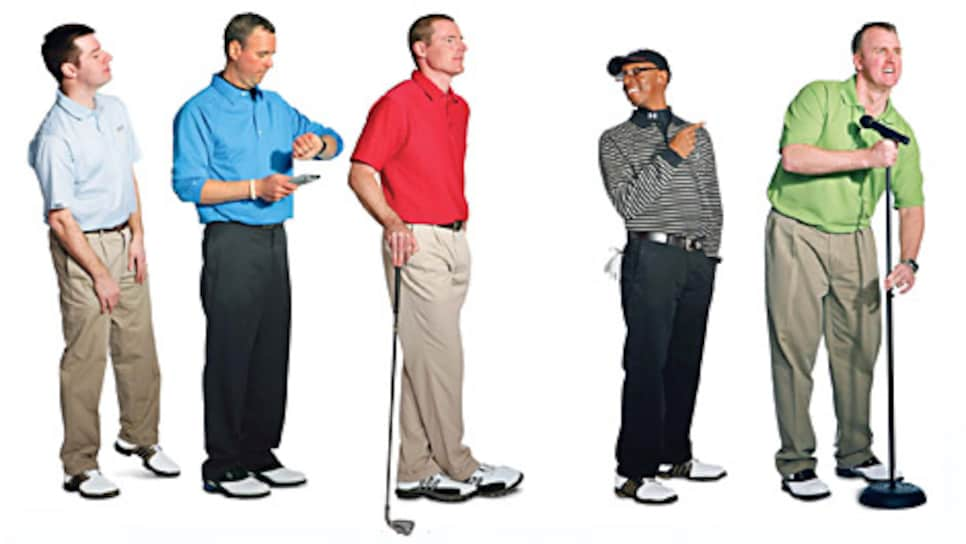 Gratified by the 56,374 essays we received for the inaugural U.S. Open Contest, we have carefully chosen five finalists who convinced us they're ready for the challenge of playing the U.S. Open course on national television. The rest is up to you, the voting public. For the entire month of April, anyone 18 or older can go online to gdopencontest.com and vote for the golfer they'd like to represent all average golfers by playing a count-every- stroke round at Torrey Pines South Course near San Diego.
The round will be played a few days before the U.S. Open begins June 12, and the winner will be paired with three celebrity golfers also committed to shooting the lowest score possible. NBC cameras and announcers will capture every shot, and the one-hour telecast will be shown in the hour leading into NBC's coverage of the final round on June 15. You're probably asking how we settled on these five amateurs. It wasn't easy, but we were committed to getting it right.
First, in case you're reading about this contest for the first time, here's how it all began. After the second round of last year's U.S. Open at Oakmont Country Club, Tiger Woods told reporters there was no way a 10-handicapper would break 100 on that course. A few weeks later, Steve DiMarco, an L.A.-based event planner who has collaborated with Golf Digest, called and asked if we thought it would be possible to get some Average Joe golfers on the U.S. Open course and see what they'd shoot. We went to the USGA and NBC Sports, and, amazingly, a contest was born.
We invited golfers to nominate themselves or a friend by sending us an original essay no longer than 100 words. Contest experts told us to expect 3,000 to 5,000 essays but that 10,000 was an achievable target. We received our 10,000th essay on Day 10. On Jan. 22, more than a month into the contest and aided by a blast e-mail from the USGA, we received 12,944 in less than 24 hours. In the final week before closing the entry phase on Jan. 29, we got more than 23,000 essays to reach our final total of 56,374.
Now what? We advanced about 5 percent to Stage II, meaning their essay got our attention. Some followed up with a second essay, a photograph and a video. From there, we identified about 50 potential winners and called them to set up face-to-face interviews. We met prospects in New York, Boston, Atlanta, Chicago, Dallas, Detroit and Los Angeles. Some contestants drove four hours each way to attend their interview. One even bought a plane ticket to meet us in Dallas. Their surprise and joy at making the final 50 was palpable.
Finally, we flew 10 golfers to Dallas, where they joined another semifinalist from the area. For 24 hours, we learned more about them and observed them playing golf -- with a camera crew recording it all. From that audition, we selected these five finalists. Voting online at gdopencontest.com begins March 28, and every time you vote you'll be entered in a sweepstakes for daily prizes and a dream trip to the 2009 U.S. Open at Bethpage.