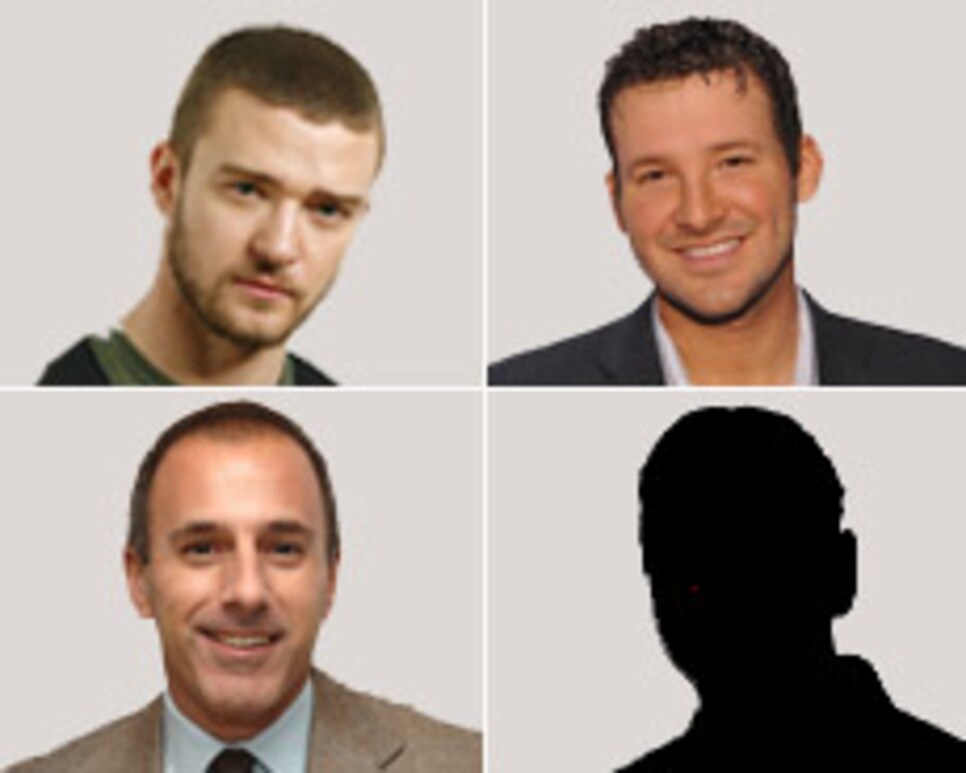 Our three celebrity players are all set. All we need now is a fourth. Your votes on gdopencontest.com will determine which of the five amateur finalists from 56,374 entrants will join Matt Lauer, Tony Romo and Justin Timberlake in the inaugural Golf Digest U.S. Open Challenge at Torrey Pines South Course in June. The event will be televised at 2 p.m. on June 15, in the hour leading into NBC Sports' final-round coverage of the U.S. Open.
Lauer, co-host of NBC's "Today" show with a USGA Handicap Index of 5.6, says his analytical mind can't stop thinking about the challenge of playing the U.S. Open setup just a few days before Tiger Woods, trying to win his third Open championship, and the rest of the field of 156 begin play at Torrey Pines.
"My goal is to break 100," says Lauer. "I'm going out there for the first time really ever in my golfing life to shoot a number, and I'm really looking forward to it."
It was after the second round of last year's U.S. Open at Oakmont Country Club that Woods said of that difficult setup, "If you're a 10-handicapper, there is no way you're breaking 100 out there."
Romo, who estimates his handicap as somewhere between scratch and 4, jumped at the opportunity to test himself on a U.S. Open setup. The Dallas Cowboys quarterback tried to qualify for the U.S. Open in 2005 and '07 but didn't advance beyond local qualifying.
"People probably don't realize that this will be just as exciting for Justin, Matt and I as it is for the average guy who plays with us," says Romo. "I love competition and challenges like this. This is what I live for when it comes to fun."
Romo played golf with Timberlake last year, and he says the Grammy Award-winning pop singer and film actor will do just fine at Torrey Pines, which can be stretched to play at 7,643 yards for the Open.
"Justin's a solid player who consistently hits the ball pretty straight," Romo says. "The difficult part for this test will be length. One thing Justin has going for him is he has a good short game, so he'll be able to get up and down even when he misses a few shots."
Timberlake, who's about a 6-handicapper, will be co-starring with Mike Myers and Jessica Alba in "The Love Guru" in June.
"I played Torrey Pines from the blue tees and it was very long then," says Timberlake. "I can't imagine what it'll play like from all the way back. I'll definitely sneak down there a few times to practice."