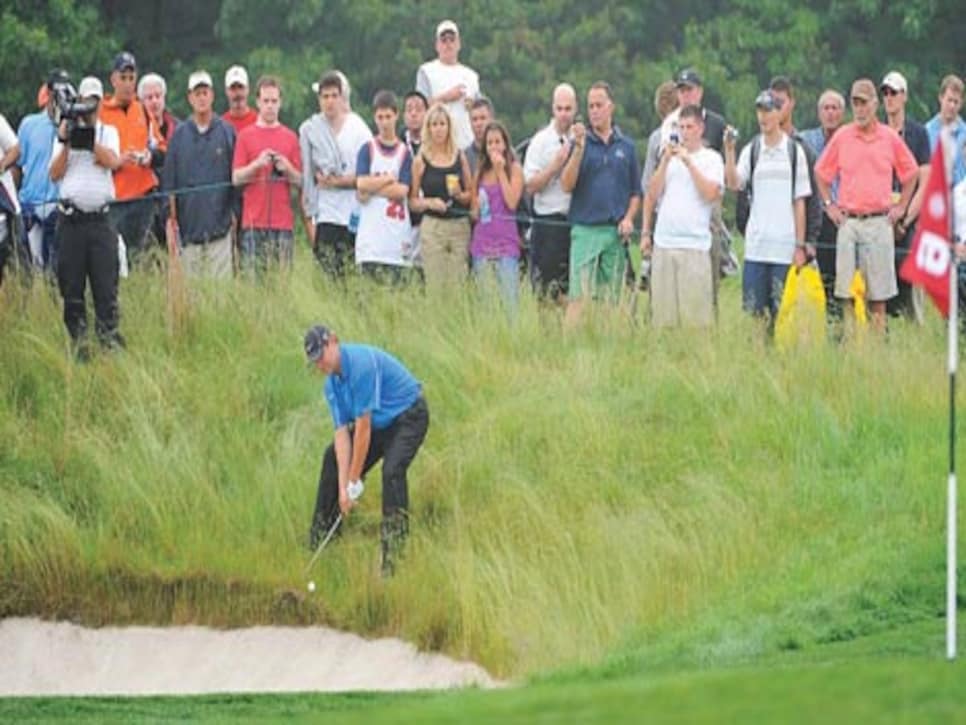 Ben Roethlisberger finds some trouble at the sixth hole but made two birdies and led with an 81.
Michael Jordan was failing. It was hard to watch but impossible to look away.
When the 46-year-old icon opened the Golf Digest U.S. Open Challenge at Bethpage Black with an ugly, low pull that disappeared into deep, rain-soaked fescue, he put his hand over his heart and exhaled. It was a gesture we'd never seen him make before. The resulting unplayable lie was followed by a few more tentative swings that drew a wince from his longtime swing teacher, Ed Ibarguen -- one of the few who knew Jordan had required a cortisone shot in his sprained left wrist four days before -- and led to a triple-bogey 7 on the first hole. When Jordan's attempted escape from a greenside bunker flew the second green and clattered off bleachers, many among the 2,000 in attendance had the same awful thought: He ain't going to break 100.
The disquieting part was that the biggest obstacle wouldn't be the 7,426-yard monster, set up as it would be the next week for golf's ultimate examination, stretched out before him. It would be the burden of being Jordan. Among fellow players Justin Timberlake, Ben Roethlisberger and contest winner Larry Giebelhausen, it was Jordan -- with his legacy for always delivering in the clutch, his outdated 1.4 USGA Handicap Index and his still-resonant "Be Like Mike" image -- who had the most to lose. Indeed, he had privately told friends that if he didn't break 100 he would quit the game. He might have had caddie and friend Fred Couples at his side and a Cohiba in his mouth as he ambled through the rough accompanied by the USGA's Jim Vernon, Jim Hyler and Mike Davis, but beneath all the outward cool, Jordan looked lonely and lost.
"For me early on, man, I was so tight it was amazing," he admitted. "In the back of my mind I'm thinking, How in the world did I let Jon Miller [NBC Sports executive vice president] talk me into this?" After salvaging a double bogey on the par-4 second, Jordan called for his preferred swing oil -- a single-malt Scotch whisky -- and sipped it from a Gatorade bottle.
He also relied on lessons he learned at North Carolina under his coach and mentor, Dean Smith: "When you get nervous, get back to basics and do the easiest things," Jordan said. "Make a layup, hit your favorite club. Simplify." He steadied, and after finally making his first par, on the 210-yard eighth, he found a flow. A front-nine 47 was followed by a 39 for what surely was the most satisfying 86 of his life.
"That's the happiest I've seen Michael after a round of golf in 20 years," said Miller. "It's very hard for him to find the feeling in life that he used to get from basketball. In that sense, this event is the greatest gift you could ever give him."
Jordan hinted that he put himself on the line as a kind of self-corrective toward normalcy. "When you step outside your field, it's a whole different atmosphere," he said. "You become human."
Those three words also captured why the Golf Digest U.S. Open Challenge has legs. Yes, it celebrates through the inverse the skill required of golf's greatest. And it forces the biggest stars from other fields to forgo their special powers and risk the kind of embarrassment normally thought to be so injurious to their station. It says something about golf that with the cameras rolling and nowhere to hide, for two years all five celebrity participants, regardless of how they've played, have revealed the character that is a big part of what makes them special.
Certainly Roethlisberger, an estimated 3-handicapper and Timberlake, a 6, passed the test. The Pittsburgh Steelers quarterback, with caddie Rocco Mediate challenging him to forget playing percentage golf and instead attack with the freewheeling power at his command, shot an 81 filled with long, daring shots that recalled his game-winning drive at the last Super Bowl.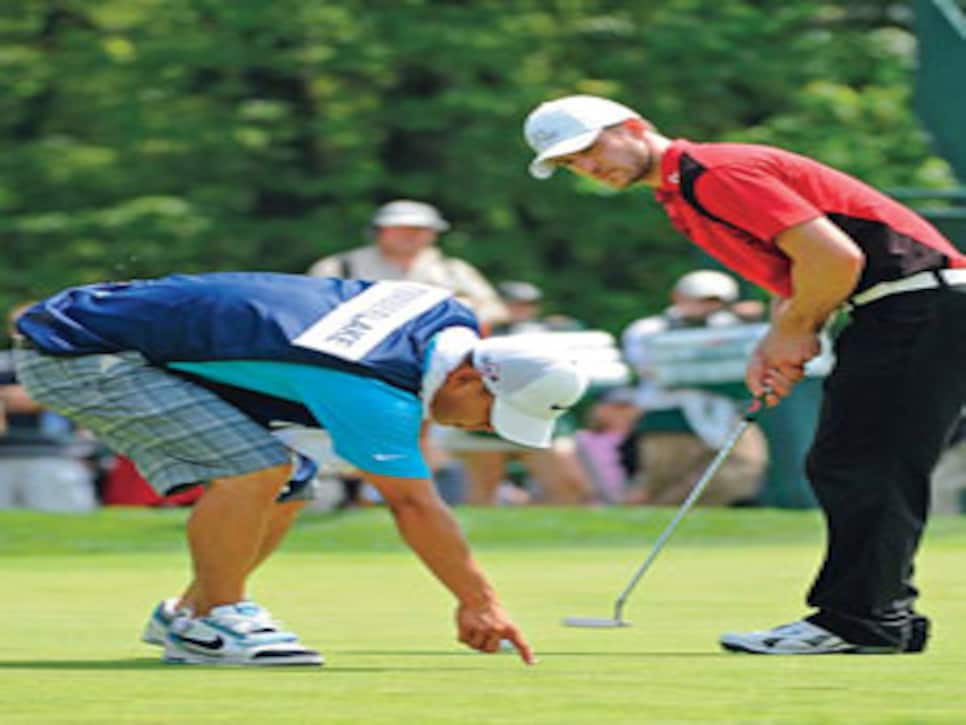 Timberlake, who at last year's inaugural Challenge came up big at the finish to shoot 98, returned as a more polished golfer. With sassy tour star Anthony Kim as his caddie, the 28-year-old musician/actor glided to an 88 that except for a lull on holes 10-15 went as smoothly as his three turns hosting "Saturday Night Live."
Giebelhausen, the 59-year-old Phoenix police lieutenant whose six-word contest entry, "I'm a Cop, I'll Shoot Low!" won him a place in the foursome over 73,580 other entrants, didn't play his best. A 3.9 Index, he was done in by an 8 on the par-3 third and a 10 on the par-4 16th, on his way to 101. But Giebelhausen was graceful throughout, never more than when he paid tribute to his forerunner in the event, John Atkinson, who the day before the Challenge passed away from lung cancer at age 40. Giebelhausen had gotten to know Atkinson through phone conversations, and it was for fellow lovers of the game that he played. Afterward he said, "I feel like I let the average golfer down."
Quite the opposite. All four participants demonstrated what Jordan meant when he once said, "I've failed over and over and over in my life. And that is why I succeed." It was the biggest reason the second Golf Digest U.S. Open Challenge was such a resounding success.