USGA
Teens Kiko Francisco Coelho and Leopoldo Herrera III take U.S. Amateur Four-Ball title in dramatic finish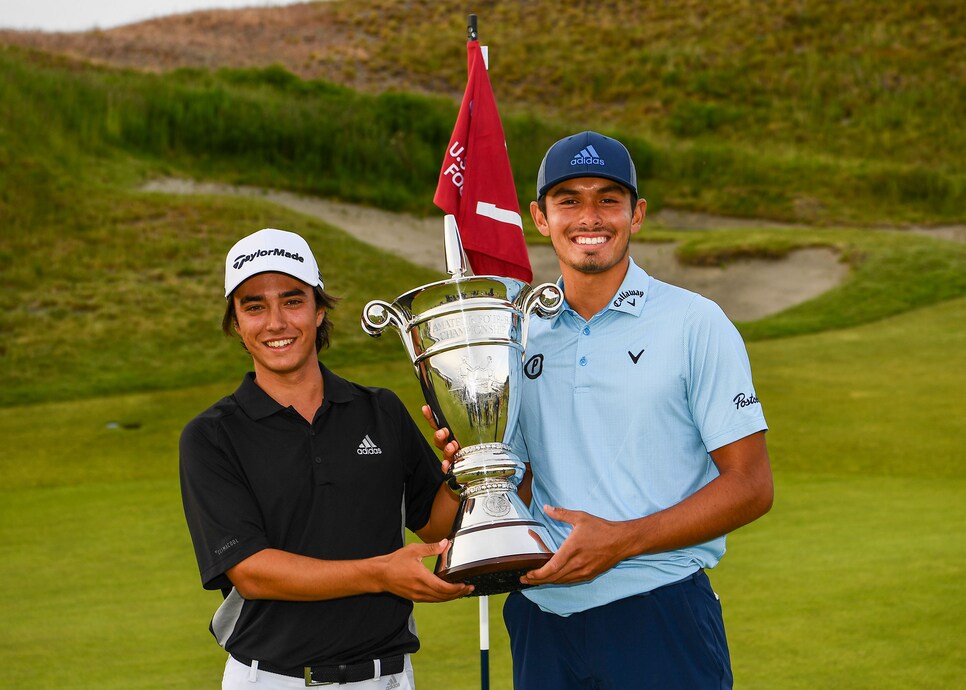 Kiko Francisco Coelho and Leopoldo Herrera III hold the trophy after winning the 2021 U.S. Amateur Four-Ball at Chambers Bay.
Robert Beck
It often takes years of playing in USGA championships before victory is finally achieved. Nobody apparently told that to Kiko Francisco Coelho and Leopoldo Herrera III.
The teenagers who live in Florida and became friends after competing against each other in a state junior event were in their first USGA event at this week's U.S. Amateur Four-Ball Championship at Chambers Bay outside Tacoma, Wash. On Wednesday, they walked away the winners, defeating Canadian natives and college teammates Brendan MacDougall and Sam Meek.
Coelho and Herrera didn't just buck history, they did it in dramatic fashion, making a clutch birdie putt on the 18th to force extra holes and then taking the title with another birdie on the 19th.
With the match tied on the 605-yard par-5 home hole, MacDougall, a 23-year-old at the University of Nevada, nearly holed a 40-yard pitch shot for eagle. His tap-in birdie was conceded, meaning either Coelho or Herrera had to convert their birdie putts from 20 and 14 feet, respectively, to keep their hopes alive.
Coelho, an 18-year-old native of Portugal, missed his, but Herrera, a 19-year-old whose parents are from Venezuela, made his to extend the match.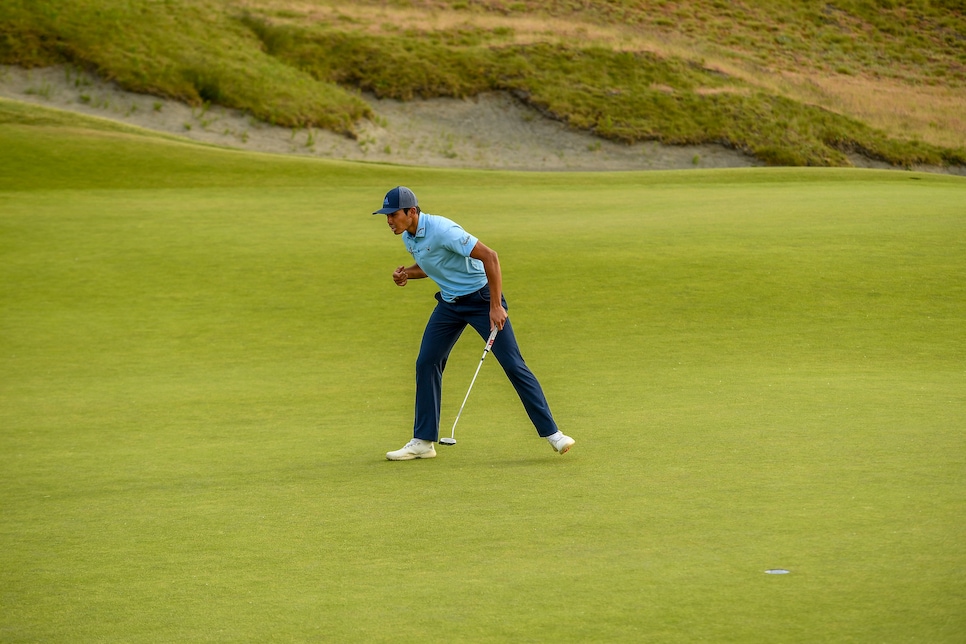 Leopoldo Herrera III reacts to sinking his birdie putt on the par-5 18th, which extended the championship match into extra holes.
Robert Beck
The players returned to the par-5 first hole, where MacDougall was out of the hole after a wayward tee shot. Meek, 21, however, was on the fringe of the green in two after a solid drive. Coelho was on the green in two and Herrera was also just off the putting surface in two.
Coelho lagged his eagle try to two feet and holed his birdie putt. Herrera then missed his eagle attempt. Meek rolled his eagle putt to four feet then surprisingly missed the birdie putt to give Coelho and Herrera the title.
"Yeah, no words can describe [the feelings I have]," Coehlo said. "We came here, we knew we could win. We had a really good team. We just played solid all week."
It was an abrupt end to a long day for MacDougall and Meek, who had to play a total of 41 holes on Wednesday—three from a suspended quarterfinal match, 19 to win their morning semifinal match then 19 more in the final.
"Yeah, it [stings]. I feel like I did what I needed to do to make it," Meek said after his missed putt on the 19th hole. "I thought I put a good enough stroke on it to go in, and it just sat there. I mean, it's tough, but we'll be all right."
Coelho moved to the U.S. two years ago, living in Lake Mary, Fla., and beat Herrera, who lives in Doral, Fla., by three shots in the Florida State Junior Amateur last summer. Becoming fast friends, the pair decided to give the Four-Ball a try. Coelho, who plans to play college golf at Arizona State in the fall, is the second foreign-born player to be part of a winning Four-Ball team and the first player from Portugal to win a USGA title.
Herrera, who plans to turn pro this fall, felt like there was some destiny involved in their victory after the way the 18th hole played out.
"I was telling the caddie after [MacDougall's pitch lipped], there was no way that ball shouldn't have gone in. And the fact that it didn't told me right away, all right, this is my moment, like this is going to happen," Herrera said. "They gave us a chance. They opened the door, and I was stepping up on that putt. [My] putting terrible today. I didn't make a putt. I just told myself, 'Look, I'm just going to look at it [and] not think about it.' I'm shaking over this putt. I just rolled it and trusted it. Trust is huge. I just let it happen."